 One of the breakout star of the drama-filled "Real Housewives of Beverly Hills" is the smart and stylish restaurateur Lisa Vanderpump, who recently released a new cookbook and entertaining guide called "Simply Divine." Filled with lots of helpful tips and easy-to-follow recipes, the book aims to make anyone a master entertainer.
Unlike other "Real Housewives" who have quickly penned books, Vanderpump is a veteran of her trade. Along with her husband, Ken Todd, Vanderpump has run dozens of restaurants and bars around the world. But her biggest obsession? Her Pomeranian pooch Giggy, who may be the show's biggest star of all.
Vanderpump chatted with The Huffington Post about her book, her love for Giggy and why all those spin-off show rumors aren't complete rubbish.
You live in Beverly Hills yet a lot of the recipes in the book are very homey, like shepherd's pie. What was your vision for the book?
I wanted to do a book that was simple yet divine -- that's why it's called "Simply Divine." It's a book that takes the pressure out of entertaining and teaches people they can cook and it can be beautiful. It doesn't all have to be about quail's egg or something. You know what it's like -- you open a cookbook and if you don't understand the recipe, you just turn the page. You know I can't be bothered with that. It's just down-to-earth cooking and table settings, that sort of thing.
You host a lot of dinner parties. What are your top entertaining tips?
Keep it simple. Do as much preparation as you can beforehand, like setting the table the day before. Keep your flowers low, but always have flowers. Go to the flower market, because it's a quarter of the price. Try to make three courses and have two courses already prepared, so you can relax and enjoy them. No broken hearts. No wars are lost by having people over for dinner.
Do you ever cringe when watching something you've said on "Real Housewives"?
No. If I've said something, it's for good reasons. I didn't like being attacked. Bravo always tells an accurate story, so you'll see how the story evolves.
It's awful. I think they showed [the episodes] with Taylor's support and that was her reality, unfortunately. Life goes on; it has to and [the show] follows us. We lead and they follow. It was a terrible tragedy but that's what happens.
The Armstrongs had financial difficulties before filming the show. Do you think the show put them in the position of trying to keep up with the other cast mates?
I totally defend Bravo when it comes to that. I object when people say that. They were living that lifestyle before the show; they didn't create it for the show. Did I support the whole thing? You know I didn't, with the $50,000 birthday party [for their daughter's fourth birthday]. You know what I thought of that. I said, "Whatever happened to pin the tail on the donkey?" I don't really want to comment or say anything negative about them. ... We're in a different place now.
The National Enquirer reported that you're getting your own spin-off show. Any truth to that story?
I heard that. There's a lot of gossip about me getting my own spin-off. I can't deny it. ... In time, whatever happens, they'll announce what they're doing. But I can't comment on that because I'm under contract with Bravo.
How do you maintain being so sane?
I think I come from a very strong place, a very strong foundation. I've been married for 29 years. I'm a businesswoman; I'm very busy. Do I have time for a lot of the nonsense? No, I don't. I do see the funny side of things. I felt really saddened watching some of the [show] now. When you see things that have been said about you, that's kind of hard to watch, to be honest. I don't talk about any of my co-stars or trash them, I don't believe in doing that.
I didn't really release a single. I was having dinner with Lionel Ritchie and I played a song I'd sung to a backing track and he said, "I love it. Send it to me and I'll send it back to you, I'm going to change it." So he changed it to a reggae thing and he sent it back without the vocals on it and I thought, "I can never sing to reggae." It was totally different, but then I thought, "Who am I to doubt Lionel Ritchie?" So then he put the vocals on it and sent it to Ryan Seacrest, so that's how it happened.
You've been on "Real Housewives" for two seasons now. Are you used to being recognized?
The thing I'm really surprised about is I'll be walking down the street with [my dog] Giggy and people will scream out, "Giggy!" Now I'm known as "The Person Who Carries Giggy."
Do you think maybe you and your husband are a little too obsessed with Giggy?
Yes, we absolutely are obsessed. You're right, I own it. But was I too obsessed with my children? Yes and they left me ... so now I'm overly obsessed with my dogs. But you know what? That's the worst thing I do.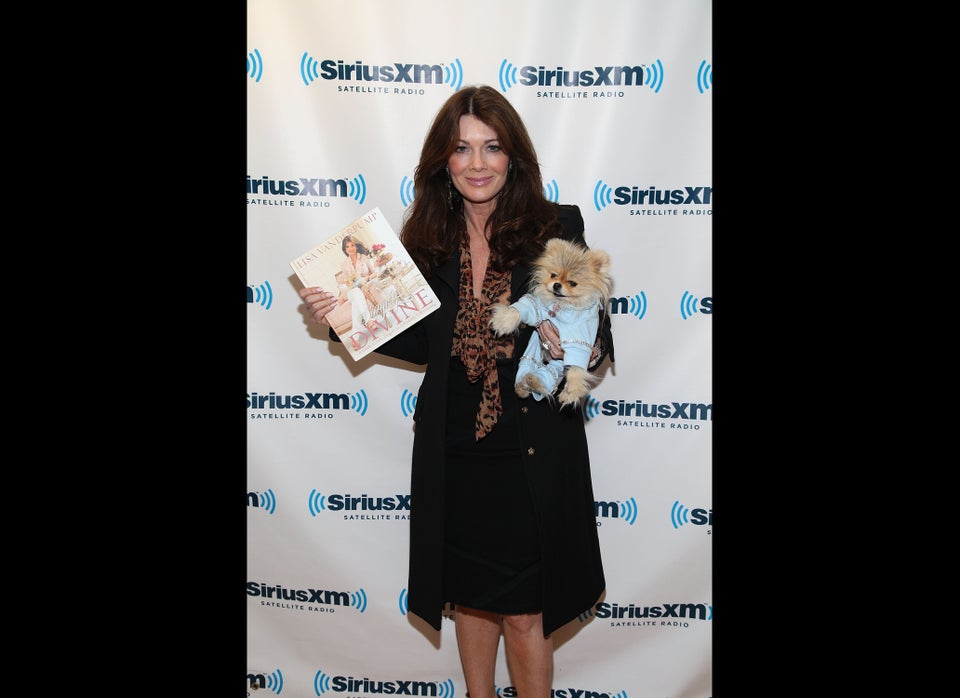 Lisa Vanderpump

Popular in the Community