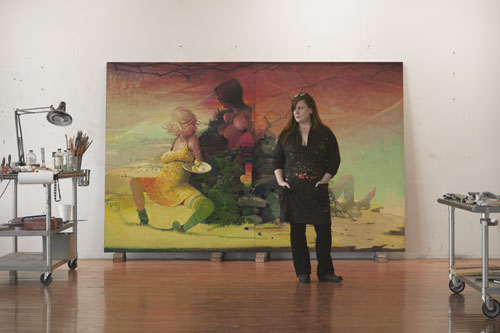 Photo by Grant Delin. Courtesy David Zwirner, New York.
I was just finishing up a flamenco class at the 92nd Street Y surrounded by women jabbering in Japanese, Russian, Spanish, Farsi, Italian--proving the international allure of accessing not only your inner pole dancer but your inner flamenco dancer--when I saw people had already begun lining up for the presentation by artist Lisa Yuskavage, she of the va-va-voom paintings. As I hurried to change, I could hear protesters outside inveighing against the appearance of General Petraeus who was already holding forth in the auditorium downstairs on the various wars. With the juxtaposition of the castanets, the tits, the anti-war chants and the stars and bars, I hardly knew which way to turn (that is the problem with me in flamenco class, I am never knowing which way to turn).
But what I was most eagerly anticipating was Yuskavage--finally having the chance to see and hear what this deliberately provocative artist would say. She, in turn, opened her remarks by joking--probably not entirely!--that she had hoped the protesters were there for her. Part of Yuskavage's journey as an art star has been to learn to cede focus to the work instead of herself.
When I first saw Yuskavage's paintings at the Boesky and Callery Gallery in 1996 (the Food Eaters series) she had already made the shift from her earliest work, which she characterized as, "so demure, so tasteful, so full of shame and very conservative." She had been "horrified" noting that this work--including beautiful backs of women--so impeccably rendered, was " terrible." She rejected it--it made her want to stop painting. "Painting," she says, "was what seemed like the problem." She did not paint for a year and "went into a dark place" utterly paralyzed by the beauty and ladylike manners of what she had wrought.
She began to think: what would it be like to paint the very opposite? She wanted to shock. So she turned the back to the front in 1992. And this is what she saw: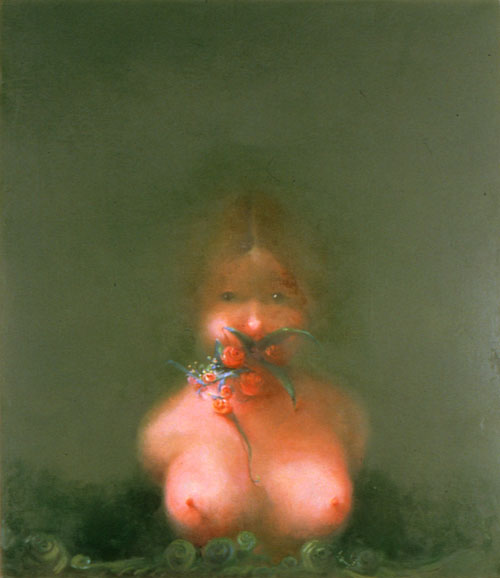 Lisa Yuskavage. The Gifts, 1991. Oil on linen. 30 x 26 inches. Courtesy David Zwirner, New York.
All of a sudden, there were "tits sticking out in the room." The look in her subjects' eyes said, "Why are you doing this to me?" She says she pretended to be Dennis Hopper in Blue Velvet or a baby white seal. Her edges went vaginally pink and misty around the edges, "turning [the image] on its wrongness."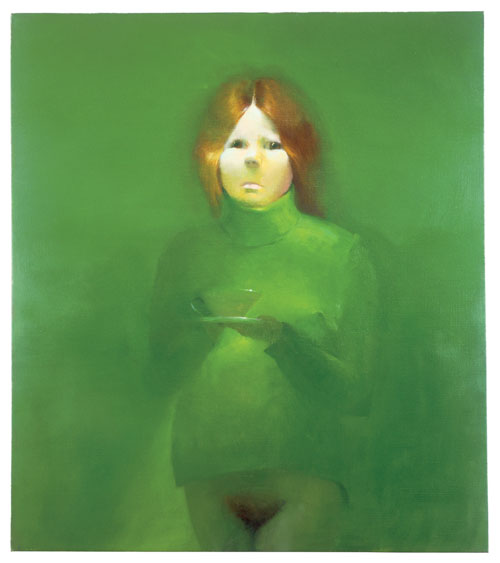 Lisa Yuskavage. The Ones That Don't Want To: Kelly Marie, 1992. Oil on canvas. 34 x 30 inches. 86.4 x 76.2 cm. Courtesy David Zwirner, New York.
The press--understandably riveted--and hype (pro and con)--was already thick. And the images indeed made me antsy. I wasn't sure what I was supposed to feel seeing these Pamela Anderson-esque nudes fetishized and objectified to within an inch of their hothouse lives. And in a way, I liked that. I don't feel that way when I see Playboy images where you know titillation is what you're buying. Yet to have the whole thing wrapped up in a package of high end gallery with critical imprimatur is what felt awkward and strange.
This, Yuskavage says, was precisely the feeling she was going for.
Setting herself free, Yaskavage was delighted by no longer "making people comfortable." Now, pushing the sexual envelope is more commonplace in contemporary art. But Yuskavage was an early practitioner, giving voice--or rather image--to the no holds barred model of what a woman artist was entitled to do. She was giving herself permission--and us by extension-- not to be tied down, to shock even herself, to be subversive; she had chosen subjects of a previously distinctly male gaze.
Yuskavage has studied the heck out of academic, classic painting. She spent time at the American Academy in Rome. She also knows her Degas, Vuillard, Cezanne, Philip Guston and Picasso inside out. Even her landscapes--deserts and mountains--haunt like latter day Dalis or de Chiricos.
But Yuskavage says she is not interested in the Old Masters. In fact, in the beginning, she worked exclusively from her imagination. She riffed on shrinks and Rorshach tests, using dry layers to "color things up." She called her series Motherfuckers and Ass Pickers, andPie Faces. And certainly, what you name something can be as in-your-face as a pair of big jugs.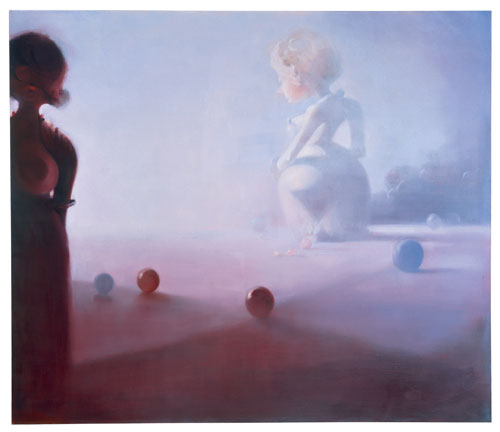 Lisa Yuskavage. Motherfucking Foodeating Still Life, 1997. Oil on linen. 72 x 84 inches. 182.9 x 213.4 cm. Courtesy David Zwirner, New York.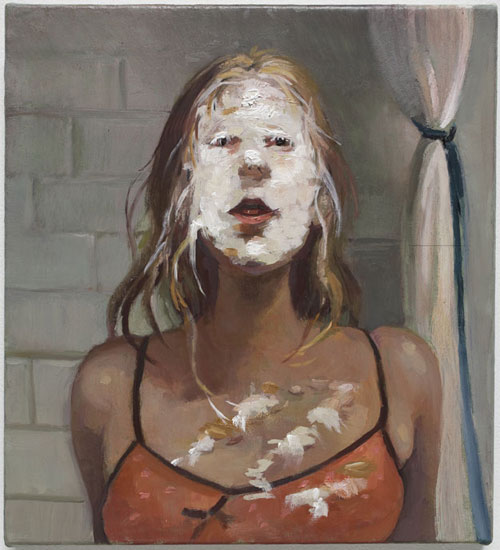 Lisa Yuskavage. Pie Face, 2007. Oil on linen. 8.5 x 8.5 inches. 21.6 x 21.6 cm. Courtesy David Zwirner, New York.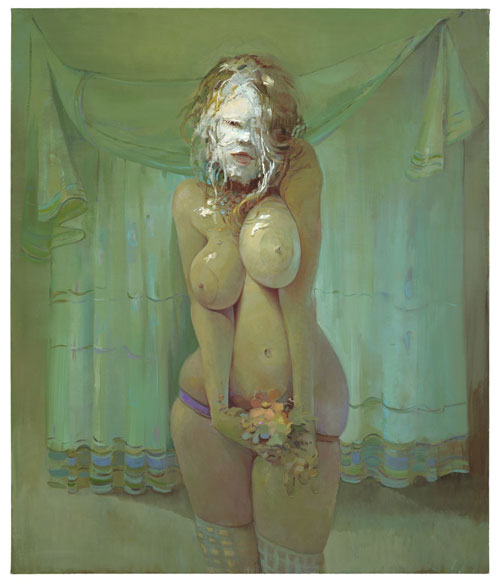 Lisa Yuskavage. Pie Face, 2008. Oil on linen. 48 x 40 1/4 x 2 inches. 121.9 x 102.2 x 5.1 cm. Courtesy David Zwirner, New York
But she found in the end that her imagination wasn't enough. So she turned to clay maquettes, something like Disney animation models, and then real porn, and eventually to real live people: friends, her sexy friend Kathy at first, who embodied something of the kind of girl she thought she might have wanted to be.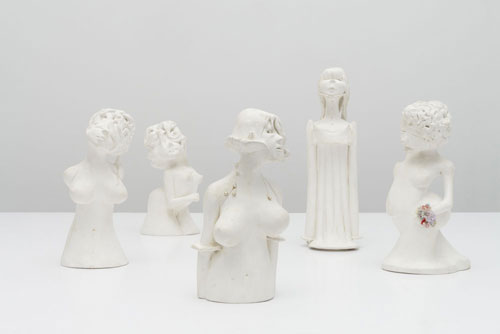 Lisa Yuskavage. Asspicking, foodeating, headshrinking, socialclimbing, motherfucking bad habits, 1996. Cast hydrocal with artificial pearls and artificial flowers.
Five pieces: Asspicking: 9 1/2 x 4 x 5 inches. 24.1 x 10.2 x 12.7 cm. Foodeating: 10 1/4 x 4 1/2 x 5 3/4 inches. 26 x 11.4 x 14.6 cm. Headshrinking: 13 x 4 1/2 x 3 1/2 inches. 33 x 11.4 x 8.9 cm. Socialclimbing: 9 1/2 x 4 x 4 1/4 inches. 24.1 x 10.2 x 10.8 cm. Motherfucker: 9 x 4 3/4 x 3 3/4 inches. 22.9 x 12.1 x 9.5 cm.
Courtesy David Zwirner, New York
Finally, her most recent show at the David Zwirner Gallery "synthesized things I could find and things I invented." She says -- using the lexicon of sex to describe her process -- "I can't paint as a bottom. I have to paint as a top."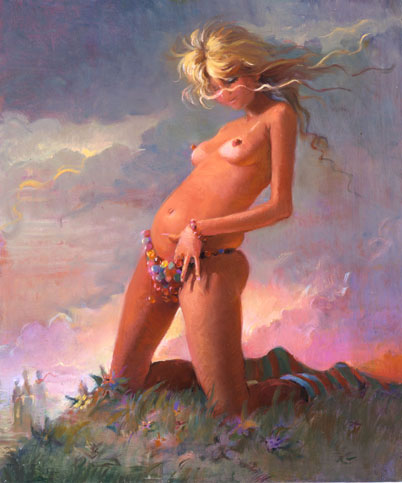 Lisa Yuskavage. Half-Family, 2003. Oil on linen. 16 3/16 x 13 1/16 inches. Courtesy David Zwirner, New York.
If you read the introduction and the new translation of Simone de Beauvoir's seminal take on our takedown as women, if you listen to the MoMA symposium about feminist art in institutions today (another feminist art show opens at the Jewish Museum in September), if you pick up your head at all, you can easily see that the subject of art and gender is still front and center. With Sarah Palin declaring herself a feminist, there certainly has been a resurgence of the F word in the halls of power and from across the aisle, even if the aisle has moose antlers you have to step over. If politics can make mincemeat of feminism then so can art.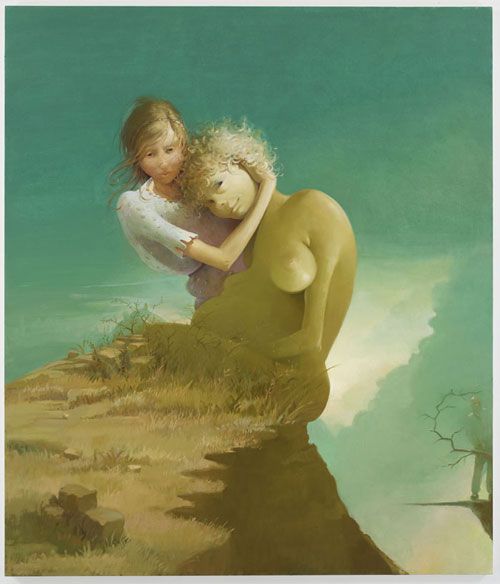 Lisa Yuskavage. Cliff, 2007. Oil on linen. 77 x 62 inches. 195.6 x 157.5 cm. Courtesy David Zwirner, New York.
Successful women creatives tend not to want to be defined by gender politics--
and her generation were famously shy of being joiners--and women artists today are equally known for not wanting to be called women artists or be considered part of the pack (such as
). I'm a writer, I feel the same way.
Yet what stories and subjects draw us in most keenly? The art of self examination, of memoir, has often best been embraced by women: to seek out the narratives of others, or to look inside, to have the interest--and patience--to revisit they whys of something.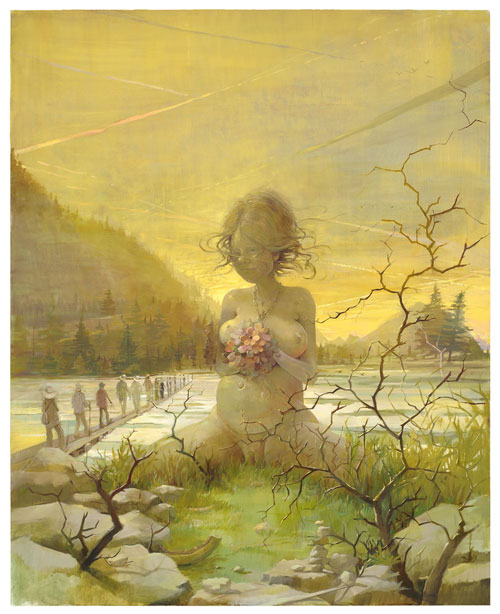 Lisa Yuskavage. Travellers, 2008. Oil on linen. 77 x 62 x 1 1/4 inches. 195.6 x 157.5 x 3.2 cm. Courtesy David Zwirner, New York.
It's long past the time when people are wondering whether Lisa Yuskavage's fecund images are part of the solution or part of the problem, whether they deserve to be hidden under the mattress or whether they are worthy of museum walls. Certainly, like porn, the power of the imagery to shock gradually recedes. What will be Yuskavage's next iteration? Will she lose the need to shock for shock's sake? Though she has fans in high places--her interlocutor at the Y, Robert Storr, Dean of the Graduate Yale School of Art clearly admired one of their most successful and outspoken grads--her work, or perhaps she herself, still seems to insist on plenty of attention.
I'm thinking she should come to my flamenco class.
Popular in the Community