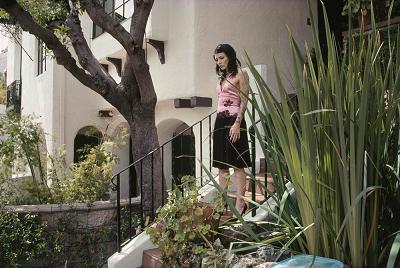 Parisian-born Lise Sarfati has shown internationally and her predominantly female subjects are utterly uneventful and hugely momentous at once.
ROSEGALLERY will show back to back venues, first opening Feb. 25th with works from Sarfati's series On Hollywood, followed in March by the stunning photos from She.
Sarfati has made images of empty rooms, taken from the level of bed-height, where blankets, pillows, bed stands, knick-knacks, the chosen stuff of life -- none arranged -- speak multitudes.
That same uncanny, oblique entry point that ends somehow in riveting vision characterizes her images of women. On Hollywood features, predictably, views of the broken in and around Hollywood. Swollen, used up, tired in a way someone that age ought not be, Malaika looks beyond us, a bagged booze bottle in an arm that melds with the smudge of night neon.
Yes, it has been done and done again by everyone from Robert Frank to Philip-Lorca diCorcia. And to some extent this is another iteration of that puffy eyed, densely made up, hung over, hooking and preening, acquiring and being acquired broken dream world of the bleached blond and dominatrix come west to seek the promise land.
But the difference here is that these starkly colored, crystalline clear images are so flat-footedly compelling -- in that Eggleston kind of matter-of-fact way -- that any existing, stored narrative we might want to plug in, conjure up, or default to simply fails us in the face of the person that confronts the camera.
There are photographers -- Graciela Iturbide -- who beautifully disappear from the image -- so deep is their empathic connection with their subjects. Sarfati's particular gift -- part sixth sense, part serious study of the cinematic vision of Vertov or Pasolini -- is precisely the opposite.
There is a way in which her subjects never lose sight of themselves being watched, never can and may not want to shake loose their position -- existential, social, photographic -- as objects. Sarfati's women acknowledge, even seem in some way defiant conspirators in our relentless scopophilic use of them.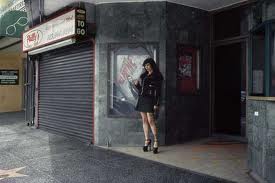 The result is that Dana - -standing before a broken down theater, tattooed, in grotesquely high heels -- entices us to look (and we do!), lives for and through our inability to resist taking her in visually, yet is somehow deeply sullied by the exchange. As a subtle study of the complexities of female identity (and the negotiations of intimacy and self in general), this work is quite profound; as photography these images are just plain aesthetically gorgeous. Once again, ROSEGALLERY brings us some of the finest international photography around.
Images courtesy of ROSEGALLERY
Popular in the Community