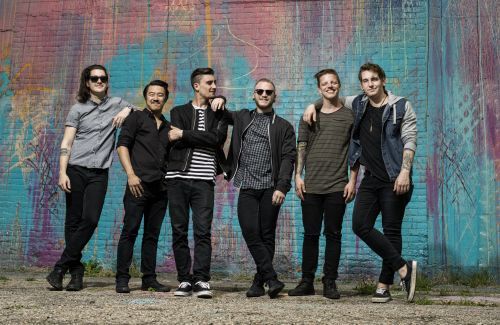 (Photo Credit: Douglas Sonders)
In the decade that the Detroit metalcore band We Came As Romans have been in existence, it's been an organic rise for the 6-piece band. While starting out on the grind, writing music while keeping day jobs and going to school, the members would move into adulthood as a part of this band and We Came As Romans would mature along with them. Being fully concentrated on the band, they would solidify their role in the music industry and become more of an inspiration for their musical peers and fans alike.
We Came As Romans are currently on the road with the Vans Warped Tour and are gearing up to release a new self-titled album and we've got a full stream of the album below along with some words I got from lead vocalist Dave Stephens about the making of the album and the band's success.
Talk about how the new We Came As Romans album came about.
We wound up self-titling it for a reason. The six of us really came together creatively on it. It was the first time we just wrote really honestly. We wrote straight from the heart. We didn't try to censor anything or hold back at all. Same thing musically, we wrote exactly what we wanted to hear, what we wanted to play. We weren't worried about what the critics thought of it. We were just writing for us. Seemed appropriate to self-title the record. Also, it's awesome because we actually got to take time off to write, which has never happened. We got to take a few months to just travel around America and just write the best songs we could. That's never happened, usually the records are written in the back lounge of a bus while we're on tour. This one we actually got to buckle down and focus only on writing.
Having that time off to write, how did that make the whole process better?
The thing I liked about it most was, when we're writing on the road, its so hard for me to focus. I'm thinking about the show, what I need to do to prepare for the show, and everything else I have to do that day, instead of just worrying about writing a good song and thinking what I want to write about and what I want to say. That was the best part about it was just being able to fully focus on the creative process.
We Came As Romans have been a band in some way for almost 10 years now. It's like you're in that transition now from being that new band to being veterans.
That's exactly where we're at now. Recently, for example, I've had a couple younger bands come up and be like, "Dude, your band is the reason why we started playing music." It's crazy that we've been around for that long that somebody has actually said that to me because I always thought we were that band that started playing music because of other bands that were older than us, and now we're the older veteran band. That was a strange feeling for sure to hear that come out of another musician's mouth.
When you're on stage and you see your fans out in the crowd rocking out to your music, what goes through your head?
Usually something along the lines of "How the hell did my band get this big? What is going on?" Just kidding. It's been a lot of hard work and its nice to see that its paid off, its still growing. It's really cool to see people that know our words; some have our logo tattooed on them. Its insane this band's got so much further than I ever would imagine it would. It's such a natural high that you never really get used to it, you never really get over.
Do you remember that time when you realized that this band might end up being something great?
I think a big turning point for our band was back in 2010, we played Bamboozle [Festival]. This was when we were in this transition period. We all decided to take a year off of school and see what happen with the band. Quit our jobs and fully focus on this and see what happened. It was towards the end of all that, we had just got an agent, management, and we signed a deal with Equal Vision and put out a record. The band seemed to be gaining ground and we played this show in New Jersey at Bamboozle and we were on one of the smaller stages, but we had like one of the biggest crowds of the entire day. Our crowd was too big for the stage and that's when we were like "Damn, we might actually be able to make a living off of this." It just seemed like that was a point how much momentum we were gaining.
We Came As Romans self-titled album is due out this Friday, July 24th. Pre-order it on iTunes or on merchnow.com. We Came As Romans are currently on the the Vans Warped Tour and will be landing at The Palace of Auburn Hills on Friday, July 24th. For more information on We Came As Romans, visit wecameasromans.com.
Popular in the Community