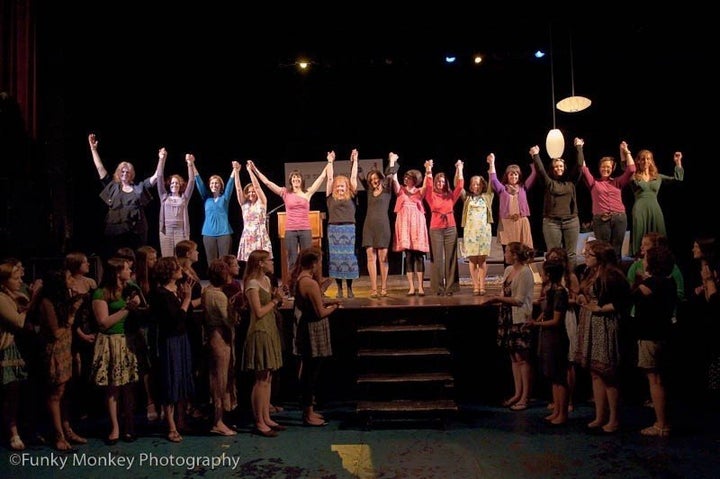 On May 10th I will attempt to conquer my tremendous fear of public speaking by telling an audience of over four hundred people about my struggle with depression; I will be participating in the Listen to Your Mother show in San Francisco. Before the curtain rises, you may find me backstage, practicing breathing techniques and downing a glass or two of sauvignon blanc. And then I will take the stage, along with eleven other writers, to tell my story.
My piece tells of the rainiest period in my life. It was a time when I should have been rejoicing in the miracle my body was growing inside, yet instead I lay blanketed in a thick layer of fog, unable to feel sunshine on the clearest of days. It is the story of my second pregnancy, when I found myself debilitated by anxiety and depression.
Listen To Your Mother is the brainchild of Ann Imig. Ann began blogging as a cathartic outlet. Like many stay-at-home mothers of young children, Ann found herself in need of project that was not a by-product of her ovaries. Ann used her writing to commiserate with other parents, as well as exercise her comedic muscles.
A few months after launching her website annrants.com, Ann attended the BlogHer annual conference in Chicago. Her most memorable moment of the convention was Voices of the Year, live readings from writers across the country. The camaraderie she felt sitting in a room with other bloggers, sharing their mutual bond of storytelling, was magical. It was a way to connect the on-line blogging persona with her real life.
Then in March of 2010, while channeling her background in both theater and social work, Ann decided to produce the first Listen To Your Mother show in Madison, Wisconsin. Just in time for Mother's Day, Ann put together a group of twelve local writers celebrating the work and art of motherhood.
The spoken word performance resonated throughout the country. Immediately after airing the show on Vimeo, Ann received numerous emails, from women and men alike, asking to participate. In 2011, LTYM was produced in five different cities. This year, there are ten shows scheduled across the country, from New York City, to Northwest Arkansas.
Part of the allure of LTYM is its diverse array of speakers, from amateur bloggers, to bestselling authors. In Philadelphia, Jennifer Weiner, whose books include Good in Bed and In Her Shoes, will be performing alongside Andi Buchanan, author of The Daring Book for Girls. Two days later in Madison, Hannah Nies, a twelve-year-old girl will be speaking about her "weird" (not wealthy enough for "eccentric") mother. She will be joined by Asmeret Yosef, an Ethiopian born mother who, by fault of a clerical error, was detained in a maximum-security prison for three months. After her detention, Yosef was deported back to Ethiopia where she was separated from her young daughters another two years.
My San Francisco cast mates are each sharing their own harrowing stories. One mother expertly leads the audience through the experience of miscarriage, while another searches for the voice of her dead mother. There is also Andre, the show's only non-mother, who hilariously portrays being raised in his mother's beauty shop.
Each show will be donating a portion of its ticket sales to a local charity supporting mothers and families. LTYM Northwest Indiana will be supporting The Caring Place, which serves families of domestic and sexual violence. LTYM Spokane is contributing to the Women and Children's Free Restaurant, an organization that provides healthy meals to families in need. And in San Francisco, LTYM is donating to 826 Valencia, a non-profit supporting school-age children in the art of writing.
All ten of this year's shows will take place during the two weeks leading up to Mother's Day. However, if you can't make one of the live shows, each performance will be available for viewing on LTYMShow's YouTube channel this summer. Whether you are a mother, were a mother, or had a mother, Listen To Your Mother manages to rejoice in motherhood, "in all of its complexity, diversity, and humor."