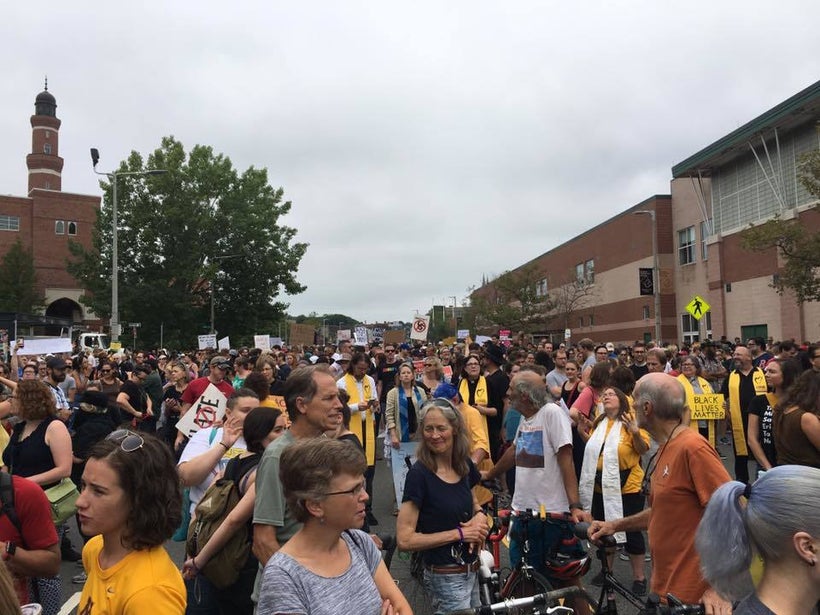 As a life-long teacher, I have admonished my students "Listen up!" more times than I can count. But in these urgent times, we teachers have to listen and learn, especially those of us who are charged with teaching others to be religious leaders.
As teachers in theological education, we also must speak out about what cannot be tolerated. We teach most powerfully by example.
A group of us who are theological educators related to the United Church of Christ have struggled with these challenges and have issued a joint statement that has been signed by many of our colleagues.
The urgency of the times is clear.
"Our nation is in a moral and political crisis," said Rev. Traci Blackmon, Executive Minister of the United Church of Christ, after the courageous witness she and other religious leaders, as well as many people of conscience, offered against the provocations of white supremacists and other hate groups in Charlottesville, VA.
Thus we affirmed, "[W]e are united in the declaration that we reject white supremacy as a profound moral evil. White supremacy is an offense to God who created all human beings in God's image."
This is a profound truth based in our sacred texts and historic teachings, and it grounds us.
But we dared not rest there.
The work of being a theological educator in these times is also to profoundly listen and to deeply engage those who are the calling out this crisis and putting their very bodies and lives on the line to say 'You cannot do this to us.'
That is why we unambiguously state, "In the contemporary call of Black Lives Matter we hear lament and hope, and these truths summon and ground us anew to be about the work of freedom, represented by our liberating God."
And we know, and we state, that this is where the struggle is most deeply engaged, because Black Lives Matter is under attack by white supremacy.
"Currently we name and decry efforts to demonize and criminalize Black Lives Matter as a part of the historic strategies of white supremacy, and we commit to listen to and engage with Black Lives Matter leaders who are prodding our nation's conscience to face the deadly forces of racism and white supremacy at work in our society, communities, churches, and lives."
So we must listen and we must engage outside our institutions. We cannot rest on our established classes and our booklists and our mission statements and our institutional activities. To really teach and learn in these times, we must recognize these very institutional activities are deeply challenged by this urgent moment.
In other words, institutionally speaking, we are not innocent. We are also actors in this long history of white supremacy in the United States.
Confession is good for the soul, we often say, and we have to acknowledge and confess that as institutions we have "corporately benefited from the economic, social, political and yes, religious advantages conferred by America's "Anglo-Saxon" myth of white superiority, as Dean Kelly Brown Douglas of Episcopal Divinity School at Union Theological Seminary, has pointed out. There is, as she points out, a profound faith choice that must be made. "For we must decide if we are a people committed to a vision of a country that reflects an 'Anglo-Saxon' God or a God whose image is revealed through a racial/ethnic/religiously and culturally diverse humanity."
Speaking for myself, not only as a theological educator, but as a white person raised in the United States, I know I have learned racism and in the many decades I have attempted to be an ally in teaching, writing, and acting against racism, I have come to acknowledge that the deformations of racism in me never end.
Look. This is what it is to be white in America.
An estimated 40,000 people just turned out in Boston on August 19 , including religious leaders as seen in the photo above, to march against the white supremacy that wraps itself in a cloak of 'free speech.' Many of the marchers were white, though it was a very diverse group. Make no mistake, however. For those who participated who are white, on the one hand a rousing "No!" to the Ku Klux Klan, to "neo" Nazis, to the re-packaged white nationalism called the "alt-right" and to other hate groups is important. But on the other hand, it is very important for white Americans to go much further in confronting racism.
Just like there seem to be 'weekend Nazis,' there can be 'weekend anti-racists.' As white Americans we must act from Monday to Friday to dismantle racism in our schools, our workplaces, our local communities, in our state and national politics and in our religious communities and institutions that educate religious leaders. This is a life-long project. And to work effectively, I have found, not only in my own life, but in the teaching I do, it is critical to own your own part in this system and constantly work to reject that as well.
This is a deeply religious struggle, I believe, because it needs to follow the religious dynamic of confession, repentance and change. That is why, as religious educators related to the UCC and its identity as a church that practices Just Peace, in this statement we committed ourselves to this central faith ritual that is also a Just Peace practice. We have to challenge both ourselves and those in our classrooms who have benefited from white privilege, as well as from cisgender privilege, from economic privilege, and from Christian privilege, to acknowledge that. To confess that. To repent of it. To change. It is the height of hypocrisy to call on others to confess and repent of white supremacy and change their ways unless you engage that as an institution. And for myself, as an individual white American, it would be the height of hypocrisy to engage in this work without confessing, repenting and trying to change, again and again and again.
This is where the struggle is really joined and why religious communities especially need to be deeply engaged in the enormous task of turning American history away from unearned and oppressive privilege to respect, equality, and yes, to love and justice.
That is why we as people charged with educating future religious leaders chose to not only issue this statement, but also to deeply commit to the work.
REAL LIFE. REAL NEWS. REAL VOICES.
Help us tell more of the stories that matter from voices that too often remain unheard.
This post was published on the now-closed HuffPost Contributor platform. Contributors control their own work and posted freely to our site. If you need to flag this entry as abusive,
send us an email
.