Participants enjoyed building partnerships, sharing challenges and solutions, and creating a network that focuses on pushing global philanthropists to listen to the vision and values of the work happening at the grassroots level, and ultimately direct more funding to locally run, locally designed solutions to global poverty.
We strongly believe that if the UN Sustainable Development Goals are to be attained, there needs to be a strong role for grassroots in designing and implementing the programs and grassroots leaders need to have a seat at the table and not, as our partner Tope Fajingbesi of United for Kids Foundation in Nigeria said, "not just be on the menu."
The One World team returned to our office in San Francisco, California with a clear message from grassroots leaders from across the continent. This is that message.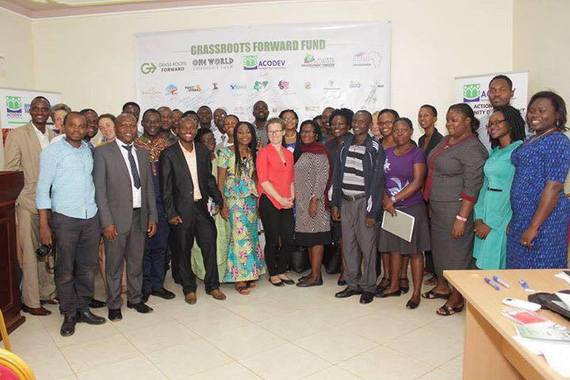 Co-Authoured by Grassroots Forward Team, Branco Sekalegga, Obed Kabanda, Meschac Gervais, and Gabby Angels
1- We don't and won't ever quit.
Knowing the conditions under which we, as grassroots leaders, are operating: lack of human resources given our limited budget, underpaid or simply unpaid staff, out dated and at times barely usable equipment, unavailable logistics and technology, high risk environments, and the immense difficulties to mitigate those risks associated with performing our duties.
We could have simply quit. Especially at times, we wonder if anyone cares, besides the people we serve. The truth is, we as grassroots leaders don't quit.
Our responsibilities are big and our hearts are even bigger. We work hard to ensure that every child, family, and community member can live a decent life. No matter how risky the work is, we recognize the responsibility of our leadership. In the midst of all the threats and challenges, we will do what it takes to ensure the best outcomes and a peaceful resolution, not only because we understand the dynamics, but also we have an undying commitment to do good for our communities.
An example we often see among team members is that, amid not being well paid, the team will help each other by using a rotation system which allow everyone to participate, whilst allowing free time to do other income generating activities. This helps compensate the small salary we can offer. Many of us, instead of quitting have dug into personal resources. Indeed, some organizations are relying on the leadership to cover the costs for the services provided to the community members and children needs from our own pocket.
Can you believe that? Well it's our reality. The girl you saw beautifully in the wheelchair did not receive it from any hospital or big institutions, it's often from us, the people who live close by and saw the needs and struggles she has by living with and have decided to purchase the chair for her - or design our own equipment to help improve mobility to a child living in poverty. There is another obvious example and I am sure you have probably heard of this one before. Grassroots leaders often go unpaid and besides that we use our personal vehicles that often get damaged because of the conditions of the roads where we go serve our people. There is no budgetary support to help fix our cars but we are glad to have the means necessary to respond to our communities needs effectively. So, it is not without reason that we say, grassroots organizations and leaders won't ever quit. We will remain in our communities and serve however we can.
"After my site visit, to be on the ground and experience the kind of work conditions, but yet still witness the incredible impact they are making, I will always look at community and grassroots leaders with so much admiration" says, Meschac. Indeed, it takes a lot of courage to stand in the midst of all kinds of adversity with, at times, almost zero resources to respond. As grassroots leaders, we say "even if no one comes to help, I and our organization will remain and always, we shall find a way to serve our people."

2- Bureaucracy is jeopardizing our work
There is plenty of work being done by grassroots organizations. Work which is hard to measure or quantify. Often, our work may not necessarily meet internationally designed standard of metrics and impact measurement, but we have found that our solutions work effectively and solve the biggest problems of our communities. Global philanthropy has created a systemic refusal to recognize the impact of grassroots. While we recognize the need for some level of bureaucracy to help keep our work organized, we can argue that too much of bureaucracy kills the purpose of everything we do and it does not match the reality of this real bottom-up development work that we nurture. One of the major problems that we face as grassroots organizations is the ability to demonstrate impact or track records according to each foundations or funding institution criteria. If you really care about our work come and see for yourself. Our work on the ground can do more justice to us than the paperwork that we may complete after 5 hours: yes, it should have taken us 30 minutes but you can bet either our electricity was gone or the internet was running on less than 1G, or a crisis arose that we were called on to mitigate (refer to point 1 above!).
We believe it is true to say that funding that is conditioned by the ability of demonstrating paperwork and strict metrics is doomed to remain ineffective because it doesn't match our reality or socioeconomic contexts. We are smart and know what it takes to carry out efficient and great organizations. We would love to invest in capacity building that would allow us to respond appropriately to funders requirements but unfortunately it is just not possible to do with our limited budget also when we have extremely limited general operations support.
Capacity building is costly and we find very few funders that understand (or fund) that. So yes, bureaucracy is needed up to the point it is not hurting the real needs for development otherwise it is jeopardizing our work. And you have to first take the risk of investing in us!
3- We are part of a movement
For grassroots organizations and leaders, international development work can be depressing for the most part. You may be familiar with statements like the following: we have written many proposals but no one funded us, we have met with many funders for some reason it's not giving any results despite some promises (empty), we have applied for awards but we don't seem too deserving of any... well, in the midst of all these despair, we have found hope. One World Children's Fund and some notable funders, Segal Family Foundation, Bergstrom Family Foundation, Rose Stone Foundation, Akiba Uhaki Foundation, West Foundation, Elma Philanthropies to name a few, have made a commitment to work with us and support local leadership.
To know that some people understand our reality and are fighting alongside of us is extremely valuable. To believe in our vision can be more valuable than the dollars sent. The more you advocate on our behalf and recognize our work, the more we see others join the movement. The support we are starting to receive is no longer in isolation, it's all part of the greater movement aiming to push grassroots organizations forward. Whether it's One World Children's Fund or be it other funders, the grassroots movement is gaining ground. The idea of being together, unified toward a common vision of attaining the SDGs or more. Our common goals are powerful and are the real catalyst for the change that we long for and hope to see in global philanthropy and international development.

Obviously, we know that thoughts and philosophy of approach about working with grassroots organizations differ. We urge organizations and institutions with counter opinions about our work to pay closer attention to grassroots and community based organizations and leaders. Our work may be hard to put into words but we can guarantee effectiveness and real impact. While not everyone gets to conduct site visits, but you can learn better about grassroots, meet leaders and connect with them to get a full sense of what this is all about.
Then, become a part of the movement.
The movement to put grassroots forward is real and each one of us has a role to play whether it is through donations, awareness raising, fundraising, sharing with peers and colleagues about the value of grassroots level work. You received our message, and now we look forward to talking with you soon!
Branco Sekalegga is the Founder and Director of Bitone, a grassroots organization providing healing, counseling, and leadership training to survivors of trauma and abuse in Uganda.
Meschac Gervais is a Global Consultant for One World and currently serves as the Director of Impact. He is based in Haiti.
Obed Kabanda is co-Founder of the Grassroots Forward Fund and Founder and Director of a leading community development and human rights organization, ACODEV, in Uganda.
Support HuffPost
The Stakes Have Never Been Higher
Related
Popular in the Community