The following was co-written by Marvin Krislov, the incoming president of Pace University in New York City and president emeritus of Oberlin College, and Brock Blomberg, president of Ursinus College in Collegeville, Pa.
On the surface, two college presidents with deep roots in the liberal arts are quite similar.
One recently led Oberlin College—a liberal arts institution of 3,000 students located southwest of Cleveland—for a decade; the other is entering the third year of his presidency at Ursinus College—a liberal arts college of 1,600 students located in the suburbs northwest of Philadelphia. Both championed new strategic plans reinforcing the institutions' existing strengths while developing new capabilities.
On the other hand, we've had life experiences viewed through very different lenses: a Democrat of Jewish faith who hails from Kentucky and served in Bill Clinton's administration in the White House Counsel's Office and Labor Department; and a moderate Republican raised in a conservative, Christian household in Texas who served in George W. Bush's administration as a member of the Council of Economic Advisors.
This enumeration of similarities and differences could culminate, like Casablanca, with the "beginning of a beautiful friendship." When we met at a recent conference in Rome, co-sponsored by the American Association of Colleges and Universities and the Council of Europe, neither our similarities nor our differences proved the primary aspect of our interaction.
What mattered most was the experience of listening across those differences. We believe such listening is a pre-condition for mutual understanding.
The conference focused on the topic of "Higher Education for Diversity, Social Inclusion, and Community: A Democratic Imperative." This topic is broad, yet concerns us both as leaders in higher education.
This conference started with an examination of a topic specific to its Roman backdrop—the refugee crisis in relation to higher education. We had the privilege of meeting members of the Sant'Egidio refugee community, who've come from all around the world to find a safe haven in Rome. Despite the lack of a common language, listening to these refugees helped us understand the universality of their aspirations. Like our college students, the people we met were simply seeking the opportunity to realize their hopes and dreams. Many of these individuals, in the process, had confronted some deeply challenging conditions.
After speaking at length during our time in Rome and drawing on our campus experiences, we have come to the following conclusions:
First, conversations at an intimate scale—one-on-one and in small groups, both in and out of the classroom—are necessary to build understanding about both similarities and differences.
Second, the refugee narratives we heard afforded the opportunity for empathy. They transformed a global concern into a local dilemma. While the refugee crisis might seem far away from the day-to-day concerns of a small college campus, a truly inclusive college community must be aware of problems that exist outside our college gates and act to address them. For example, that's exactly what the outstanding students who are Bonner Scholars and leaders at both Oberlin and Ursinus are engaged in every day. Those programs strive to transform the lives of people through student service and leadership in our local communities and all around the world. That is a shining example of the liberal arts at work, and helps promote understanding.
Additionally, listening creates space for productive disagreement. Conversation across differences need not end in such a way where one speaker acknowledges that the other advocate is right. Socratic dialogue, in which a naïve discussant's point of view collapses under pressure applied by a wise interlocutor, might not prove the best model for dialogue regarding many of the sensitive issues we face in the world today.
We left the conference with some of our differences still in place. But armed with a better understanding of issues and the human beings affected, we enhanced our ability to reevaluate some of our own personal points of view. Such conversations surrounding differences should be low-stakes, low-key, and long-lasting, providing participants multiple opportunities to consider and reevaluate their own positions. Some of the most productive discussions may take place outside the normal classroom or workplace setting in informal settings or in sports, the arts, or service.
Make no mistake—this takes time. You cannot have democracy without democratization. That sort of substantive change only comes about after a lot of work and effort to adjust and cultivate change. Understanding is built in context and over time. Bridges, like the city of Rome itself, aren't built in a day, but are constructed over centuries.
Creating a truly inclusive environment, in which all individuals can realize their goals and aspirations, is an imperative in contemporary higher education. The daily pressures to solve problems quickly can lead us to rush through such conversations to fulfill immediate goals rather than fully understand other viewpoints.
Our conversations in Rome convinced us both that listening across differences is a necessary first step. But we also learned that you don't need to visit the Eternal City to initiate that process. Such conversations should begin closer to home on our own campuses, which might prove an even more hospitable location to start listening and evaluating the new perspectives that we encounter daily.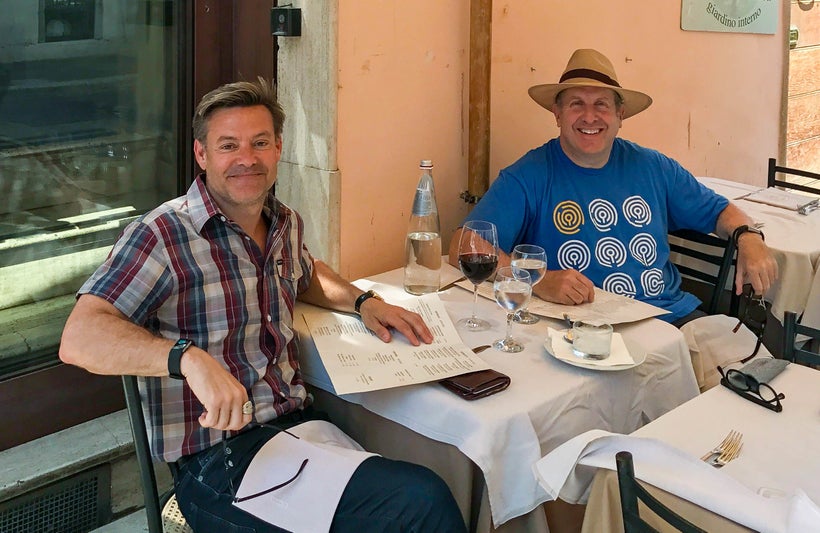 Calling all HuffPost superfans!
Sign up for membership to become a founding member and help shape HuffPost's next chapter
This post was published on the now-closed HuffPost Contributor platform. Contributors control their own work and posted freely to our site. If you need to flag this entry as abusive,
send us an email
.