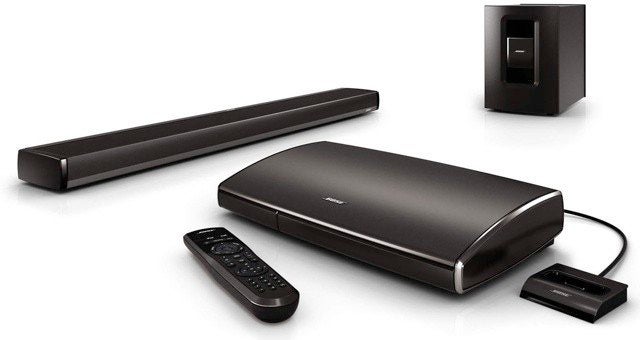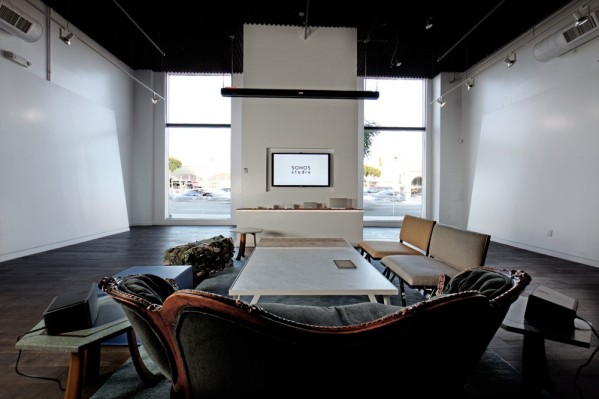 Sonos Studio | Photo Credit: Ralf Strathmann | Courtesy of Sonos/Jessie Cohen PR
At a time when more and more Americans are listening to music exclusively through headphones, Sonos Inc. is leading the counter-cultural revolution toward listening the old-fashioned way: out loud.
Harkening back to the 1950s and '60s when teenagers gathered around record players to enjoy the latest hit singles, Sonos has opened the first-ever acoustically-designed gallery to celebrate music listening, capitalizing on the company's own technological prowess in state-of-the-art audio equipment design.

The Santa Barbara-based company commissioned the space -- called Sonos Studio -- with the aim of providing the best place in Los Angeles to listen to music, "Sonos-style." For the uninitiated, this means that a good song deserves to be played out loud, in great quality, as a social activity.
In the 10 years since its founding, Sonos has garnered a cult-like following among music-lovers and record industry insiders alike who can't get enough of the robust quality of its wireless HiFi speaker system. Indeed, it was this enthusiasm for the Sonos brand that encouraged the company to create Sonos Studio as a space solely devoted to building community around a shared musical experience.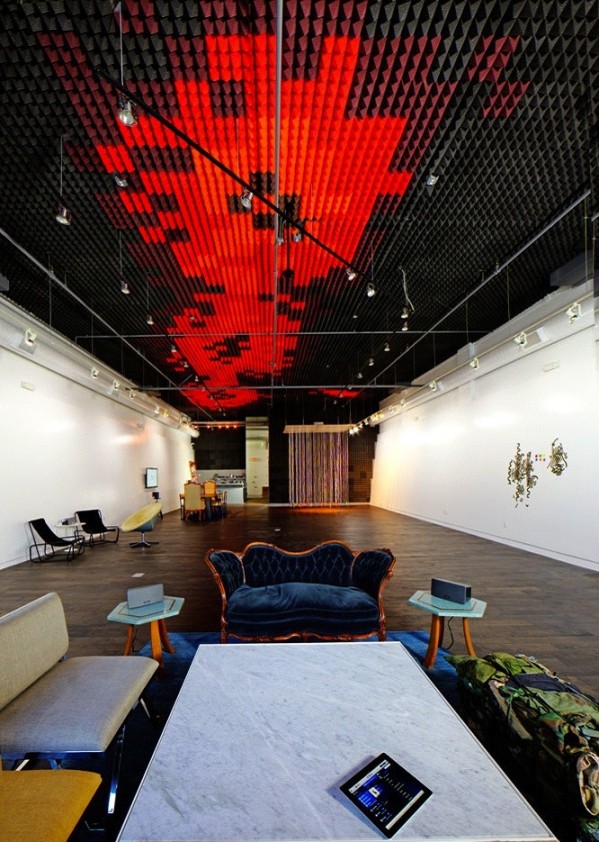 Sonos Studio | Photo Credit: Ralf Strathmann | Courtesy of Sonos/Jessie Cohen PR
The 4,000 square foot venue, located in the heart of the La Brea Art and Design District, features a sonically-tuned gallery space complete with custom-built canted walls and sound-dispersing foam tiles; a listening lounge outfitted with Sonos PLAY:5 all-in-one speakers; a gourmet coffee bar created by neighborhood favorite Coffee Commissary; and even a skateboard lending library with corresponding playlists hand-picked by skateboarding icon Natas Kaupas. (Savvy marketers will note that what visitors won't find is a check-out counter; Sonos Studio is what some are calling a "flagship experience."
Open since mid-May, Sonos Studio boasts an already impressive history: reggae legend Jimmy Cliff broke in the space at a listening party, regaling guests with stories and songs off his new album; local band Bleached played at the opening party, which also featured a DJ set by The Roots' ?uestlove; and Los Angeles-based psyche-pop trio E.S.P. performed a live soundtrack to a standing-room-only preview screening of Bruce Muller's short film series, "Frequencies."
These initial events are exemplary of Sonos Studio's ambitious, yet accessible programming. Beginning with its current exhibition, "Center of Attention," a touch-activated, interactive sound installation by artist Luke Fischbeck of Lucky Dragons, Sonos Studio will host a series of six-week exhibitions, all free and open to the public during regular hours (Wednesday through Sunday from noon to 6pm). At the core of each exhibition cycle is the act of listening: each installation and its associated events - ranging from lectures, workshops, concerts, and more - will celebrate the connection of music to art, fashion, film, design - and even food, sport, and technology. Fischbeck will lead the series' first workshop in which visitors will have the chance to build their own speakers alongside Sonos acoustic engineers. Very clearly keeping with its ethos of community, Sonos says that each of the events in the inaugural cycle is the result their collaborations with "people we respect and bands we love."
The careful planning of the space is evident; everything from the custom-built furniture to the near-perfect acoustics underlies the company's devotion to providing visitors with an unparalled musical encounter. Says a spokesperson from Sonos, "We want to rally music lovers around our listening revolution. We hope that people who come to view an installation, attend an event, or just hang out will appreciate how vital music is as an experience." Indeed. It's hard not to agree with Sonos when they say, "there has never been a better time to be into music" -- especially if you live in Los Angeles.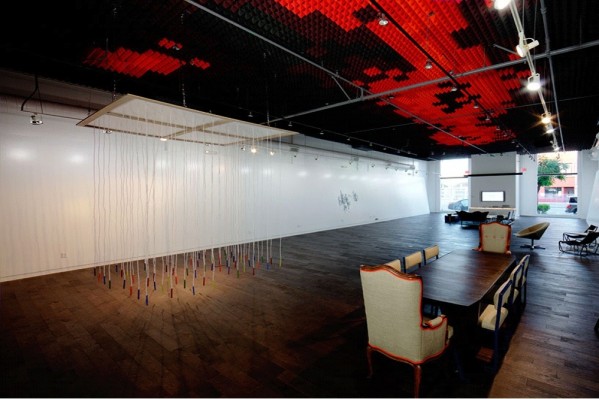 Sonos Studio | Photo Credit: Ralf Strathmann | Courtesy of Sonos/Jessie Cohen PR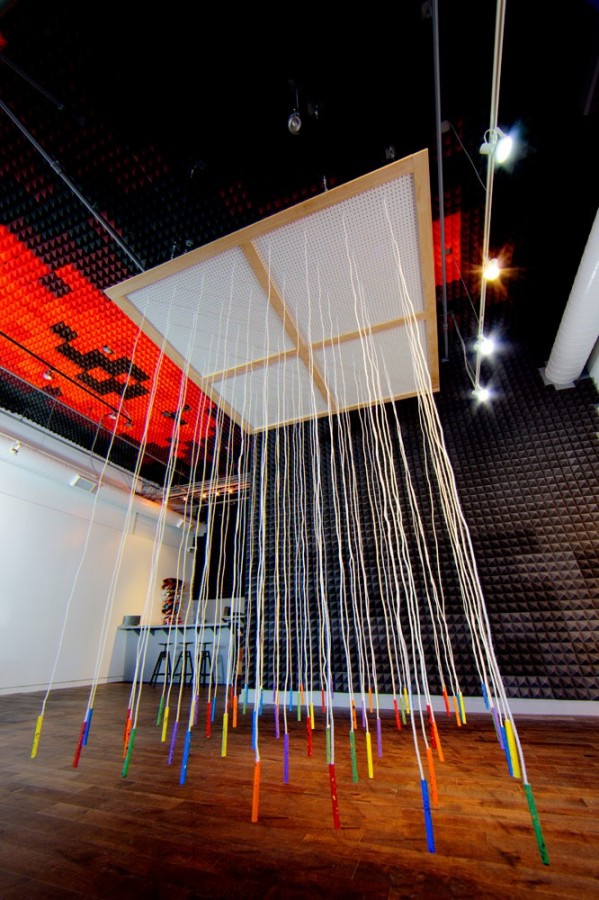 Detail:"Center of Attention" | Photo Credit: Ralf Strathmann | Courtesy of Sonos/Jessie Cohen PR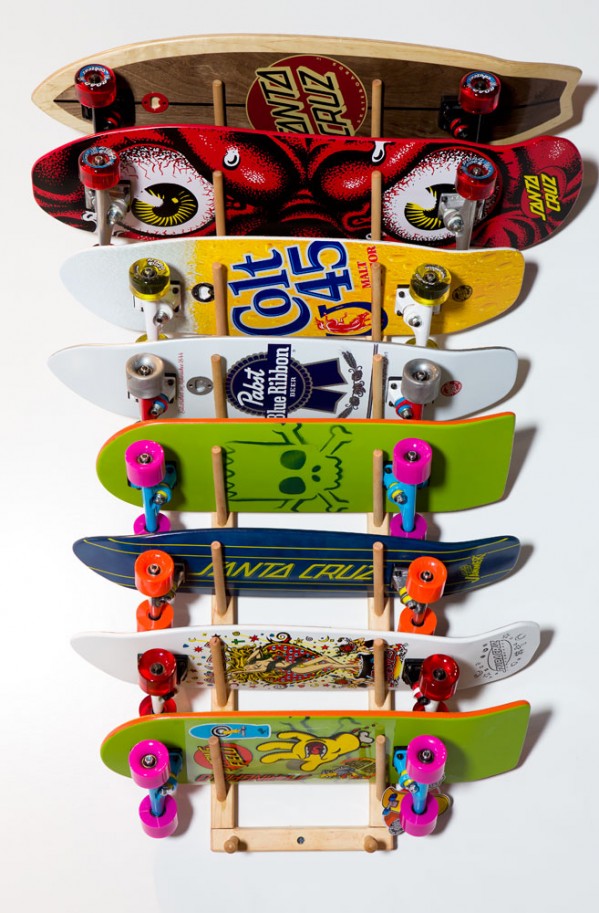 Detail: Skateboards in lending library | Photo Credit: Ralf Strathmann | Courtesy of Sonos/Jessie Cohen PR
Calling all HuffPost superfans!
Sign up for membership to become a founding member and help shape HuffPost's next chapter