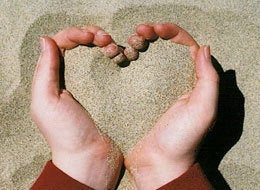 ASPEN -- My late husband, Hunter S. Thompson, said that he was a teenage girl trapped in the body of an elderly dope fiend. I realized something as I watched the highest ranking monk of Tibetan Buddhism: His Holiness is a teenage girl trapped in the body of a Dalai Lama! It was all very familiar, indeed spectacular, as I observed his demeanor during the keynote address he gave at the Aspen Institute Saturday. I have studied the Dalai Lama's teachings, practiced another form of Buddhism, and am even more curious now because Hunter was so often compared to him.
They were one of the pairs in the Separated at Birth books, while the only color cover of the Paris Review featured a portrait of Hunter as the Dalai Lama. So I'll share with you what I learned from this giggling 73-year-old (who didn't make one mention of John McCain, FYI).
Before His Holiness talked about the 21st as the "Century of Dialogue" (an end to what President Eisenhower so presciently warned us about in 1961), and his views of China's original Marxist Socialism being taken over by capitalist corruption and totalitarianism, he giggled to the audience, took off his shoes, and made himself comfy in the sofa while he admired his own new scarf. Yep, it's true, I thought, he's indeed a child at heart, this wise, fun-loving, worshipped spiritual leader.
He has said on many occasions that he would like to retire. But he is still in the body of a Dalai Lama with a job to do. And he did it well.
But first he had to ask his interpreter what the topic was going to be today:

"Values Based on Leadership and Universal Responsibility." He sighed: "As usual, I don't have a prepared text. I'm lazy. Not making sort of homework." He giggled and we laughed. He said he apologized if anyone was disappointed by the relaxed style of his keynote speech. He smiled and looked over at an assemblage of Chinese scholars, whom he described as always "very, very prepared." In India in 1956, however, the Parliament had no discipline, he said -- and it was wonderful.
His Holiness did say Americans seem to fit with his style of casual discourse. In England he finds people much more formal, though after a while he can get them "to relax." More laughter from the audience. Then he looked at the Chinese scholars again and said he hoped that one day he could find such a relaxed atmosphere in Beijing....Huge applause and a sense of Hope filled the room.
Here are the main points the Dalai Lama made about how to achieve world peace in the keynote address he gave in Aspen in his socks:
1. Forget Social Distinctions: "I'm talking here just as a human being -- nothing special."
He began by telling of having just met with some Chinese scholars and a group of children. The children gave him a scarf that he said he would keep "to show genuine appreciation for their friendship.... I feel these young children. their mind[s are] not yet spoiled. I say including myself." He laughed and added that he thinks what we call "wise people" are just those "that know how to cheat other people."
"These children are open-minded," he said. They don't care about other people's social backgrounds, religious backgrounds, and the like, but instead,"They feel their humanity." When we get older we lose that sense of humanity, he posited, and instead come to look at the importance of "my nation, their nation, my religion, their religion and social background. "
The Dalai Lama remembered once when he went to visit a dignitary in India. The entire family was there, including the nanny. He shook hands with all the officials and everyone in the family, but when he tried to shake her hand she was hesitant. Why? This sense of social distinction is one of the key factors in creating unnecessary unhappiness in human society.
Nevertheless, he said he was happy to be in Aspen, even with the Chinese scholars. He said that within this tent, we should forget about our social, religious, and national differences. At this point, the all-white Aspen crowd, not used to a Tibetan accent, was roaring with laughter because the Dalai Lama kept repeating what sounded like "f*ck it" but was actually "forget." Very amusing, apparently. Finally His Holiness exclaimed, "What is wrong?!" There was a little discussion with his interpreter, and he moved on.
"I want us to think we are just human beings, and I want to share this with our professors from China. Please -- just think for a short moment that way."
2. "We Are All Human." Especially because of today's growing population, globalization matters: it means interdependency on each other.
Physically, His Holiness pointed out, some have smaller noses, some have larger noses, etc. But we are all otherwise the same.
We all have the desire for happiness, and the desire to overcome pain.
He once posed a serious question about insects to some scientists at Oxford: Human beings and many animals, such as cats and dogs, have the ability to show appreciation for kindness. But, he asked the scientists, "as far as my own experience goes, [a] mosquito has no ability to show appreciation. When I'm in [a] good mood, and [in] no danger of malaria, occasionally I give blood to a mosquito...then they suck my blood, their bodies turn red...then they fly! No sign of appreciation! So I was wondering: which level of the brain has the ability to show appreciation for others' kindness? So the professors [gave] no answer." He laughed and added, "I don't think they are very busy to carry an investigation into such a matter."
We must think more sincerely about basic humanity.
When he first got to China, the Dalai Lama studied the history of the Chinese Revolution. "I always describe myself as a Marxist, as far as social and economy is concerned," he explained. "In the meantime...I totally am very against, or disagree with, the totalitarian system."
This is the modern principle. Don't think just about the profit, but rather, equal distribution: these are also modern principles. "I am a liberal democratic socialist idealist," he teased. "My brain could be more red than Chinese leaders'. They only think about money -- economy, economy, economy -- and they don't care about the gap between the rich and the poor and the immense corruption."
There used to be a very sincere ideology in the Chinese government, even during Mao's reign. Of course it was very sad. But at that time, there were many good Communist Party members who dedicated their whole lives to service to the people, "not thinking about their own pockets....That kind of spirit is now lost. Difficult and very sad."
4. The Age of Dialogue: War Is Outdated
Now we need that sense of global responsibility, economically and environmentally. We have to look at it holistically.
The concept of war is outdated. Why? In the past, in some cases, it worked. In some cases the interest of one group and the interest of the other group were different, so the destruction of one group helped the other. But now, with the new global reality, the destruction of your neighbor means the destruction of yourself.
Hence, using force to destroy your "enemy" is now outdated. Therefore, out of respect and a genuine sense of their well-being, we have to find ways of reducing conflict. What is the best? Dialogue.
The 20th century was a century of bloodshed.
The 21st century will have to be a century of dialogue.
The military establishment is very connected to the last century. It was necessary then. One day we will not need a foreign ministry or a defense ministry, because we will realize we are connected.
5. A Vision of a Demilitarized World: A Blueprint In the Mind

Of course we can't create this demilitarized world overnight. But if people and governments keep this vision in their minds, it will happen one day.
Don't think one election at a time, but think long-term.
For example, China at one point mentioned the thought of a total ban on nuclear weapons. Of course that didn't happen. But it was a good start.
North America, South America, Europe (all the member states of the European Union) should all create a unified force.
Even Russia should become part of the European Union. It is in nobody's interest to keep Russia an outsider with suspicions of the West. The West should reach out to the former Soviet Union states.
6. World Peace Begins with Inner Peace
First one must find peace with oneself, then with our family, then our neighbor, and finally, with our "enemy."
7. Honesty, Transparency, Openness: Media People Need a Long Nose
The media must have a long nose to smell what is really going on around the back of the neck of the positive face an organization puts on. "The media people should make clear what is going on among the politicians, among the religious leaders, among the business leaders, among the scientists, doctors...every field! The media must inform, to build healthy leadership and a healthy society. In totalitarian society, that is lacking.... The media should be truthful, unbiased, honest."
Alas, dear reader, this is a short summation of the specific points of His Holiness's 40-minute keynote speech. The next hour featured an enlightening question-and-answer session that will have to wait until next time....
Your friend In Woody Creek,
Related