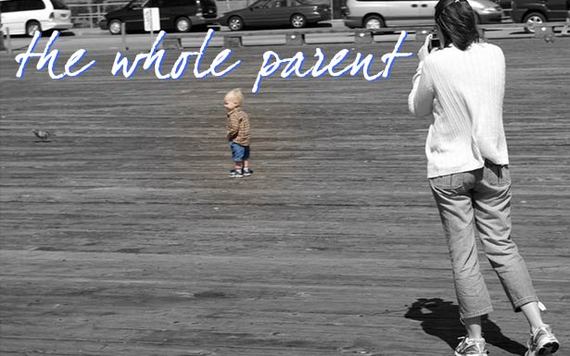 I didn't notice it in my son's behavior or anything he said to me. It was a story he wrote, about a summer trip he took with his mom and her boyfriend to Washington, D.C. The story describes him swimming in a lake and feeling something frightening brush up against his leg. I was just printing it out for him.
"I swung my body onto the clearing, panting and asking myself what I was going to tell my parents. I decided nothing, it was enough for me to know, and she was already dealing with a divorce at the time."
Boom. It struck me. How it was for me dealing, and "being there" for my mom after my parents got divorced. The "Little Man" standing beside his mom, protecting her, hugging her, staying fiercely loyal and loving towards her. In my case, my dad had launched a legal campaign designed to cripple my mom. I guess the idea was, he would make her pay for divorcing him, and then perhaps, would get me back as part of the consequences. It didn't work. It distanced me from him even further as I stood beside my mom. Any violence he would launch at her was going to come through me. Oedipus be damned.
But in my son's case I was confused. We had orchestrated the divorce so favorably towards them and their mom. Keep the house. Keep most of the kid-time. I wasn't sure how to interpret the sentence from my 13-year-old son.
Sure, they -- we -- are all "dealing with a divorce at the time," but for me, I figured we had mostly moved through the tangible suffering. Perhaps not.
And then I started noticing the Little Men all around me. Several of the women I was interested in had small boys, single children. I saw one of them peeking around a door occasionally, but mostly, these young boys existed in photos their mom's had taken. I could almost feel the missing dad in some of the pictures. It was a sad chord that struck something inside of me. I wanted to step in and be a great role model for them. All of them. I longed to heal their little pains, their brave hearts and their fierce manliness.
The boy alone with his mom is a hard road. Both working so hard to support the other's independence and growth. Yet, each so enmeshed in the romantic archetype that is hard to escape.
I am not the healer. But I can see the need for that masculine energy in their lives -- even in my own son's life. I see that he misses me. I see that for most of his life now, I will be a fraction of a father to him. And even as he loves me deeply, he has the awareness of his mother's "divorce."
I think of all the times after the divorce when I strove to get my father's attention, to show him what a success I was. And all the times he was missing.
I try to show up for my son in every way I know how. I am never far from his phone. I commune with him in his computer gaming and online Skyping. We have a bond around computers. And even when he is away, I can ping him on Skype. And mostly, I get a response. He does occasionally ignore my chat requests. (I'm sure this is going to be more obvious in the coming years.)
And even with all this, there is so much of his life that I am simply missing. The routine around school and homework is largely dependant on his mother's support and encouragement. Even his new sport, cross-country, is a gift from his mom, the runner. I am happy for their bond.
I was pained to understand from his story that he still feels he needs to protect her from some of the difficulties he's encountering, because of the hardships of the divorce. Even with everything we do, there is still the hardship of divorce. There is no way around the scaring.
In positive divorce, we know it is critical to keep both parents involved. And yet, several of the women that I've met recently are happy to have the dad out of the picture all together. Of course, I can't take inventory or know what's going on in their situations, but for me, the pain of losing my dad could never be replaced by the grand mothering that my mom attempted. She did the best she could. But there was simply a huge hole in my life.
As I grew into a man and my father died, I had to again confront this sadness at never really being able to confirm my father's love for me. I never really knew that he saw me, or understood what I was about. And until he was dying of cancer and could no longer drink, our relationship seemed like one big argument. I got a few months with my sober father before he died. We made up for lost time, but it wasn't enough. I still feel the wound of the Little Man inside, who didn't quite get his you're-a-man papers from his father.
And maybe that's something I can consciously give to my son. I can't be there for him on all occasions, as I might have if I was still married to his mom. But I can do everything I can to show up for him in real-time with real feedback and real attention. And I do my best. We share a lot of symmetries and likes. And, though he is still very young, we're pretty good buds.
And I'm not trying to make the case for fathering these other boys I see. I can only really take care of my own. But I do see them, and wish them well. And if I could give their single moms some advice, I'd say, "Keep it light. Keep it positive. And take any negativity outside the family and get help releasing it elsewhere." And if possible, keep the dad involved in the parenting decisions. We care. We're here. And if we (dads) aren't invited in, we all might miss an opportunity for connecting.
It's true my ex-wife is "dealing with a divorce" and so is everyone in our family. What I can do as a dad is heal my own Little Man inside and give a place for my son's Little Man to get expressed and released. That will come later. But I know that I am doing everything to show up for MY little man as he grows into a young man and on.