Writing can be a lonely task. It can be tricky to motivate yourself, and without proper feedback, it's hard to know how to improve.
Several websites already exist to encourage writers, through classes, workshops, online forums and more.
Tomorrow, a new site called LitReactor adds its name to the list. Created by the team who built Chuck Palahniuk's website, which itself has hosted writing classes and more, LitReactor uses a combination of engaging content and smart gaming mechanics to encourage writers to gain both new skills and new trusted friends.
LitReactor's intended audience, according to co-founders Kirk Clawes and Dennis Widmyer, is people "aged 24 and up, and a 50-50 gender split, [whereas] the audience of most writing websites is 55 and up, often women."
The Huffington Post was granted an exclusive look at the workings of LitReactor. Here's what's there, and what we think about it.
Access The first thing to know is that while some of the site's content is free, but most is hidden behind a paywall. Membership at launch costs $9 a month, or $45 for six months - that's more than Writer's Digest, one of the site's leading competitors, which costs $19.99 for 12 months.
On the site LitReactor is broken down into four key areas:
Classes
Writers Workshop
Craft Essays
Magazine
As well as a personalized Dashboard containing updates and more, and profile pages.
Main Features Classes The online classes, which have individual price tags, involve lectures once or twice a week, weekly writing assignments, and small-group work. Some classes will last 4-6 weeks, while others will be weekend webinars, and they are open to both members and non members. Paying members get a discount on class rates, and can also sign up earlier than non members.
The cost for a class will start at $295, depending on the length of the class and the profile of the tutor - Chuck Palahniuk has promised to teach a course in the future. Class sizes will be strictly limited, and students will be able to see each others' responses to assignments, to aid in further discussion.
Writers Workshop A members-only section in which writers submit work for feedback by the community, who can leave detailed responses along with star ratings for Concept, Structure, Characters and Dialogue. Non-members will be able to see the titles and synopses of submissions, but will not be able to download them or read feedback.
This is where the most interesting aspect of the site comes into play. In order to submit a piece of work to the Workshop, users need a certain number of points. Points cannot be bought; instead, they are awarded for helpful comments on others' work.
This, say the team behind the site, limits the contributions of those who are "takers not givers". At launch, it will take five comments that are rated "very helpful" by writers in order to generate enough points to make a fresh submission. (Users get one submission free when they buy a membership.)
As with commenters at The Huffington Post, badges are also awarded by the site for various 'achievements', including first comments and first uploads.
Craft Essays These are resources about the craft of writing, finding and agent, etc.
Magazine Content about books and writing. They aim to post an article or more per day about famous authors, literary news and more.
Overall, LitReactor has some smart ideas to try and encourage skills-based learning and community engagement for writers. It offers a well-designed system that seems easy to use, and is designed with simplicity and community at its heart.
Some will balk at the idea of having to pay to access crowd-sourced feedback, however payment for peer critique has become quite common in sites such as these; in return, users can usually expect a more moderated, and considerate feedback space. A community is only as good as its members, but the points and badges systems, borrowed from videogaming, are a great way of encouraging good behavior.
As for the classes, they can only be judged by the individual needs of their students, and the skills of the teachers, so we can't really comment. A writing class can either be a great way to inspire better work, or an expensive distraction from it. All we can say is that the website that underpins it all seems to be solid, clear and easy to use. The launch selection of content in the Magazine also looks engaging and interesting, too.
If LitReactor gets enough of a critical mass (no pun intended), and a decent archive of useful content, then it could become a great resource for experienced and amateur writers. The big question is, will enough engaged members pay their dues and stick around, in order to make it work?
See below for images of LitReactor's key features: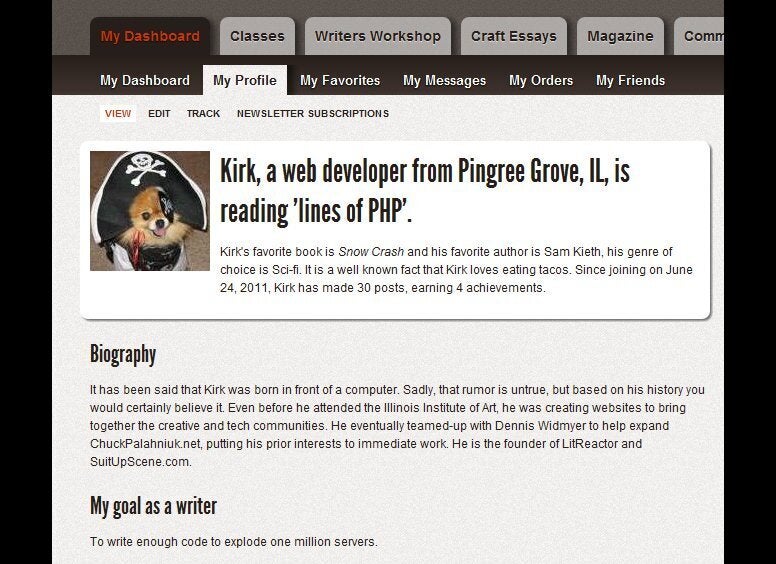 Popular in the Community