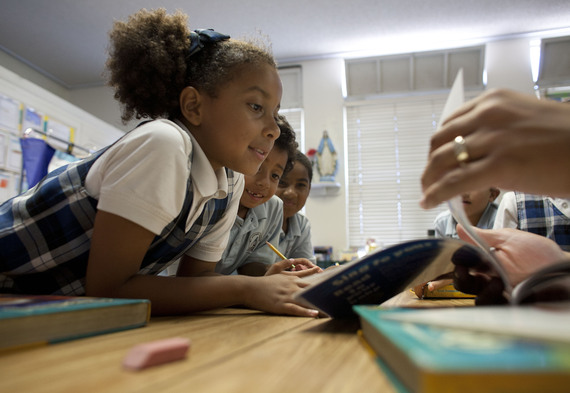 The last few weeks have brought into stark and painful focus our national struggle to face the reality of the racial divide that exists in our country. Despite the historic decision by South Carolina to remove the Confederate flag - for many a glaring reminder of slavery and oppression - from the state capitol, we nonetheless see black churches ablaze, and hear the anger and questions as we come to the first anniversary of the deaths of Eric Garner in New York and Michael Brown in Ferguson, Missouri. Although the Emancipation Proclamation was signed in 1863, the struggle for equality continues a full 150 years later -- as urgent as it has ever been.
While July is marked by fireworks and celebrations of independence, the promise laid out by founders who challenged assumptions cannot be permitted to fade into a quaint commemorative event. It needs to be lived - today. But ensuring our future requires that we tackle a very basic issue: the cavernous educational disparity that contributes to make large segments of Americans invisible in the life of our country.
The symptoms of inequality are not difficult to find. They start in a child's earliest years.
In his book Heart and Soul, author Kadir Nelson observes that the paintings throughout the halls of the U.S. Capitol, a building built by slaves and freemen as a symbol of liberty, have no images of African Americans. ". . . Nary a black face in all of those pretty pictures," he writes. "It's as if we never existed - stricken from the record, like Moses from the walls of Egypt."
Like the images on the walls of the Capitol building, African Americans are largely invisible on the pages of the books that our children read. The same holds true for Latinos, Asian Americans, Native Americans and many other communities and cultures. In fact, of the thousands of children's books published in 2014, the Cooperative Children's Book Center found that only 5% were about African Americans and 2% about Latinos. So right from the start, children from these cultures are receiving the message that books are not relevant to them, nor are their stories and cultures are valued. And white children are also receiving the wrong message.
As a result of these and other inequalities that plague our educational system, children from affluent families gain educational ground, while students from low-income families fall further and further behind. In 2012, early childhood education expert Susan Neuman released a 10-year study showing that we are creating a society of "information-haves" and "information have-nots."
First Book, the nonprofit social enterprise that I lead, is working to overcome the barriers that have kept books out of the hands of children in low-income families: access, price, and relevance.
As part of our commitment through the Clinton Global Initiative America, First Book is increasing diversity in children's books and content through our Stories for All ProjectTM. Through our commitment, we are providing hundreds of thousands of books that recognize different cultures and ethnicities, family structures, sexual orientation, abilities and experiences - so that more voices can be heard and more stories shared. We're committed to paving the way for new diverse authors and illustrators, and partnerships that provide educators and programs that serve kids in need with the tools they need to help all kids find a book that reflects the world around them. For children, stories have a special resonance, and can be a building block to further the necessary mutual understanding that can ultimately help to build an inclusive society.

Ensuring an equal education, and letting our children know they matter, regardless of their race or culture, is the most important step we can take. We are too great a country to fail to address something so fundamental to our fellow citizens and our future.
Calling all HuffPost superfans!
Sign up for membership to become a founding member and help shape HuffPost's next chapter