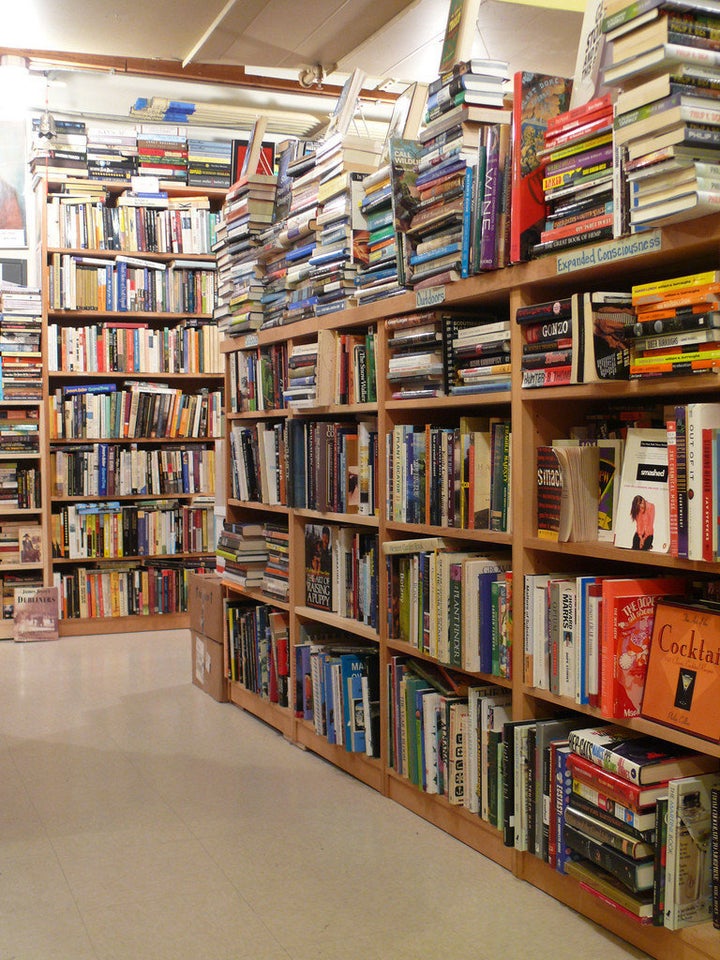 I have sometimes described bringing Literary Death Match to a new city as taking a hammer to a fresh sheet of ice, then following the cracks until they dead end. If all the cracks dead end, I go to the end of the most promising-seeming crack, and hit again. If all the cracks dead-end, I readjust expectations, get defiant, and keep hitting.
Last September, after Sarah Maria Griffin won LDM Dublin, Ep. 5 by throwing five crumpled pictures of book burners through a basketball hoop before her opponent could, I raced over to Philip O'Connor. He's a fantastic Irish writer living in Stockholm who'd narrowly lost to Griffin in the night's first round. I heard him say, "We've got to do this in Stockholm!" Or maybe he listened while I shouted that. Wheels in the back of my head were set into motion.
Three months later, after a late-December email exchange with Philip, I bought a one-way flight to Stockholm from London for $97. There was no venue set-up, no readers or judges were even in the back of my brain. All I was armed with was a six-page document of publishing contacts I'd saved from the London Book Fair. But Stockholm is my favorite city in the world, in my favorite part of the planet, and I'm obsessed with the entire region's films -- You, The Living (Sweden); Reprise (Norway); After the Wedding (Denmark). I don't know squat about the literature, outside of Stieg Larsson, and I want to.
I checked flight prices, then emailed a friend in Helsinki, asked: can I flop on your floor for a few nights? then emailed a performance artist in Copenhagen who I met once in Paris and asked: can I still sleep on the couch in your kitchen? After yesses, I ordered flights (STO to HEL $74 + HEL to CPK $56 + CPK to LHR $82), because in my three days there, I've felt this flutter of awesome under the sidewalks of Helsinki, and I have this certainty there's the same thing in Copenhagen. I've never been.
(It's maybe worth noting that the three cities are situated smack dab in the middle of what I refer to as my "marriage belt": a selection of countries where I feel so at home with the people and the culture that I assume I'll eventually marry someone from there. So, if the shows don't come together, at least I can invite strangers to be my bride.)
I got daring and wrote my German friend who I met in Paris who sometimes lives in Oslo: "If Joachim Trier [the director of Reprise, one of my favorite films which, if you love writing, you should watch right now] is up for judging Literary Death Match, I'll come and do a LDM. If he's not, I'll wait." He's not, I find out a day later. I buy a ticket to Oslo anyway.
With the tickets bought, I rode a wave of possibility and enthusiasm, firing off enough emails to make my wrists swell. I asked everyone I know: who's great in Finland? Who's someone you know who might know writers in Stockholm? I ping cultural institutions in Denmark.
I open up a booklet about Finnish literature that I scored at the London Book Fair in April 2011. It's my roadmap. With the help of my assistant, we figure routes to Sofi Oksanen (author of Purge, a novel about Estonia's long occupation that deals with sex trafficking), Leena Parkkenin (After You, Max who writes about 1920 Helsinki), Katri Lipson (Cosmonaut, about a schoolboy in 1980s Murmansk who is in love with his teacher and dreams about being a spaceman), but can't for the life of us find a contact for Miika Nousiainer (Raspberry Boat Refugee, about a protagonist obsessed with becoming Swedish). Can't. Out of town. No response. I scour, write more invites, and wait.
Then the first jolt of good news: The perfect venue in Helsinki -- an event space called Korjaamo -- confirms us for March 20! I excitedly write the best literary contact I have in Finland (whom I forgot to write in the first place -- what a dummy!), an organization I hoped would co-produce (a.k.a. help build the lineup) for LDM Helsinki. An excerpt of their response:
"We have organized another literary event the same night. It's really a pity because this would have been interesting to be in and to be at, but now we have a reading event at the same time. This will probably reduce the amount of visitors in the both events, yours and ours. Is it still possible to fix another date for this?"
And then Philip-in-Stockholm writes and says: venue is set in Stockholm for March 14! But my flight lands in Stockholm on March 16. But the 16th is booked. Argh! The only feasible move is to do it on the 17th. St. Patrick's Day. Philip's Irish.
I move on to Oslo: write Anders Danielsen Lie -- the star of Trier's Reprise and Oslo, August 31 -- about judging. He writes from Sundance to say how fun it all sounds, but he's away on the days I'm in Oslo. He looks forward to meeting next time.
I keep hitting. The "guy who knows everyone in Finnish publishing" doesn't write back. The guy that "produces events like yours" says he's too busy when I can't offer him more than a cut of the door. The world's most popular Finnish poker blogger gets right back on Twitter, says he'll be in town and could read, but doesn't email me when I send him a note.
I keep hitting. In dreamland, a Literary Death Match would take eight emails and thirty minutes to produce: one to the venue, three to judges, four to writers, followed by everyone saying: yes! But not everyone says yes, some don't get in touch at all, and instead of the thirty dreamt minutes, we clock the production -- including travel, searching for travel, site updates, writing the show, creating and preparing the finale, printing, along with the show itself -- at about fifty hours.
Another lightning bolt: The Liffey in Stockholm can do the 16th! I prepare a note to invite one of my filmmmaking heroes -- Roy Andersson -- to judge. Then the author Kristina Hagen Stoltz from Copenhagen says she's in, and recommends others to invite -- I don't tell her we don't have a venue there yet. The venue in Helsinki asks: do you have the lineup? We don't have one confirmation after eleven days of trying. I open up my Gmail, and keep hitting.
Popular in the Community