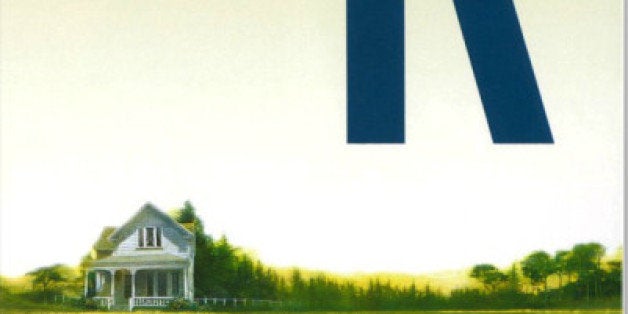 Addie Lockwood, the protagonist of my debut novel Byrd (Dzanc Books), is the owner of a secondhand bookshop and an evangelist about books.
Addie and William like discovering important books that aren't as famous as they should be, like The Diviners by Margaret Laurence, and The Brothers K by David James Duncan. Addie starts a list, "Unheard-Of Masterpieces," and posts it in the store by the cash register. "You never know," William says. "One list in one store could change history."

In my own small effort to change history, I have expanded on Addie's list. These masterpieces are not unheard of, by any means, but they are, at least in my estimation, underappreciated.
1. The Brothers K by David James Duncan (1992): A quintessentially American, gather-you-in-its-arms and-hold-you-close-to-its-big-beating-heart novel about the Chance family of Camas, Washington--a mill-working father trying to stage a return to minor league baseball, a mother distracted by religion, twin sisters conducting peculiar science experiments, and brothers divided by the Vietnam war. Everyone will love this book. Everyone will want to adopt this family.
2. The Diviners by Margaret Laurence (1974): A Canadian classic and winner of the 1974 Governor General's Literary Award, this sprawling postmodern novel is the memory journey of Morag Gunn, child of the prairie, the iconoclastic daughter of a garbage man. Margaret Laurence's semi-autobiographical tour de force shows up more often on banned-books lists than on must-read lists--which alone is reason to read it.
3. The Call by Yannick Murphy (2011): There are books for which my love is too deep and abiding to put into words. This is one. The narrator of The Call is a large-animal veterinarian in rural New England whose routine is upended when his son is injured in a hunting accident. As he searches for the person responsible, he begins to experience visits from UFOs. He delivers his account as if it were a series of veterinary reports. The first paragraph, for example, is organized under the headings Call, Action, Result, Thoughts on Drive Home While Passing Red and Gold Leaves on Maple Trees, What Children Said to Me When I Got Home, What the Wife Cooked for Dinner. This is an original and profoundly moving story of family, animals, community, grief, forgiveness, and spaceships.
4. The Hour of the Star by Clarice Lispector (1977, trans. by Benjamin Moser, 2011): Macabéa is one of the most unique and affecting fictional characters I have met. She lives in dire poverty in the slums of Rio de Janeiro. Hungry, she dreams of meat and eats paper--and is satisfied. A meek, scarcely competent typist, she is so polite when her boss tries to fire her that he changes his mind. She has nothing and no one in her life to love, yet she loves her life, and would not want to lose it because it is hers. That we can celebrate such a character without for an instant romanticizing the cruelty of her circumstances is testimony to the genius of novelist Clarice Lispector. Born in the Ukraine and raised in Brazil, Lispector wields language like an implement; her sentences (which the translator assures us are as strange in the original Portuguese as in English) have physical force--we feel them more than understand them. My thanks to Scott Davis of City Lights Bookstore in San Francisco for introducing me to this author, his personal choice for most underappreciated.
5. The Book of Small by Emily Carr (1942): Emily Carr's memoir of early childhood is a portrait of the artist as a minutely observant young girl in frontier Victoria. Carr was best known as a painter--I fell in love with her art during a trip to British Columbia years ago, and only recently discovered her writing--and her sentences are like little paintings: intimate, visually arresting. "But it was in the Cow Yard that you felt most strongly the warm life-giving existence of the great red-and-white loose-knit Cow." "They sat on the sofa with their dolls in their laps. Their eyes stared like the dolls' eyes. Mrs. Crane would not allow dolls to be dressed or undressed in the drawing-room; she said it was not nice." Joni Mitchell loves this book; need I say more?
6. The Pink Institution by Selah Saterstrom (2004): Selah Saterstrom's debut novel is an experiment in fragmented storytelling, a collage of prose, poetry, excerpts from historic text, even old photographs. Saterstrom writes with a poet's economy and eye for visceral detail, collapsing into a mere 140 pages a four-generation history of a Southern family bedeviled by alcoholism, poverty, racism, violence, and mental illness. Her spareness is a mercy. The story she tells is brutal, almost impossible to take; at the same time, her exquisite, cut-to-the-quick language makes this book impossible to put down.
7. Any Small Thing Can Save You: A Bestiary by Christina Adam (2001): A medieval form, the bestiary was once an instructional guide. The animals in each of Christina Adam's twenty-six A-to-Z vignettes reflect small truths about human life and the universal craving for intimacy and redemption. These poignant, deceptively simple meditations have a cumulative power and resonance. They are like flecks of magic dust.
8. Excerpts from a Family Medical Dictionary by Rebecca Brown (2001): Renowned writer and former home care worker Rebecca Brown nursed her mother for six months as she was dying of cancer. This memoir is a spare, clear-eyed account of that experience organized in short chapters headed by definitions of medical terms like "anemia," "tremor," "morphine," and "hallucination." Brown's book is at once practical and tender, stark and lyrical, heartbreaking and celebratory--a guidebook on how we die and how we love.
9. This Road Will Take Us Closer to the Moon by Linda McCullough Moore (2011): I bought this unassuming little book off the "Staff Picks" rack at Quail Ridge Books & Music in Raleigh, opened it, began to read, and my brain lit up like one of the candles on the Christmas tree in the shabby, cabbage-and-sausage-smelling second-floor apartment where the first story is set. This linked collection chronicles the life of Margaret McKenzie, a character as sharp and curmudgeonly and memorable as Olive Kitteridge. Shot through with humor and heartbreak, these stories gather the ordinary moments of an ordinary life into a transcendent, extraordinary whole.
10. I Wish Someone Were Waiting for Me Somewhere by Anna Gavalda (1999, trans. by Karen Marker, 2003): A sensation in her native France, Anna Gavalda deserves to be a household name in the United States. Each of these 12 first-person stories focuses on a moment of stark clarity in a character's life. Each is a little stab to the heart. "Pregnant," a sensitive, moving story about the longing for motherhood, is alone worth the price of admission.
11. The Five Thousand and One Nights by Penelope Lively (1997): Booker Prize-winning Penelope Lively is hardly unheard of, but this collection of fourteen stories gets relatively little attention. Whenever I start to take myself too seriously, I reread "Crumbs of Wisdom." Elaine, a writing teacher, is thrilled that she and her students are to be given audience with Ruth Harrap, a once-famous romance novelist. As they cluster in Ruth Harrap's small, dowdy flat, Elaine asks the burning question:
"What advice would you give to the aspiring writer?"
"The who?"

"Aspiring writer. The ... you know ... person who wants to write."

"You needn't spell it out," said Ruth Harrap tartly, displaying her first sign of animation. "I couldn't hear you, that's all." She paused. "Don't. That's what I'd say."

Elaine laughed merrily. "Oh, I do understand. I mean, in my humble way I've toiled in the vineyard as well. I know. It's grueling. Punishing. But the rewards, Miss Harrap! And I don't of course mean financial rewards. The artistic satisfaction. All that."

There was a silence. The author stared at Elaine, her face knotted in disapproval. "That may be your experience, for what it's worth. It's not mine. I never wrote but for cash. I wanted to be a buyer in a department store. Never got promotion. Ten years in china and gifts, I was, and then all those books, and I don't know which was worst." She heaved herself to her feet again. "You'd better have some tea before you go. How many with sugar?"
Related
Popular in the Community