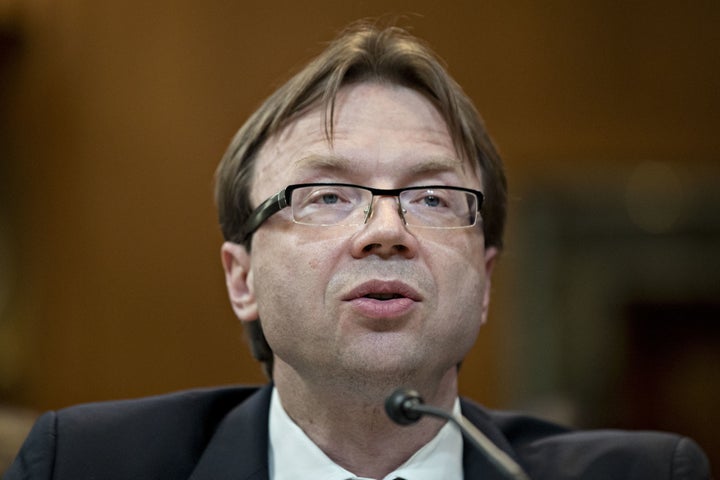 Lithuanian officials said that Walmart has agreed to remove Soviet-themed T-shirts from its online store after receiving complaints from Lithuania and two other Baltic nations.
Rasa Jakilaitienė, spokeswoman for Lithuania's foreign ministry, told HuffPost that her department received a letter from Walmart on Sept. 17 confirming that the retail giant will no longer sell products with emblems like the Soviet hammer and sickle.
"We were assured it does take a bit of time to remove everything but the plan is to do as quickly as possible," Jakilaitienė wrote in an email Wednesday.
She said that the company's decision shows its commitment to "high ethical standards."
"Symbols ― be it Nazi or Soviet ― that are associated with mass murder of millions of innocent people should not find place on the platforms of respected companies," Jakilaitienė wrote.
Walmart did not immediately respond to HuffPost's request for confirmation about the new policy. It's unclear when exactly the policy would go into effect.
Lawmakers from Lithuania, Latvia and Estonia ― three Baltic countries annexed by the Soviet Union in 1940 ― wrote to Walmart earlier this month about their opposition to the products, The Associated Press reports.
All three were part of the Soviet Union until it folded in 1991. They were also occupied by Nazi Germany during World War II.
Lithuania now has tough restrictions on the public display of Soviet or Nazi symbols. In 2008, the country's parliament banned citizens from displaying flags, emblems and badges emblazoned with the swastika or the hammer and sickle.
"Horrific crimes" were committed under Soviet rule, Rolandas Krisciunas, Lithuania's ambassador to the U.S., wrote in an open letter posted to his country's foreign affairs Twitter account on Sept. 6.
"When the Soviet Union occupied Lithuania, hundreds of thousands of our citizens were killed, exiled, tortured, raped, separated from their families," the ambassador said.
It appears that many of the hammer-and-sickle shirts on Walmart's site are sold and shipped by third-party companies.
In his open letter, Krisciunas said he doesn't believe Walmart deliberately chose to offend "innocent victims or their off-springs." Nonetheless, he wrote, "The T-shirts and other products with symbols of mass murder should be immediately withdrawn."
Jakilaitienė told the AP that Lithuanian officials were also planning to ask Amazon to remove Soviet symbols from its website.
"We believe other companies will follow Walmart's example," she told HuffPost.
Amazon has not responded to HuffPost's request for comment.
This story has been updated to include comments from Rasa Jakilaitienė.
Related
Popular in the Community