Different players across the NBA have something in common: they once played basketball with the AAU, aka the Amateur Athletic Union, a non-profit organization that provides sporting activities for kids across the country. One film sheds light on the dreams, challenges, wins and losses of youth in the program.
"Little Ballers," a 2013 documentary that premieres Wednesday on Nicktoons, focuses on the New York-based AAU basketball team New Heights as they fight their way to the national championship. Four boys in particular, Judah, Tyriek, Cole and Kevin, pepper in their opinions on basketball and life in general, noting their personal goals of making it to the NBA.
At 11 years old, these boys evoke the raw emotion of childhood innocence, which is counterbalanced by the adults of the movie -- including their Coach Billy, current and former NBA players like Carmelo Anthony and Walt Frazier, and cultural pundits such as Travis King and Roland Martin -- who stress the idea that dreams also have a layer of reality to them.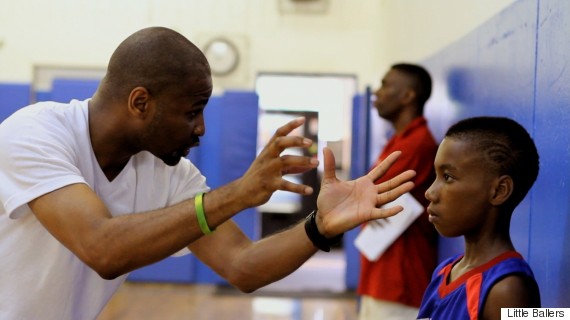 McCrary was just a mom with a camera in her hand when the idea of the documentary blossomed. "I didn't know where the story was going to go," the director told The Huffington Post, adding that she's a "filmmaker, sports fanatic and a lover of children," which were all factors leading to her telling New Heights' story.
Throughout filming, McCrary encountered a slew of emotions, including on-court tantrums, locker room tears and, of course, the unabashed boys who tell it like it is. "Since the boys hadn't had any real disappointments in their 11-year-old lives, they believed they could scale Mount Everest, they believed that they are going to make it to the NBA, despite the fact that the odds are overwhelmingly against them," she said. "And that's inspirational."
However, there are underlying themes within "Little Ballers" that bring up society's ongoing interaction with black boys and men. The film illuminates the issue of street and gang violence, and how the AAU helps kids avoid dangerous situations, allowing them to make safer decisions.
Chicago Bulls player Joakim Noah's initiative, the Noah's Arc Foundation, aims to mentor gang members and encourage them to make better choices for their future. He speaks in the film about the importance of extracurricular activities, which McCrary said was a focal point in the movie. Noah mentioned that there isn't much for the gang members to do other than inflict violence in their community, and McCrary agreed that any sort of activity provided for inner-city youth outside of school is crucial.
"I'm not one of those people that says basketball replaces education, nor am I trying to sell a pipe dream," McCrary noted, saying that while basketball is a popular attraction, there are other avenues of expression when it comes to extracurriculars. "So, that could be a chess club, debate team," she said, adding, "It's just important to show that there are so many attributes that kids can acquire by being on an organized team." This includes life skills, healthy lifestyle choices, discipline and structure, all of which can promote a better future when instilled in kids at, say, age 11.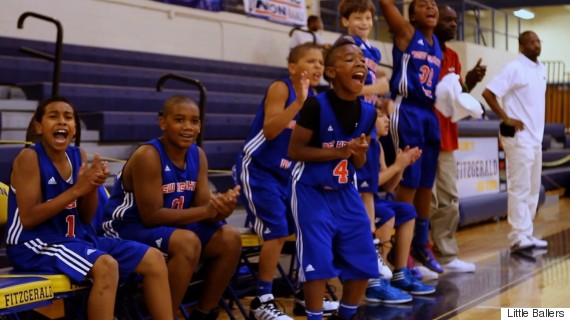 Further, McCrary touches on another overarching tone: the stereotypical notion that black people, especially men and boys, are monolithic characters in America -- especially in the social and political climate following the killings of Michael Brown, Trayvon Martin and several others.
New Heights wasn't just a "black team," as its members had different backgrounds, but the film mostly focuses on black players and coaches, which has more meaning than just race. "It's about these four boys that come from diverse family and economic situations," McCrary said.
One of the kids, Tyriek, lives with his single mother in the gang-ridden Brownsville neighborhood of Brooklyn. McCrary talked about him throughout the conversation. "Typically, when society sees a kid like Tyriek walking down the street in his community, he's immediately written off as some sort of statistic or some sort of other -- so the kid is not destined to achieve," she said.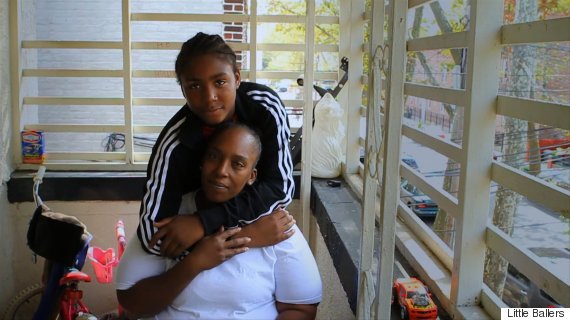 However, there's always more to the story. "Just because you are being brought up in poverty, that doesn't make you a criminal," McCrary added. "It also doesn't mean you're not brought up in an environment that's filled with love, just as much as that kid that lives in the suburbs with two parents and a white picket fence, who also is brought up with love."
More importantly, McCrary felt like the boys' different upbringings prove that in the face of diversity, there can be common ground. "So, we as people of color in this country come from all different backgrounds and all different family situations, so we're not monolithic," McCray said, but the team's commitment to each other combats stereotype.
"I also found inspiration in the bond that they developed as brothers," she noted. "For these young men, race, class and culture really meant nothing, but what did mean something was the brotherhood they developed playing together as teammates and getting to know each other off the court."
Calling all HuffPost superfans!
Sign up for membership to become a founding member and help shape HuffPost's next chapter