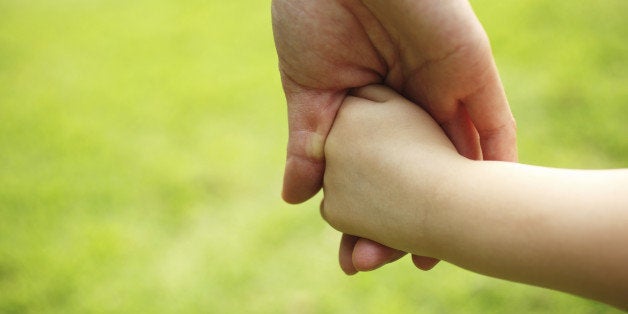 This week is Mother's Day. You know, the one day of the year where we pretend for a single moment in time that life with children, no matter what their age[s], is idyllic and sweet. Kids all over, far and wide, in cities and on farms, serve breakfasts in bed, provide foot massages and draw pictures and write beautiful prose in cards.

Its our day. Mother's Day.

As a mom firmly entrenched in the mom space for the last 13 years, whether it's actually being a mom myself, writing about or working with them or advocating for us, I like to take this day to reflect on the subject.

If I don't do so, who else will?

With each passing year, May ushers in a moment for me to think on moms, our ideas about moms, my relationship with my very own mother and my children with me, and what I want from the second Sunday in May other than a quiet 20 minutes to drink my coffee.

This year, I found myself eyeing up a pair of earrings. They were really nice, pricey, but understated, ones I would wear every day. I started dropping hints.

"You know, I saw these earrings. They're hoops with a little stone on them. I think I love them, and you know I saw so-and-so out shopping for jewelry... It was so sweet"

"Yep, this year, I want jewelry for Mother's Day. Skip the robes and the flowers, and get me something meaningful."

But, is that meaningful? When forced to really delve into that idea, I know they are not meaningful at all. I will wear them, adore them and then eventually, they will go out of style, collecting dust in a drawer somewhere. Perhaps, even before that happens, I will lose a back to one and stick them on my perfume tray as a constant reminder to get a new back, full-on knowing it will be months, maybe even years, before I do.

So, I cut out my hints for jewelry and I move on to wanting brunch. A sophisticated one at that. Not pancakes at home or the local diner, but a fancy one with white tablecloths and coffee poured from silver carafes. Problem is, you need a reservation for those and we don't have one. All the more responsible, Hallmark-infused dads and sons (and daughters) scooped them up early along with the music-making cards.

In the end, I don't know what I will get this Mother's Day, 2014. I don't where I will eat with my family, or if they will want me to prep the meal. It could be as equally messy and picture-perfect as last year. Who knows?

The only certainty of my coming weekend is I will be attending a basketball tournament with my oldest son, the younger one in tow, talking my head off on the bleachers. I may get sick of the whole scene, but secretly, I love it. I mean, how many more years will he chat to me endlessly?

How much longer do I have being the girl my son comes over to after a game? Not long, I suspect. High school is around the corner, which brings faux independence and romance.

At a quick glance, WE are a heterogeneous group at b-ball. A group of moms thrown together for three months, every weekend from Friday late afternoon until it is dark on Sunday night. We are black, white, tall, short, loud and reserved. We don't look like we belong together, but we do. We do because we love our kids. Believe in our sons and want them to channel their energy in a positive way.

We collectively complain about washing smelly uniforms and playing the homework drill sergeant, but we do it with smiles on our faces and pride in our hearts.

I'm not the only one with a younger sibling hanging all over me, asking when we are going to get the heck out of the gym and go do what [s]he wants to do.

"Soon, baby. Soon"

"Want to go share a candy bar while we wait?" I say while HOLDING his hand.
The hand-holding. That's the best. The ultimate. The most meaningful gift I can ask for this Mother's Day.

"I want hand-holding."

Happy Mother's Day to each and everyone of you. R