Every hour of every day someone, somewhere, suffers a life-changing loss of innocence. Whether it occurs while watching the news or at gunpoint, whether it involves being corrupted by a small bribe or deflowered by a priest, the moment forever alters the way a person sees himself and the world around him.
Needless to say, the loss of innocence is a powerful plot device that has inspired many novels, plays, movies, and television dramas. But what sometimes gets lost in all the trauma and angst is the scope of the loss. It may involve one person's life (or soul) or a much larger piece of the general population. It may mark an important turning point in someone's personal or political history. Whether the loss of innocence involves being banished from the Garden of Eden or accidentally causing another person's death, there is no turning the clock back to happier times.
It's possible to feel jaded at the thought of watching yet another film about Nazis terrorizing innocent Europeans. But Winter in Wartime has something very special -- an adolescent protagonist who, under better circumstances, would be the Dutch equivalent of one of the Hardy boys. Based on Jan Terlouw's 1972 semi-autobiographical novel, Oorlogswinter, this film offers a deeply moving coming-of-age story.
Terlouw spent five years under German occupation during World War II. His father, the local vicar, was arrested twice and threatened with execution. In the film, Terlouw is portrayed as a 13-year-old Dutch boy named Michiel (played by young Martijn Lakemeier) who, as he looks out his bedroom window on a cold, snowy night, sees a fighter plane crash in flames in the nearby forest.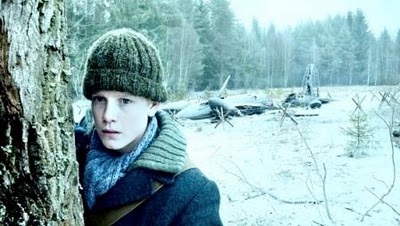 Martijn Lakemeier as young Michiel

Michiel is soon drawn into a web of political intrigue by a close friend who was active in the Dutch resistance and the discovery of a wounded RAF pilot hiding out in the woods. What begins as an adventure for Michiel and his friend Theo (Jesse van Driel) soon darkens as Michiel's father (the mayor of his town) is executed and Michiel discovers that his favorite uncle is actually doing undercover work for the Nazis.
Written and directed by Martin Koolhoven (who always wanted to shoot a feature film in snow), Winter in Wartime does a solid job of capturing what Terlouw recalls as the peculiar reality of 1944's winter of hunger. On witnessing the film as it was being shot on location in Lithuania, Terlouw remarked:
"It was amazing to confront the past that way. When I turned 13, school was shut down. I was completely preoccupied with the war; gathering food for people who were hungry, on the run for airplanes, helping people in hiding. Not heroic, but those were the things I encountered. It was a special time, in which I matured rapidly. But after the liberation, it was back to school, be home on time at nine o'clock, do homework. I had to become a child again, with all its limits. I didn't like being a child."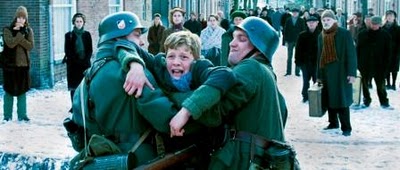 Soldiers restrain Michiel as he watches his father die before a firing squad

"The first day I was on location, the suspenseful scene at the bridge was being shot. When I arrived, I saw Martijn (playing Michiel) wearing a jacket that was exactly like what I wore during those times. It was just as if I saw myself again. I was completely back in wartime, also because of all those extras walking over the bridge in old clothes. Later, I saw Martijn riding a horse, just like me riding bareback to the blacksmith. On my second visit, the liberation scene was being shot. It was true to life and very emotional."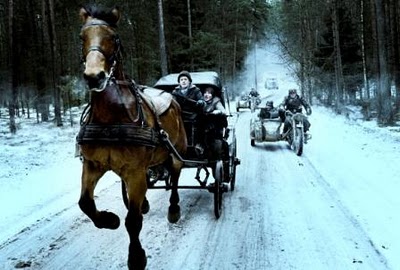 Michiel (Martijn Lakemeier) and Jack (Jamie Campbell Bower) try to escape from the Nazis

There is much to admire in Koolhoven's film, especially the cinematography by Guido von Gennep and a smashing debut by young Martijn Lakemeier as Michiel. Jamie Campbell Bower scores strongly as the wounded British pilot who is helped by Martijn and his sister, Erica (Monica Klaver). Raymond Thiry and Anneke Blok portray Michiel's parents with supporting roles filled by Yoreck van Wageningen as the two-faced uncle Ben, Mees Peijnenburg as Dirk, and Dan van Husen as Auer (the local Nazi officer).
Winter in Wartime is most effective in showing how growing up and becoming a man is cruelly accelerated when -- because of the responsibilities he has suddenly inherited -- Michiel is forced to make a series of brutal life-altering decisions. Here's the trailer:
In contrast to the gritty realism of Winter in Wartime, The Boy in the Striped Pajamas might best be described as the Disneyfication of the Holocaust. Aided by Benoit Delhomme's cinematography, the film's production design by Martin Childs creates a strong sense of period which will have special appeal to fanciers of antique cars, steam locomotives, and vintage furniture. Sheila Hancock has some poignant moments as the boy's rebellious grandmother. Rupert Friend provides some macho Tom of Finland-style eye candy for uniform fetishists as a butch young Nazi who suddenly disappears after mentioning that he no longer knows where his parents are.
To its credit, The Boy In The Striped Pajamas offers actress Vera Farmiga some beautiful moments as the distressed mother who, after her family moves to a villa in the countryside (not far from where a smokestack belches foul-smelling smoke) comes to realize what her husband's work actually involves. After a tragic misunderstanding, she loses her son because of the young boy's simple yearning to have a friend who is the same age. And what better place could there be to find an adolescent playmate than the neighboring concentration camp?
As I watched this film, I flashed back to a sunny day, many years ago, when I was tripping my brains out in Disneyland. As I stood on a long, winding line waiting to experience Pirates of the Caribbean, I turned to a friend and asked "Have you seen anyone exit this ride? For all we know, this could be the fucking ovens!"
After watching The Boy In The Striped Pajamas (in which the Germans all have very curiously proper British accents), I found myself wondering if the creative team behind this attempt to rewrite history and sugar coat it with a syrupy musical score had given any thought to adding an Auschwitz section to the famous ride in Disney's Magic Kingdom entitled It's A Small World.
Perhaps the greatest fear of any parent is for their child to be snatched away from them. In another film which boasts exceptional art design and cinematography, Jochen Alexander Freydank's Toyland tells the tale of a young German boy who has been best friends with a Jewish boy in his apartment building. Sworn blood brothers, the two children love to practice piano together. Not understanding the code words his parents have used to describe what is happening to the Jewish families around them, Heinrich is eagerly looking forward to a trip to Toyland. When his friend's family is rounded up in 1942 to be sent to the camps, Heinrich eagerly follows them with his little suitcase in one hand and his teddy bear in the other.
Upon returning home to an empty house, his mother panics and goes in search of her little boy. This surprisingly powerful 13-minute film is a gem that grabs the audience by the throat and forces it to see, through a child's innocent eyes, how important friendship can be. The film ends with a beautiful shot looking down at a piano keyboard as two sets of wrinkled, liver-spotted hands once more play the melody of the Hebrew song "Hine Ma Tov" (whose lyric translates to: "How good and pleasant it is when brothers dwell together in unity") that is used throughout the film.
Freydank notes that "Shooting Toyland was one of the most rewarding experiences in my film life, with a team completely devoted to this project, working with actors who were excited to do this film because they really wanted this film to be made."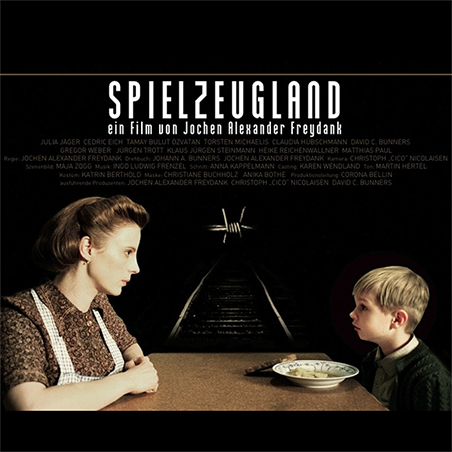 * * * * * * * * * *

There are boys and then there are "boys." Even if a German "boy" grows up to become a Nazi, there's nothing to stop him from providing gay men with plenty of eye candy.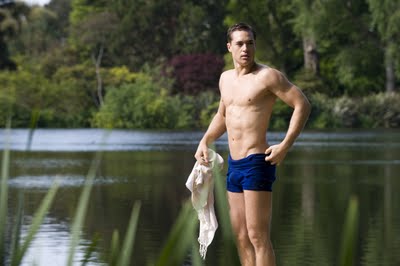 Alexander Doetsch as Caspar

Today, when people think of author Christopher Isherwood, many think of his 1945 book, The Berlin Stories, as the source material for:
John van Druten's 1951 play, I Am A Camera.
Joe Masteroff, John Kander, and Fred Ebb's 1966 Broadway musical, Cabaret.
The 1972 film adaptation of Cabaret starring Liza Minelli, Joel Grey, and Michael York that was directed by Bob Fosse.
Made for British television, a magnificent dramatization of Isherwood's 1976 autobiography, Christopher and His Kind, is the closing night feature of Frameline's 35th San Francisco International LGBT Film Festival. In the following BBC interview, actor Matt Smith (who portrays Isherwood in Geoffrey Sax's new film) talks about the strength of his character's writing:
The film adaptation of Christopher and His Kind does a superb job of capturing the smoky homoeroticism of Berlin's underground society in the 1930s as well as the horror of anti-Semitism as it began to infect German culture. There is a much greater sense of Isherwood's ability as an outsider to "pass" in German society while some of his friends and students were targeted by the Nazis or quietly disappeared from sight.
The film also offers a more honest depiction of how hunky young Germans from starving families had no qualms about selling their sexual favors to rich homosexuals as a means of getting money. Later, as they enrolled in the Nazi party, they had no moral problems turning on the men whose beds they had shared with such lust and wild abandon.
For those familiar with the musical Cabaret, watching Christopher and His Kind will be a fascinating experience as they see the inspirations for characters like Sally Bowles and Fraulein Schneider come to life. Imogen Poots is beautifully untalented as Jean Ross/Sally Bowles while Issy van Randwyck delivers a poignant portrayal of Isherwood's landlady, Fraulein Thurau. Lindsay Duncan portrays Isherwood's mother, Kathleen Isherwood, as a rather rigid Brit while Perry Millward gives a fascinatingly dysfunctional performance as Isherwood's mother-fixated younger brother, Richard.
Exceptionally strong performances come from Iddo Goldberg as the wealthy Jewish owner of a department store (Wilfrid Landauer) and Toby Jones as the tired old queen and memoirist, Gerald Hamilton, who suggests that Isherwood get a room at the boarding house where he lives. Alexander Doetsch appears as Caspar (Isherwood's athletic boyfriend who later joins the Nazis). Douglas Booth is fascinating to watch as Heinz Neddermayer (a street cleaner whose puppy dog appeal is irresistible to the English author).
Christopher and His Kind benefits immensely from gorgeous cinematography by Kieran McGuigan and the original musical score by Dominik Scherer. Here's the trailer:
REAL LIFE. REAL NEWS. REAL VOICES.
Help us tell more of the stories that matter from voices that too often remain unheard.