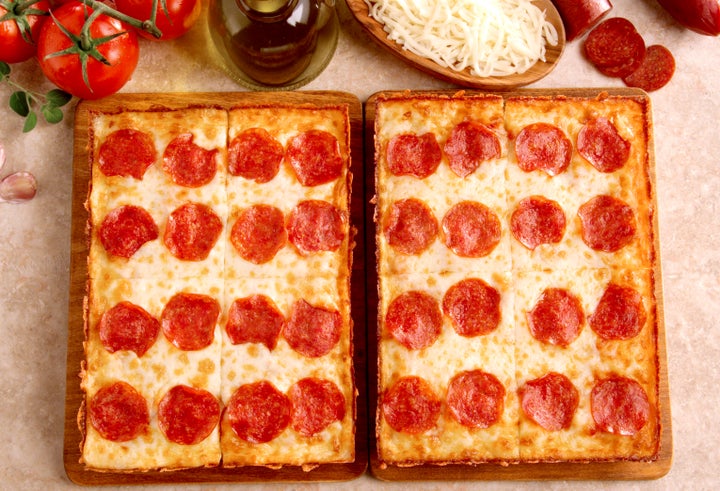 More known for value than taste, Hot-N-Ready pizzas from Little Caesars are a staple of the late-night and budget dining scene. The chain's $5 pie is takeout-ready at all times. But the Detroit-based pizza makers are now stepping up their game with the new DEEP!DEEP! Dish pizza.
The higher-end pie is available at Little Caesars nationwide beginning Monday, which the company is calling "the biggest product introduction in the company's 54-year history." Pizza is big business to owners Mike and Marian Ilitch, who opened their first Metro Detroit pizzeria in 1959 (they also own the Detroit Tigers and Red Wings franchises).
But while the pizza's thick, chewy crust and crispy, cheesy edges may be novel to some diners, it will look awfully familiar to Metro Detroiters.
"Detroit-style" pizza has a long history in the city, even though it's only beginning to permeate the national food scene. Several years ago, GQ gave one of the best explainers of the local style to newbies in a mouthwatering shoutout:
More widespread than any of those styles is the pan pizza, sometimes known as Sicilian and sometimes as square. This is a richer, heavier version of focaccia—a soft flat-topped bread prepared with olive oil. Pan pizza is easily at its best in Detroit, where aficionados seek out the corner slices that have caramelized edges blackened through contact with the hot pan. A crunchy bottom, blissfully created by the same process, is also a virtue.

The magazine cites Buddy's, an independent Detroit chain, as one of the best pizzerias in the country. The restaurant has won plenty of praise for its square pizza, which they originated in 1946. Other pizza chains also cook up their own version of the Detroit specialty. Jet's also offers an eight-corner pizza, essentially two four-piece pizzas side-by-side, which some have pointed out appears to be quite similar to Little Caesar's newest offering.
The new DEEP!DEEP! Dish pizzas will be available to-go at Little Caesars from 4 to 8 p.m. and cost $8, a bump from their $5 round pies. According to the Free Press, an earlier version of the deep dish Hot-N-Ready had been available in a small number of Little Caesars stores, but thew new pies have an improved crust, more corner pieces and ten percent more pizza.
A pizza with eight crust pieces isn't the only "innovation" chains have brought out recently. In February, Pizza Hut dropped sliders -- boxes of three or nine mini pizzas -- on the chain pizzeria market. And who could forget last year's absurd creation from Pizza Hut U.K., a pie with a hot-dog-stuffed crust? See some other out-there pizza and fast food creations in the slideshow below.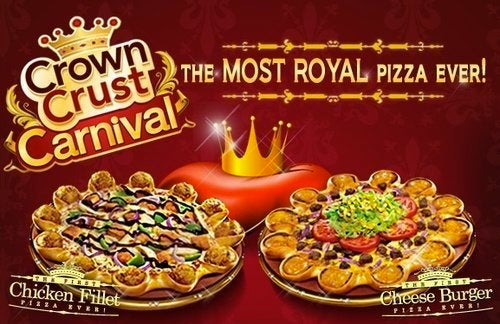 2012's Craziest Fast Food Items
Popular in the Community