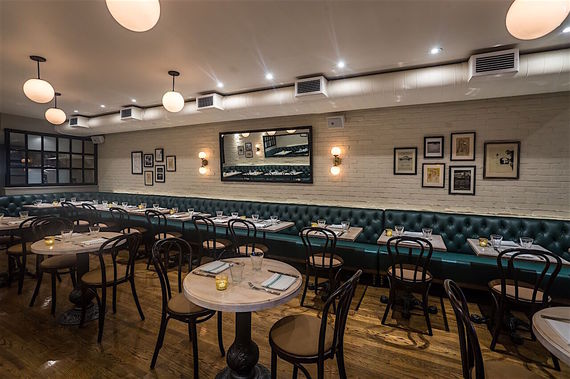 I've known Francois Latapie for a good long while now, dating back to the days when he was maitre' d at Le Cirque, then when he ran a trendy spot on Miami Beach, and later when he opened a very authentic French spot in Greenwich Village named Lyon Bouchon Moderne with the classic bistro dishes splendidly prepared.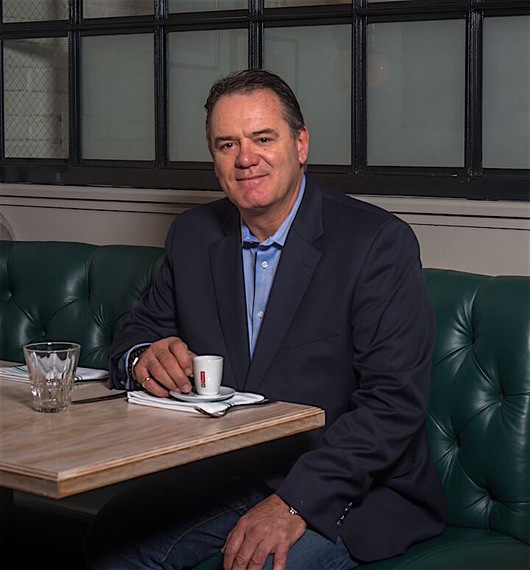 So I was very happy to hear that he recently opened Little Frog on the Upper East Side, where he's already drawing a very local crowd. (If they ever finish the Second Avenue subway, maybe more people will find their way there.) Latapie has always been the epitome of French savoir faire and bonhomie, with a great smile upon greeting you and a way of seeming to be at every table at once, making sure everything is going well and that you are having a good time.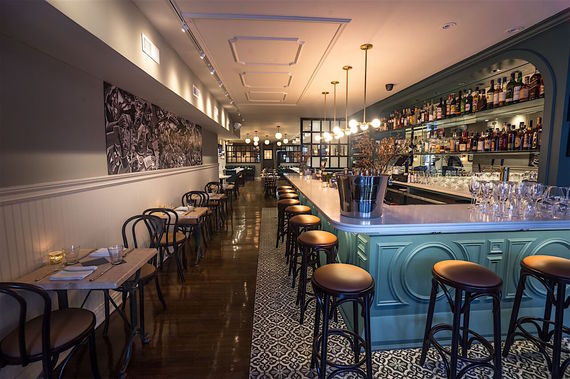 And, really, that's the point of a good bistro. The food must be rigorously authentic, with wines to match, but the joie de vivre of the room is paramount. You don't go to a bistro like Little Frog to eat an ego-mad chef's 20-course tasting menu; you go so you can flop down on a comfortable banquette in a clean, well-lighted place, have a nice conversation with the owner, sip a simple wine, and eat exactly what you want to eat. A bistro is a place where even a solo diner can feel completely relaxed and at home.
Little Frog is a handsome, long slip of a white brick-walled room, seating 75, with a cheery bar up front, green tufted banquettes, bentwood chairs and the requisite tilted mirrors. I'd prefer to see tablecloths than bare wood, but somehow the room doesn't get overly loud when it's full, thank heavens.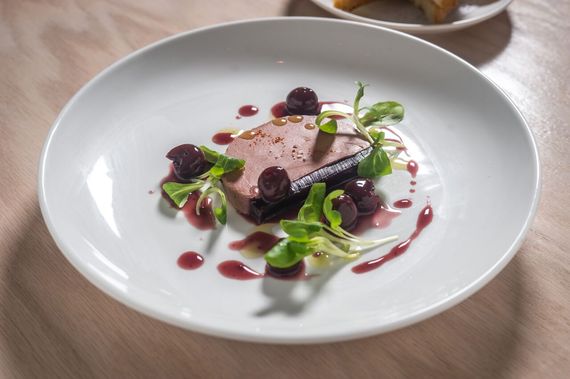 Chef Xavier Monge, previously at Minetta Tavern, proves that consistency in every dish is really the key to this kind of cuisine. The grilled octopus with celery, pine nuts, arugula, pecorino and tapenade ($18) must always be this tender and nicely crusted. The duck liver foie gras parfait with griotte cherries and grilled levain bread ($16) must always be this creamy and flavorful. And, of course, the onion soup gratinee ($12) must be textbook perfect every time--a deep, dark caramelized broth with abundant, sizzling Gruyere cheese with a pliant, golden top. The Little Frog salad ($15) is an assemblage of haricots vert, baby head lettuce and aged chèvre .
Coq au vin is often made with a lackluster white wine, when red is far more traditional, and here the dark meat of the bird is truly infused with a deep, red wine that also gets into the carrots and bacon, served with buttered mashed potatoes ($26). Côte de porc ($29) comes as a very tender, rosy Heritage County pork chop with lady apple and jus cassé, and Scottish salmon is cooked quickly on the plancha ($29), with eggplant caviar, tomato, grilled scallions and aged balsamic vinegar to emboldened the subtle flavor of the fish.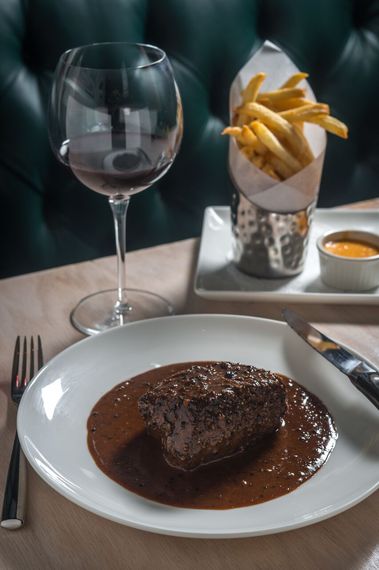 And then there's good old steak au poivre ($36), which absolutely must have the right chewiness and the right amount of black peppercorns crushed into the meat and the sauce, with a reduced brandy sauce and impeccably golden French fries.
The desserts stay within the beloved canon of floating island in a rich crème anglaise, and a deep dark chocolate pot de crème (both $12). Only a panna cotta was lacking in flavor that night.
Bistros should always have a solid but compact wine list and Little Frog's is just that: About 50 good selections with regional wines, mostly from France, but some from Italy, Argentina and Austria. Mark ups are high: A Serge Dagueneau et Filles 2015 Pouille Fume sells for $23 in a store; at Little Frog it is $60; a Mercurey Maison Chanzu 2015 Clos Roy is $27 versus $79 here.
NYC has a good number of fine little bistros already in place, but you can never have too many, at least not when they are as classic and well-run as Little Frog.
Open for dinner nightly, for brunch Sat. & Sun.
Related