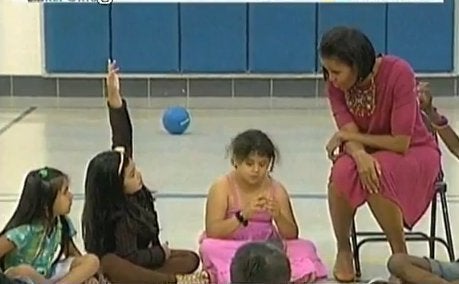 "My mom ... she says that Barack Obama is taking everybody away that doesn't have papers," the second-grader said after being called on by the first lady, who was visiting a suburban Maryland school with Mexico's First Lady Margarita Zavala.
And when Michele Obama replied by describing the need to make sure "that people can be here with the right kind of papers," the girl simply responded quietly: "But my mom doesn't have any." (Watch the video below.)
The girl's guilelessness and innocence, in contrast to the inchoate rage of the anti-immigrant movement -- and even to the first lady's suddenly hollow-sounding talking points -- could well turn her into an icon as immigration makes its way to the front of the national agenda.
But surely she was wrong, in suggesting that President Obama is a particular danger to undocumented immigrants? Perhaps she was confusing him with the governor of Arizona or something?
Well, actually, it turns out the little girl was right. Obama's Department of Homeland Security has been deporting more undocumented immigrants than President Bush's ever did.
The number of deportations each year more than tripled during the Bush era -- and has kept going up since then. During fiscal year 2009, the first fiscal year of the Obama era, 387,790 immigrants were deported -- almost 100,000 more during the last full fiscal year of the Bush presidency.
Department of Homeland Security officials stress one big difference between Bush and Obama policies: that the percentage of convicted criminals among the deportees is rising dramatically.
In fiscal year 2008, 31 percent of the 369,221 deportees had criminal records. From October of 2009 to late April of 2010, that figure was up to 48 percent.
Frank Sharry, the executive director of the pro-immigration group America's Voice, credits Obama with "one significant rollback" relative to the Bush years, "which was of high-profile workplace raids."
But, Sharry said, Obama's record is a far cry from what many of his supporters were expecting. "It's remarkable that Barack Obama as a candidate spoke so movingly about how our enforcement priorities were wrong -- and now he's exceeded the Bush administration level," Sharry said.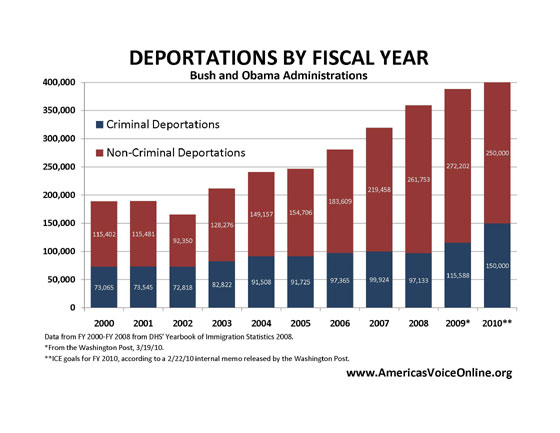 The final bar, representing the projections for fiscal year 2010, is the subject of some contention, however. It's based on an internal Immigration and Customs Enforcement memo published by the Washington Post in February. In the memo, James M. Chaparro, the agency's head of detention and removal operations, told field offices to step up their deportations, particularly of "non-criminal aliens" -- and he disclosed that the agency had a goal for FY2010 of deporting 400,000 immigrants, 250,000 of whom, or 62 percent, were expected not to have committed any crimes.
That would be up yet another 3 percent over last year. But ICE has since withdrawn that memo, however, saying portions did not reflect actual policies.
And the actual numbers of deportations for October 2009 through the end of April -- about 186,000 -- suggests that the total for fiscal year 2010, which ends five months from now, could turn out to be lower than last year's.
Watch the video of the exchange:
Popular in the Community