More than a few days without power -- especially in the blazing heat of summer -- would be enough to make anyone go stir-crazy.
(This story has been updated. Scroll down for new information.)
But one little girl from South Charleston, West Virginia, found a charmingly mature route for her frustration. On Thursday, fed up with the ongoing outage, the 6-year-old wrote a letter to the local power company about her concerns. Her father, Paul Higginbotham, tweeted the note to Appalachian Power on Friday (we've darkened the image to make the writing more legible):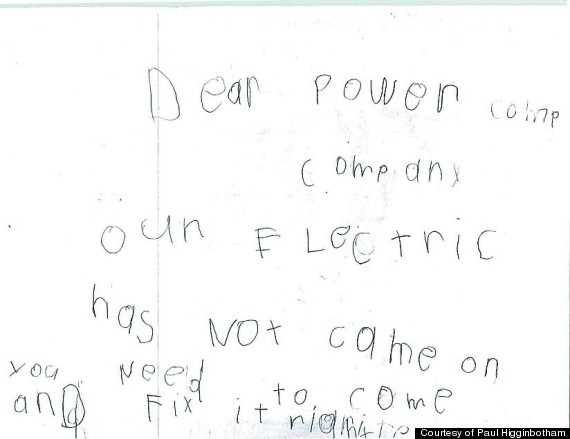 Higginbotham, who says his neighbors across the street got power back on July 2nd, told HuffPost over email Friday:
We've been without power since Friday, June 29th, when the major storm rolled through the mid-west. ... My daughter thought it was amusing at first because we've been staying at grandma's house, but after a week of not being able to return home I guess she'd had enough. Yesterday she and my wife went to the house to pick up a change of clothes and check on things. While my wife was working around the house our daughter sat at her table to draw. I don't know what made her decide to write a letter to the power company. We'd never discussed anything such as that.
Although Appalachian Power didn't respond to the father's tweet, we'd like to think the note worked -- the Higginbothams finally got power back on Saturday afternoon. According to Reuters, "nearly a third of electricity customers" in West Virginia did not have power at the end of last week.
UPDATE: Grateful to have power back, Higginbotham's daughter wrote a thank-you note to Appalachian Power, which Paul tweeted on Monday night.
Related