MIAMI ― Hurricane Irma's Sunday arrival in South Florida temporarily flooded parts of downtown Miami, and left residents of the state's most populous county without power and access to basic necessities like fuel for more than a day. By Tuesday afternoon, the city's downtown area, and tourist-friendly locales like Miami Beach, were largely back up and running, and a sense of relief and normalcy had begun to return.
But residents of Little Havana ― one of Miami's largest and poorest neighborhoods ― have not been as lucky. In this neighborhood, where 90 percent of the roughly 53,000 residents are Hispanic and the median income is well below the Miami average, many are still waiting for the same signs of recovery present in the city's wealthier neighborhoods.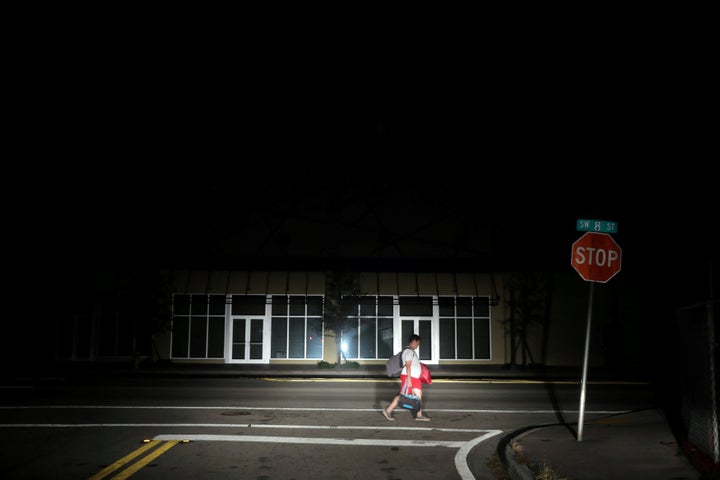 Many businesses and gas stations in Little Havana remained closed on Wednesday. It was common to see locals gathered outside in an attempt to escape the stuffy heat of their homes and apartments that still lacked air conditioning. Working traffic signals were a rare occurrence. And in an area where most will soon enter their fifth day without power, Little Havana residents who have already withstood the storm are growing increasingly anxious about how much longer they can weather its aftermath.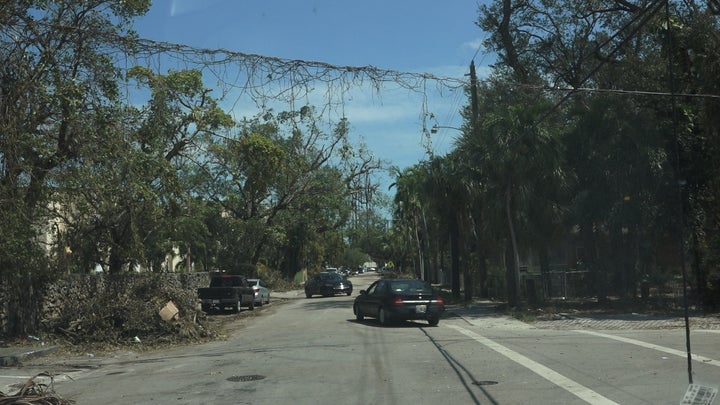 Jaritza Suarez, 18, has been at home with her two younger sisters and mother since before Irma arrived and has been without power for four days. Post-storm price surges have made what little gasoline they have been able to find prohibitively expensive. And even though the local supermarket is open, Suarez and her family can't cook without electricity, forcing them to go to fast-food places like Wendy's, where her mother works.
The ice-cold showers are also bad, but the worst part is trying to sleep through the sweltering heat.
"It's so humid, so humid," Suarez said. "It would have been better at least if it was windy, but it's just hot. And then during sleep we're just sweating."
Other residents also reported having trouble sleeping. A teenage girl who lives near Marlins Park, home to Miami's Major League Baseball franchise, said she and her sister chose to sleep in their parents' car on Tuesday night, because the night air was cooler than their crowded apartment.
Bereft of power, Little Havana turns into a pocket of darkness at night, the only visible light coming from downtown skyscrapers and high-rises, which either never lost power during the storm or have already had it restored.
"It's hard not to be envious when you look around and see lights everywhere." said Kris Williams, who lives along the Miami River in Little Havana. "Meanwhile, you've got a candle that's burning. It's frustrating."
"I feel like we don't matter or something. They're doing the rest first and leaving us behind."
Williams said he's seen only one electrical truck in the neighborhood since Sunday, and it was driving north toward an area that already had power. Suarez, meanwhile, said she hadn't seen any, fostering a sense of neglect in a neighborhood where the feeling isn't altogether unfamiliar.
"I feel like we don't matter or something," she said. "I guess we don't have that much people, and we don't have that much big businesses around, so they're doing the rest first and leaving us behind."
Hurricane Irma initially left more than 5 million Floridians without power in the 35-county area Florida Power and Light serves. That was a new single-event record for FPL, which said Tuesday that it managed to restore power to more than 40 percent of those who lost it in the first 24 hours after the storm.
The company has 20,000 employees working to restore power across the state, spokeswoman Florencia Contesse said. But they must first start by getting power to critical facilities including hospitals, police and fire departments, and other emergency services, she said.
Andrés Echevarría, a 34-year-old producer for Univision who lives in Little Havana, said he understands the situation FPL faces. It isn't willful neglect, he said, but an issue of location. It's true that downtown Miami has seen a resurgence following the storm, but that's because there are fewer trees to take down power lines, he said.
"The tree roots grow sideways, not down," Echevarría explained. "So when you have these strong hurricane winds, they're more likely to topple over. The trees here hit cars, houses, power lines ― navigating the road is like a labyrinth."
Contesse echoed the same issue, saying clearing vegetation has been "one of the biggest challenges we're seeing."
"We're out there," Contesse said. "Everyone is working around the clock."
FPL, she added, expects power to return to most ― if not all of ― South Florida by Sunday. Other places hit hardest, like Key West, could take until Sept. 22 to restore power.
Still, Echevarría said he's worried. Nearly a quarter of Little Havana's population is above the age of 60. And while Echevarría can stomach the sticky heat, his 70-year-old neighbors and many like them can only take it for so long, especially as the neighborhood's residents have worked to clear debris and downed trees on their own.
Such lingering danger after the storm was apparent elsewhere in South Florida on Wednesday. Eight people died at a nursing home in Hollywood, Florida, after their air conditioning system was knocked out following the storm. Officials evacuated the remaining tenants from the "extremely hot" facility, said Raelin Storey, a spokeswoman for the city.
"The older Cuban population here is already sweeping up streets and cleaning up," Echevarria said about Little Havana. "They're self-sufficient. But they're getting increasingly anxious. You can see the stress in their eyes."