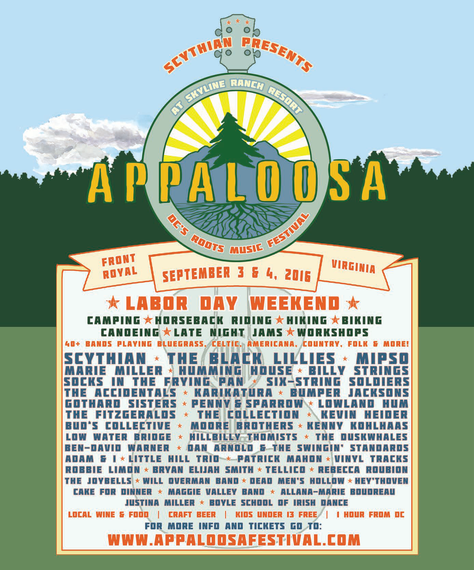 Scythian fans are most likely already aware the Celtic rock band and Merlefest fan favorite is hosting its second annual Appaloosa D.C.'s Roots Music Festival over Labor Day Weekend, Sept. 3-4, 2016, featuring 40-plus bands on five stages plus musical workshops by top artists.
In addition to Scythian, headliners include The Black Lillies, Mipso, Penny and Sparrow, Marie Miller, Humming House, Billy Strings, The Accidentals and Lowland Hum, among others.
"We wanted to go back to our roots," says Dan Fedoryka, one of Scythian's co-founders, along with his brother, Alexander, and sister, Larissa. "We've always produced our own events and there was nothing (festival-wise) within two hours of D.C. so last year we were so thankful we were able to pull it together. It was very communal. We have always felt our fans are like-minded and they like the bands we like. That's just one reason the spirit of the festival is so positive and joyful."
Appaloosa Festival is located at the Skyline Ranch Resort, nestled in the Shenandoah Valley, just a few miles from downtown Front Royal, Virginia, about an hour driving distance from Washington, D.C. (depending on traffic of course.) It's just a few minutes from the northern entrance to Shenandoah National Park and Skyline Drive, and less than a mile from the Shenandoah River. There is camping available on site, plus opportunities in the immediate vicinity to hike, canoe, fish, bike, and more.
Tickets are available for the weekend at $56.25 - $75 if you purchase by Aug. 31 for this family friendly festival that offers free admission for children 12 and younger as well as a full kids program, including two kids areas with games and other amusements.
What fans may not be aware of is that the Little Hill Trio -- made up of sisters Catie Parker and Amelia Parker, and their cousin Tess Beckwith -- is officially releasing the hard copy CD of its EP of mostly original songs at Appaloosa on Sept. 3.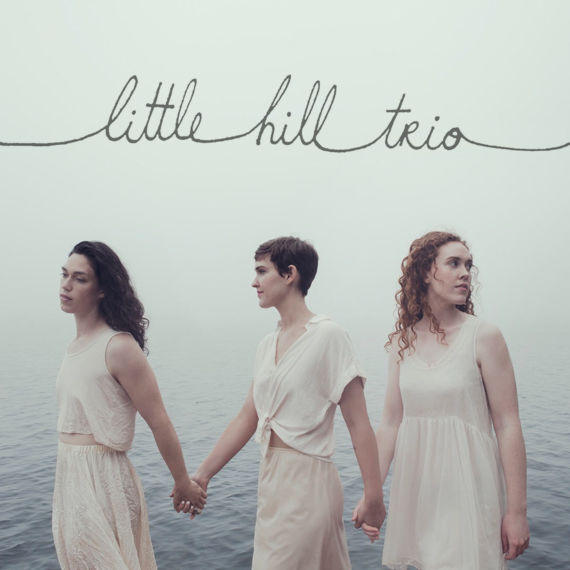 The folk trio has been influenced by the Irish Celtic music they grew up singing, and by the harmonies and blending of groups like Crosby, Stills, Nash and Young. Little Hill Trio came into existence one day at a family gathering on Little Hill Road in New Jersey, when Catie, Amelia and Tess were asked to sing a song for the family. When they effortlessly broke out into three-part harmony, they decided they would share their gift of singing together with the greater community, according to Catie Parker.
The trio, which released two singles -- "Passing Craze (On To You)" and "Uprooted" -- on Friday, is releasing its first self-titled EP on Monday, Aug 29. It will be available for digital download on iTunes and Bandcamp.
"We would not have been able to do this at all without the help of our many Indiegogo campaign supporters and the people who generously offered us affordable and free resources," Catie Parker says.
Other bands to check out at Appaloosa include Socks in the Frying Pan, Six-String Soldiers (the U.S. Army Field Band, Karikatura, Bumper Jacksons, The Gothard Sisters, Everything Fitz - The Fitzgerald Family, The Collection, Kevin Heider, Bud's Collective, Moore Brothers Band, Kenny Kohlhaas, Low Water Bridge, The Duskwhales, Tellico, Will Overman Band, Rebecca Roubion,Ben-David Warner, Dan Arnold & the Swingin' Standards, Adam & I, Patrick Mahon, Vinyl Tracks, Robbie Limon, Bryan Elijah Smith, Alanna Boudreau, The Maggie Valley Band, Dead Men's Hollow, Justina Miller, Dear Other, Boyle School of Irish Dance and The Joybells.
"The are so incredibly thrilled to be playing the same venue as one of their favorite bands," adds Parker, who is a music therapist and co-director at Melmark of The Joybells, the incredible bell choir that has recently played for the World Congress of Families and on the Today Show.
Parker continues, "We each bring unique gifts to the group. I do a lot of the songwriting because I've been writing since high school and studied music in undergrad, so I learned a lot about composing. I always run them by Amelia so she can add to them because she's got great ideas. Tess and Amelia have the natural ability to find harmonies to go along with the songs. You could sing a song to Tess that she's never heard before and she'd be able to harmonize in an instant. She's always had a natural talent for it. It's so natural for both of them. Amelia has recently written a song that I am really excited about because it adds wonderful diversity to our sound. She also designed the album because she is the one who is talented visually."
The trio always tries to write its music with three people in mind, Catie Parker explains. "One of our favorite songs is 'Uprooted' because it was so collaborative and dynamic," she says. "The song 'Uprooted' is a result of me plucking out a melody on the piano and sending it to Amelia at college, so that she could write words and add other musical aspects. Dear Old Friend was a collaboration between me and Amelia, as well."
Want to learn more? You can find Little Hill Trio on Instagram @LittleHillTrio and on facebook at facebook.com/littlehilltrio.
Read more about Scythian and other bands include in this post at https://musicreporterblog.wordpress.com/
Popular in the Community