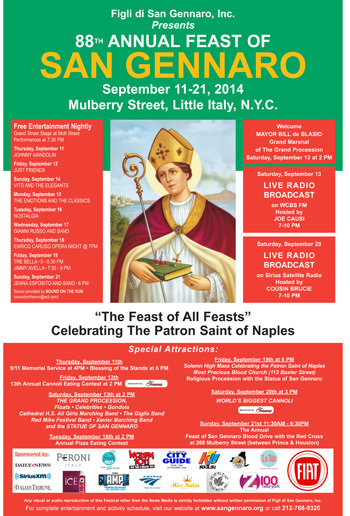 Grosso has been attending local Italian festivals, like San Gennaro and Our Lady of Mt. Carmel, since he was a kid growing up in the former Italian Harlem, the incredibly rich-in-storytelling neighborhood. In fact, Italian Harlem and Little Italy served as the early home for hundreds of thousands of Italian immigrants who came to America in the early 1900s, hoping to improve their lives.
Not surprisingly, two hit contemporary TV shows, The Knick with Clive Owen and Boardwalk Empire with Steve Buscemi, deal with this time and place, and the human issues that arise from mass immigration, and economic dislocation.
Grosso, who received the prestigious Ellis Island Medal of Honor award in 1997 alongside former president Bill Clinton, recalls what his own immigrant family used to tell him as a kid:
"Everybody needed each other because everybody was struggling. We were the first group after the people who emigrated from Italy, the first generation. But people got established real quickly. When they say Italian-Americans people built New York, they sure did. Guys went out and got a job. My grandfather used to say, 'You got be American, you got to talk American.' They would only talk Italian secretly among themselves when they didn't want us to hear something. But everything else was, 'You got to talk American. Be proud of this country.'"

So what better technical adviser to hire and what better place to set the beginnings of Italian immigrant Vito Corleone's Godfather empire than in Little Italy during San Gennaro's great street festival? Grosso recalls the Corleone-Fanucci scene:
Director Coppola filmed right during the actual festival on Mulberry Street. In 1920, as the movie goes, Fanucci was the local padrone -- the neighborhood guy who controlled everything. Young Vito shoots Fanucci, who had threatened to turn him and his partners over to the cops unless he got a piece of their action. So this almost 'sacramental' killing was a turning point for Corleone in this great fictional crime saga based on Mario Puzo's book. But it was also a scene that gave us one of filmdom's greatest lines. Vito told his partners that he made Fanucci an offer he couldn't refuse! Of course, in the first Godfather, an older Vito Corleone also explains how he's going to get a gig for Johnny Fontane: "I'm gonna make him an offer he can't refuse." Someone once taught me about the three Ms in films -- Moments Make Movies -- and that is one special moment in The Godfather.

Grosso, whose own life story was brought to gritty, glorious life in 5-time Oscar winning film, The French Connection, has stories about these great Italian feasts in his upcoming memoir, Harlem to Hollywood: My Real to Reel Life:
"Hearing Amapola, my dad Benny's favorite song, reminds me of my childhood. I used to watch him in awe from our Harlem apartment. He'd be down there at the Mt. Carmel church street festival talking it up with the guys and being part of the scene -- with the games, the smells of Italian sausage sandwiches, zeppole and cannoli -- and I'm thinking, I'd like my own stand, and be part of that one day. When my dad passed, my mother Lillian was only 33 with four kids and no money, living in a tenement house. But we survived. She loved our father so much, she never looked at another man, and her favorite song became Among My Souvenirs with Frank Sinatra longingly singing, 'And, as the teardrops start, I find a broken heart, among my souvenirs.'"
Years later, Grosso was honored to be the Grand Marshall at the Mt. Carmel festival which involved the dancing of the Giglio, and recalls:
"I marched with the same priest, Father Rofrano, who was my priest when I was a kid. That was another special moment in my life. Even more so because Fr. Rofrano had told my mother that I'd never amount to much if I kept hanging around the neighborhood gang of kids. Let me tell you, when The French Connection movie won five Oscar awards, I couldn't wait to ask him, What do you think of me now, Father?"
Here's to a great September and San Gennaro Feast!
Calling all HuffPost superfans!
Sign up for membership to become a founding member and help shape HuffPost's next chapter