The idea was to build a railroad across the steaming jungles of Costa Rica linking the country's inland capital at San Jose to its main eastern port at Limon. The 95-mile-long project was aimed at making it quicker to carry coffee -- Costa Rica's principal export -- from the plantations to the port vs. the decades-old system of moving the goods by ox carts plodding over horrid dirt roads.
Work on the railroad, originally expected to take five or so years, got underway in 1869. The first train rolled out 21 years later.
Some were surprised the project got finished at all, given its inept planning, contractor bankruptcies, financing frauds, rampant bribery, bureaucratic fumbling and political shenanigans. Take all this and stir in natural disasters like earthquakes, volcanic eruptions, rainstorms, mudslides, floods, bridge collapses and road washouts. And for the frosting on the cake, toss in a chronic shortage of workers willing to brave the dysentery, malaria, yellow fever and poisonous snakes of the country's sweltering jungles and swamps.
"Ticos" (local Costa Ricans) typically wanted nothing to do with the project. As a chronicler of the railroad put it, they knew signing up to work in the jungle was "practically a guarantee of sickness if not death." So the railroad's builders had to import workers, including a few from neighboring countries but mainly from Asia and Europe.
They died by the thousands. The builders, mostly Americans, next turned to making deals with New Orleans politicians to sign up what turned out to be local low-lifes. In 1873, some 500 recruits were shipped to Costa Rica to work on the railroad. Only 25 made it back alive.
Finally, after similar disasters with shiploads of Chinese, Italian and Belgian workers, the builders hit paydirt: on Jamaica, where they found a plentiful supply of jungle-savvy laborers.
Fast-forward to 1890, and the end of construction. A hefty number of the Jamaicans opt to stay in Costa Rica. Many set up fishing communities on the Caribbean coast along a 55-mile-long strip running south of Limon down to the Panama border.
Their descendants are still there. Look around, and you'll see them selling mangoes, casabas, pineapples, watermelon and the like at thatched-roof roadside stands subbing for supermarkets. You'll hear people speaking in the Afro-Caribbean-English patois of the old-time West Indies (here, with a bit of Spanish tossed in). And just about everywhere, from bars to barbershops, you'll hear vintage Jamaican calypso tunes wafting through the air.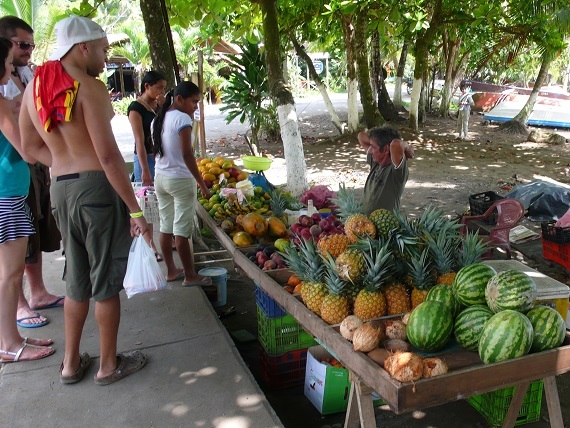 Along the way down the coast are towns such as Bolivia, San Clemente and Puerto Vargas, where tourists might half expect to find Harry Belafonte sitting on a dock in striped, clam-digger pants, happy to see daylight after a long night of picking bunches of bananas.
Keep going, and you'll come to Cahuita, Puerto Viejo and Manzanillo among a half-dozen spots a little north of the border plentifully inhabited by dreadlocked Rastafarians. Around there, Belafonte shares the stage with Jamaican superstar Bob Marley, as does calypso with that island's reggae, ska, rocksteady and nyabinghi music.
No wonder the coast is known as "Little Jamaica."
Postscript: By the time the railroad belched its first puff of steam, bananas -- initially planted along both sides of the railroad tracks to provide a cheap source of food for the workers -- were challenging coffee for Costa Rica's most profitable export. What's more, the banana-growing experience in Costa Rica ended up sparking "banana republics" in vast territories of Central and South America and the West Indies.
Related