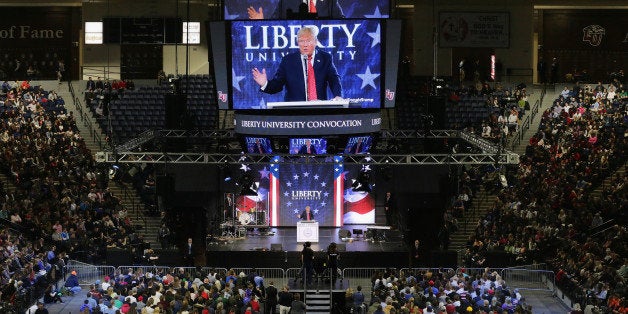 Jerry Fallwell, Jr. endorsed Donald Trump Wednesday. Anyone who watched the video footage of Trump's speech at Liberty University last week saw this coming. What was harrowing about the Liberty speech was how it put Trump's lack of spiritual development on full display. Liberty is a Christian University. Students were required to attend. Whatever one thinks of these students, one must admit that they take the Christian Bible seriously. News outlets had a great time with Trump's "Corinthians 2" moment, because Trump's blunder, his manner of citing the pinch of biblical text he felt he needed to incorporate into his Martin Luther King Day address, revealed that Trump is not a churchgoer. Trump has called himself "an Evangelical," identifies as Presbyterian, and has lied about being a regular worshipper at New York's Marble Collegiate. He claims he has received the "cracker" (as he calls it) and the "wine" as part and parcel of his Presbyterian worship. For those who hold Holy Communion sacred, this characterization of Christ's feast at the altar is (at least) some kind of low-grade desecration.
Poking fun at one's own religion is, in the view of most people, less disrespectful than lampooning one's neighbor's religion. Yet Trump, who does not really have a religion, appeared before a large group of tuition-paying students who care enough about Jesus to matriculate at a Christian university and cracked wise, characterizing a verse of the Second Book of Corinthians as "the whole ball game."
The way Trump speaks tells us so much about him. He consistently exhibits an inability be precise, a penchant for reductive fallacy and a sophomoric approach to building a logical argument. He appears not to read for pleasure or edification, which, I suppose matters only to those of us who like the idea of a president who reads. Trump's favorite book is one he appears not to have much read and his second favorite is one he claims to have written.
I wouldn't call Trump stupid. He is an astute businessman and seems to be a facile grifter (if his Trump University scam is any indication) who has managed to go very far in a presidential campaign without benefit of any rhetorical elan. The linguistic flair we are accustomed to seeing in "snake oil" peddlers is missing entirely. Does Trump believe his fan base too slow-witted to understand anything beyond "make this country great?" If "yes," is Trump correct in that assessment? If "no," why does he speak to his supporters as if they are children?
I think the problem is Trump his spirit and psyche, not his English language aptitude. Here's an illustration. When I taught Middle School and High School English I used to use a fast trick to ascertain where a student's education had stopped. I'd give the English student in question a math problem. I had taught 6th grade math. I knew there was a good chance a 10th grader who couldn't do a 5th grade math had stopped learning before or shortly after 5th grade. Trump is probably good at math. But his use of language strikes me as indicative of some kind of delayed development.
Often linguistic development and psychological development are closely linked. My theory is that Trump stopped growing at some point. He stopped developing at an age at which greed, desire to have sex with hot girls, lack of empathy and lack of spiritual depth are perfectly normal and in high drive. What 13 year-old heterosexual boy wouldn't look at very woman in his presence with an overarching concern for her degree of pulchritude? Who but a 13 year old boy would retaliate by calling her unattractive? What 13 year-old boy doesn't want to win every contest, beat the best, dominate the game?
I would be happy to have an atheist president. Indeed, I often think an atheist president, a leader untethered from the tyranny of organized religion would be very good for our nation. On the other hand, I am a Christian, and I find the promiscuous tossing about of God's name for no purpose beyond getting votes repugnant. Donald Trump is ramping up his Christian status while dismissing most of what Jesus taught. "Two Corinthians, 3:17, that's the whole ballgame" is a not even funny mockery made for political gain. Ironically, there's truth n that artless quip. To Trump the presidential race itself, as a game, and Jesus as a Most Valuable player.
Donald Trump is pimping out Jesus for props. Well-conceived blasphemy can be positive and I believe there's a place for even very irreverent jocularity in faith, belief and even ritual, but when I hear Trump, a man who so flagrantly embodies all that the Jesus of the New Testament is not, call Communion a "cracker," now I am offended. Not because I am sensitive to Holy Communion jokes -- we make those at home -- but because it is clear to me that Trump has little use for Christianity beyond its potential to help him rack up votes.
Back when I was in Catechism class, we called breaking the third commandment "using the Lord's name in vain." Trump, the rich man who can pass into Heaven as easily as a camel can pass through the eye of a needle, takes the name of Christ in vain when he plays at being a man of faith in exchange for votes. Trump has done the opposite of selling all he owns to follow Jesus. Trump has contempt for refugees. Trump is a warmonger and a scam artist. His acolytes may think he is the "Way" but even they know he is neither the "Truth" nor the "Light." I don't know whether Trump is a Christian--no one can know such a thing about another--but I can see that to Trump, that he views Jesus is his tool.
Read "Little Lord Trump (Le Roi) and His MVP, Jesus" in its entirety on Indie Theology.
REAL LIFE. REAL NEWS. REAL VOICES.
Help us tell more of the stories that matter from voices that too often remain unheard.