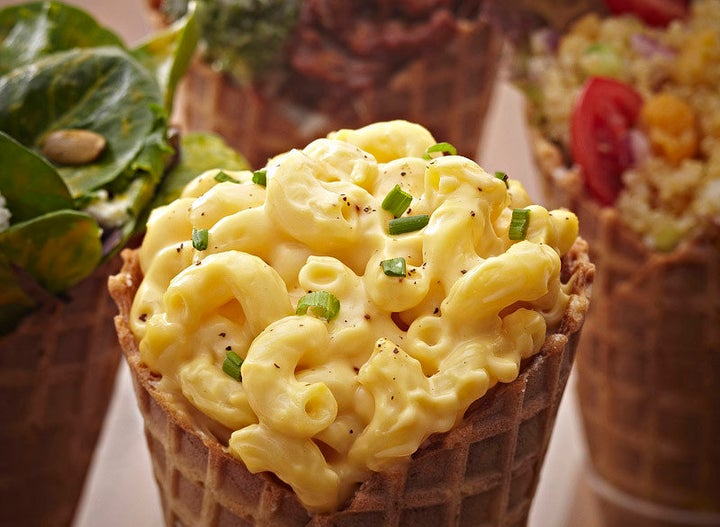 I scream, you scream, we all scream for...Bobo? The latest from a little ice cream shop in Denver is serving the "Bobo Cone" for those who crave warm treats in cold weather.
The "Bobo Cone" is named after Little Man Ice Cream store owner Paul Tamburello's grandfather Bobo. While at first glance it looks like melting ice cream, the "Bobo Cone" is actually a hot meal served in a less sweet handmade cone.
"My grandfather was an innovator, a real original, so it made sense to honor him by putting his stamp on our new product," Tamburello said.
The meals include macaroni and cheese, a parmesan garlic-flavored cone loaded with chicken gravy-covered mashed potatoes, a pulled pork and broccoli slaw served in cone form to a quinoa-filled flaxseed cone, and others. The warm-weather cones are replacing the cold weather menu sandwiches at Little Man's. Die hard ice cream fans needn't fret however, since Little Man's serves homemade, hormone-free ice cream, gelato and sorbet year-round.
"Bobo Cones" are made fresh daily and are available until 4 p.m. as a meal to go for $6 or $7.
Little Man Ice Cream opened in 2008 and is recognizable by its 28-foot steel replica of an old-fashioned milk can in Denver's historic Highland neighborhood. As part of its "Scoop for Scoop" initiative, the shop donates one scoop of rice to villages in developing countries like Ethiopia and Myanmar for every scoop of ice cream sold. Since 2008, the shop says it has donated over 400,000 scoops.
Related
Popular in the Community