It's become quite the hot-button issue in cinematic circles: What to do about people who bring their electronics along with them when they go out to the movies and then fire these devices up mid-film.
Was it an over-reaction on Billington's part? Certainly not to the million of middle-aged-and-older moviegoers who consider their local cinemas to be sacred spaces. Temples of popular art, if you will. Which is why so many theaters around the country now run those "Please Turn Off Your Cell Phone" ads right before the main feature.
But if you were to talk to exhibitors in private about this very same issue, they'd then tell you that they have very mixed emotions when it comes to the use of electronics inside of their movie theaters. That -- while they want to try and keep their older patrons happy so that they'll keep coming back -- these theater owners also worries that they're deliberately driving away the next generation of movie-goers. Those tweens, teens and young adults who go everywhere with their iPhones and iPads and just can't bear the idea of being disconnected for the relatively short running time of your standard feature film.
This is why, at CinemaCon 2012, Amy Miles, the CEO of Regal Entertainment, proposed what was once unthinkable: Rather than letting an entire future generation of film-goers potentially slip through exhibitors hands, Miles floated the idea that if a theater were showing a movie that appealed to a younger demographic they should then actually relax their rules in regards to cell phone use and texting.
And the Walt Disney Company? It's also encouraging film fans to bring along their electronics the next time they go to certain Disney movies. Not because the company wants these people to text and/or use their cell phone while they're watching this film. But, rather, because Disney wants them to look at these library titles in a whole new way, thanks to Second Screen Live.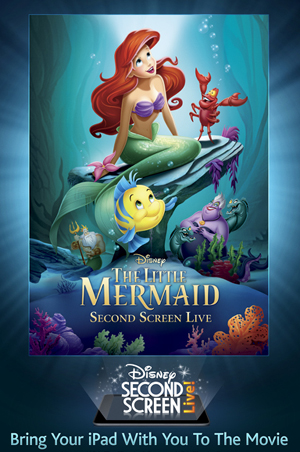 "Over nearly 90 years now, Walt Disney Studios has produced a number of beloved motion pictures, movies that many people have already watched over & over & over again," explained Dave Hollis, Disney's executive vice president in charge of motion picture distribution. "And with our Second Screen Live system, what we're looking to do is get movie-goers to use their iPads and tablets in a way that they can have this brand-new communal experience which actually enhances their enjoyment of a movie that they already know and love through the use of interactive games and sing-alongs. Not to mention discover neat bits of trivia or learn things about this Disney movie that they may have not known before."
When Hollis and I talked a few months back about Disney's Second Screen Live initiative, he readily admitted that this technology-driven movie-going experience would probably not be everyone's cup of tea. Which is why the company was going to take great pains -- prior to each presentation of this new interactive experience -- to make sure that film patrons know exactly what they're getting themselves into.
"For some people, being stuck in a theater where you're surrounded by all these people who are using their iPads and tablets would obviously be kind of a disturbing experience," Hollis said. "But for the film fans who are open to this sort of communal experience, who look forward to interacting with and competing with other members of the audience while watching one of their favorite movies, Second Screen Live can be a lot of fun."
Or at least that's the people said who took part in the proof-of-concept tests for Second Screen Live that Hollis and his team put together last year, which is when Disney created an interactive version of The Nightmare Before Christmas and then encouraged iPad users to bring their devices along to the theater so that they could then take an active role in a special screening of this Tim Burton movie. And those who actually took part in this test reportedly just raved about how being able to use their electronics while Nightmare was being screened actually enhanced their enjoyment and appreciation of that motion picture.
"We got the same reaction from exhibitors earlier this year when we screened the interactive version of Nightmare at CinemaCon in Las Vegas and then encouraged these folks to bring along their iPads. The exhibitors immediately saw the potential. How -- for a certain group of movie goers, those tweens, tweens and young adults who just can't live without their iPhones and iPads -- this could be the type of next generation movie-going experience that these viewers could really, really respond to," Hollis continued.
That said, Hollis also wanted to stress that the Walt Disney Company is not looking to give every single film in the studio's library the Second Screen Live treatment.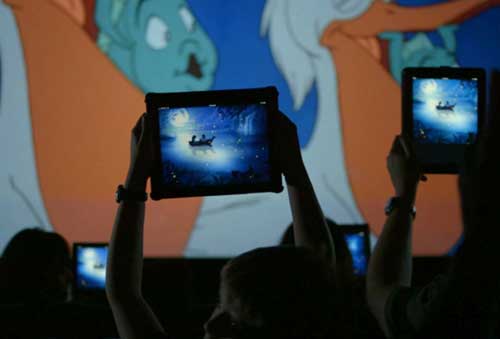 "We're being very careful about which movies we consider for an interactive makeover. In the cases of Nightmare and Mermaid, these were films which already had very strong fan bases. So there was already a ready-made audience out there -- people who already loved these movies, knew them inside and out, who then might be open to experiencing these movies in a different way," Hollis explained. "Then when you factored in these films' scores, which allowed us to incorporate sing alongs as part of the communal experiences that we wanted to offer at these Second Screen Live presentations, it was kind of a no-brainer."
So while some cinema purists might tell you that this limited engagement of Second Screen Live: The Little Mermaid is the beginning of the end, I personally prefer to think of what Disney is doing in those 16 theaters around the country starting today as kind of a bold experiment. A way of seeing if there is actually a way to bring these two technologies together to create a new coherent entertainment experience.
More to the point, how is what Disney is now trying to do with Second Screen Live any different from what all of us do at home anyway? When we sit in front of our televisions with a tablet in our lap and our cell phones within reach and then multi-task our way through mounds and mounds of media.
Photos courtesy of Disney.
Jim Hill is an award-winning entertainment writer who lives in New Boston, NH. Over the past 30 years, he has interviewed hundreds of veterans of the animation & themed entertainment industry and written extensively about The Walt Disney Company.
Jim is currently working on a behind-the-scene history of the development & construction of Disneyland. For his more immediate musings on movies, TV shows, books and theme parks, please check out his blog, jimhillmedia.com.
Calling all HuffPost superfans!
Sign up for membership to become a founding member and help shape HuffPost's next chapter