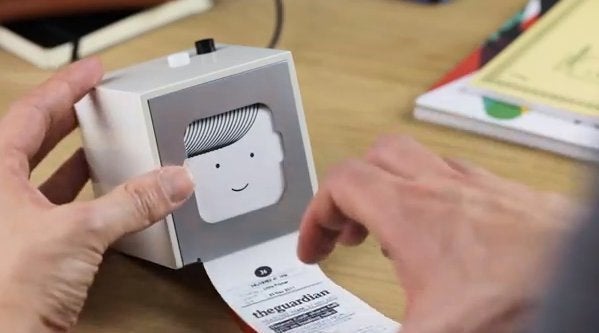 The latest product from BERG, a London-based design studio, turns headlines, weather, games and more into a printed "mini newspaper." Dubbed "Little Printer," the device configures digital information from the Internet and delivers it to users in the form of twice-daily, receipt-sized printouts. And it does it all with a smile.
Little Printer users can configure what content they want using the companion app for their iPhone or Android smartphone. Those choices are backed up on the BERG Cloud service, which pushes the data to the device wirelessly via the included Berg Cloud Bridge, which gets attached to the local router.
And although a return to printed products seems backward in today's digital age, the BERG CEO Matt Webb says he believes there is still a place in the world for "physical stuff."
"Paper is like a screen that never turns off," Webb writes on the company blog. "You can stick to the fridge or tuck it in your wallet. You can scribble on it or tear it and give it to a friend."
"Much as anyone in the newspaper business welcomes a new concept that involves people reading a physical paper again, the Little Printer seems like little more than a novelty, or a trumped-up to do list," Flock writes.
Out of the gate, BERG has already announced a number of partnerships with companies such as Arup, foursquare, Google, the Guardian and Nike ahead of its 2012 launch.
Would you use the Little Printer? Let us know what you think by voting in our poll! For more information on the product, watch the video below.
Related
Popular in the Community