It was a bright, holy and thoroughly ordinary night in Bethlehem ― Mary looking tenderly at her baby in the manger, with Joseph, a solid and loving presence at her side. A tiny angel gazed reverently at the scene, while children sang the old hymn "Away in a Manger" sweetly in the background.
Until one little sheep decided to steal the show ― and the baby Jesus.
That's when chaos erupted at First Baptist Church of White Pine, turning the Tennessee congregation's annual Nativity pageant into a hilarious fight over who gets to hold the son of God.
The sheep in question was Teegan Benson, a 2-year-old who loves babies, according to her mom, Tana Benson. It's that love that inspired the toddler to cast aside her duties as a sheep at the manger and cradle the baby doll in her hands instead.
Mary, played by 3-year-old Collia Weems, was very excited to be in the annual play for the first time this year, said her mother, Kristin Weems.
"She is not a stickler for rules for herself, but wants everyone else to follow the rules," Kristin told HuffPost about her daughter.
When Collia saw Teegan acting out of turn, she immediately got up and tried to grab the baby doll back, leading to a dramatic tussle in front of the manger that didn't stop until an adult intervened.
"[Collia] knew that Teegan wasn't supposed to have the baby Jesus," Benson told Knox News. "So she was real quick to let her know 'Hey, let me get that back and put it back so we can do what we're supposed to do,' and Teegan wasn't having it. She thought, 'I've got this.'"
Kristin said that she and Benson were sitting right next to each other during the play, and both moms were "laughing so hard we were crying."
When asked what she'll cherish the most from that moment, Kristin said, "I think I will remember them both walking off the stage and sitting down like nothing had happened."
"Definitely a program I will remember," Tana wrote in the post. "LOVE these kiddos and my church family! Laughed so hard I cried!"
Do you have any videos of kid-inspired mayhem at Sunday School nativity plays? If so, send your videos, images or stories to carol.kuruvilla@huffpost.com and it may be featured on HuffPost.
This post has been updated with comments from Kristin Weems.
Support HuffPost
A No-B.S. Guide To Life
Related
Before You Go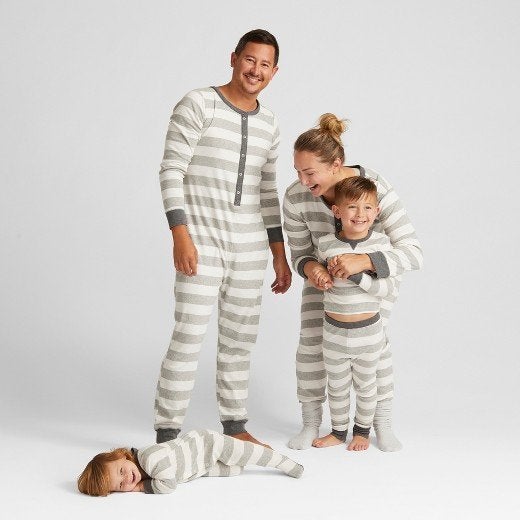 Matching Family Christmas Pajamas
Popular in the Community