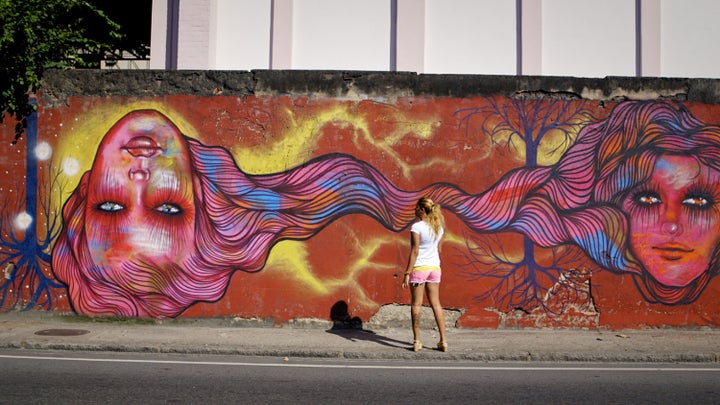 It wasn't until the documentary she'd spent almost two years making was in post-production until Sophia Kruz came across the quote that inspired its title. "I always feel the movement is a sort of mosaic," said suffragette and activist Alice Paul in 1974. "Each of us puts in one little stone."
That each of us has a role to play in the fight for equal rights perfectly encapsulated the work of the four women featured in her film, says Kruz.
Little Stones weaves together the personal narratives of a graffiti artist speaking out against domestic violence in the favelas of Brazil, a dancer rehabilitating sex-trafficking survivors in India, a Senegalese rap-singer working to combat genital mutilation, and an American fashion designer whose company employs impoverished Kenyan women.
The film just made its East Coast premiere at the Greenwich Film Festival, and in April was named Best Documentary when it premiered at the Vail Film Festival. "I hope the documentary encourages creative dialogue and expression around issues of global gender based violence," says Kruz.
Kruz was working on documentaries at PBS when a friend told her about a woman in India who was using dance to help survivors of sex trafficking. After learning more about Sohini Chakraborty's work, Kruz found three other women who were also making an impact in the lives of women and girls through the arts. She knew she had a story that needed to be told.
She joined with cinematographer and co-producer Meena Singh, (HOLLIDAYSBURG, 20 FEET FROM STARDOM) raising money on Indigogo to fund a trip to India. With that footage, they applied for grants. The pair filmed over a period of 18 months in India, Senegal, Kenya and Germany and the U.S. "We did it sort of piecemeal, raising funds and doing some filming, and then raising more to continue," she says.
Although only 3% of cinematographers, and about the same percentage of composers in the industry, are women, women held every key creative role on the film. "It started as a necessity as it was clear that we were going to be interviewing women and young girls about subjects that were difficult and often taboo and I didn't want a man in the room affecting that," says Kruz. Though she didn't narrow her search to women for roles other than cinematographer, Kruz says her female team came about in part because she felt those candidates the most talented and also more women than might be typical wanted to be part of the film.
Kruz and Singh traveled alone with their camera gear, working only with female interpreters. That approach enabled them to capture previously unseen footage inside India's government shelter homes and villages in rural Senegal, as well as heartbreaking interviews with women who've survived sex trafficking and domestic violence. "We tried to make our subjects feel comfortable by working with only female team, ensuring interviews and verité scenes were honest and emotional in societies where genital mutilation, prostitution, and even sexuality are taboo," says Kruz.
During production, Kruz and Singh founded Driftseed, a non-profit organization that is building an education initiative around the film and which will support future projects.
Driftseed is now working closely with the University of Michigan School of Education to create lesson plans, resource and discussion guides to accompany Little Stones—and can be downloaded from its site--in classrooms and community screenings globally.
Kruz admits that hearing the stories of the girls and women she's met through the film was sometimes difficult. "It is almost unimaginable what some have been through," she says. Among the hardest days were those spent with young girls who had only recently gotten out of brothels. "They were just beginning their healing journey, but seeing the women who were teaching them, and who have gone on to have careers or get married and have children--which is amazing considering the stigma of what they had been through—was wonderful and hopeful, and was also proof that the program was working."
Related
Popular in the Community