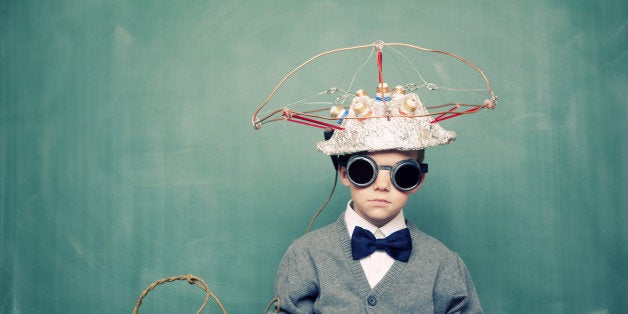 What If...? is grounded in the belief that ideas aren't a dime a dozen; we realize the biggest businesses and mightiest of movements were all hatched from single ideas -- ideas often stemming from a "what if" question or curiosity. It is our mission to find ways to connect those ideas to as many people and resources as possible so we can reach a day when ideas are no longer wasted, but fully utilized as our most valuable, natural resources they truly are.
When we find other people, businesses and organizations trying to make the world a better place by providing the tools, platforms and products for people to pounce on their own creativity and use their curiosity for awesome, we want to do all we can to share their work with the growing What If...? community. This past summer, long-time What If...? fave, Quirky contacted me regarding a project they were doing with another NYC startup, littleBits. Quirky now has some stiff competition in the running for my favorite young business. Both Quirky and littleBits consistently create new highs in innovation by pushing consumers and producers forward as they capitalize on and validate the curiosity of their customers.
What if the consumer experience could be more than one of just passive consumption? What if, customers can also be makers? What if, during the whole process, customers can also learn, contribute and have their ideas validated? These aren't just "dime-a-dozen" ideas, they're what Quirky and littleBits ask (and execute) on a daily basis.
What If...? co-founder, Andrew R McHugh demonstrates what littleBits did for his imagination in this super sweet video showing off what he discovered he could do with a littleBits Base Kit.
But littleBits isn't just about making stuff, business as usual: They're about using "what if..." to drive what they do. For example, when I emailed them to ask about their mission and vision for the future, here are portions of their response:
What if science was cool for kids?
In the next decade, almost all of the 30 fastest-growing occupations will require some level of quantitative skills and technical STEM knowledge, yet 61 percent of middle school students would rather take out the trash than do their math homework. And while kids today are in constant contact with technological devices, most of them have no understanding of how they work. littleBits is on a mission to change all that by making science cool and accessible to a new generation of kids with the introduction of three new littleBits Exploration Kits. Designed to break technology down to its most fundamental parts, the new Kits are part toy/part learning tool that allow anyone -- from your kid to your grandmother -- to understand, explore and play with technology.
What if the Maker Movement caught on with kids?
On September 21, 2013 World Maker Faire hit New York City to gather Makers of all ages and celebrate the movement's mission of combining technology and DIY activities to create new and unique innovations. In short: The Makers of today will become the inventors of tomorrow. Luckily, a new crop of Maker-inspired toys are poised to revolutionize the way kids play. Case in point: new littleBits. Dubbed 'LEGOs for the iPad generation' by Bloomberg TV, littleBits are an award-winning open source library of electronic modules that magnetically snap together to allow users to create simple circuits and innovative projects with little to no engineering knowledge.
All of this electronic wonder culminates from another "what if": "What if everyone were an inventor?" the creator of littleBits, Ayah Bdeir explores in her TED Talk on how littleBits can help inspire creativity and innovation for a new generation of kids and learners.
But littleBits doesn't stop at crafting products that cultivate curiosity, it also engages entire communities of students and educators to make and share what they're doing. On their new Education Page, they encourage others to "make something that teaches something." The page is designed to "stimulate and inspire integrated thinking and curriculum design along the STEAM (science, technology, engineering, art and mathematics) continuum." On the page, anyone can:
Participate in littleBits Design Challenges and projects.
Find the profiles of STEAM innovators.
Discover non-linear links to a range of resources and concepts to enliven your STEAM and STEM lesson planning across disciplines.
What if littleBits' most remarkable achievement has less to do with circuits and blinking lights, and everything to do with making learning fun? I'd argue, that's a rather big accomplishment.
Ayah Bdeir: Building Blocks that Blink, Beep, and Teach
Related
Popular in the Community