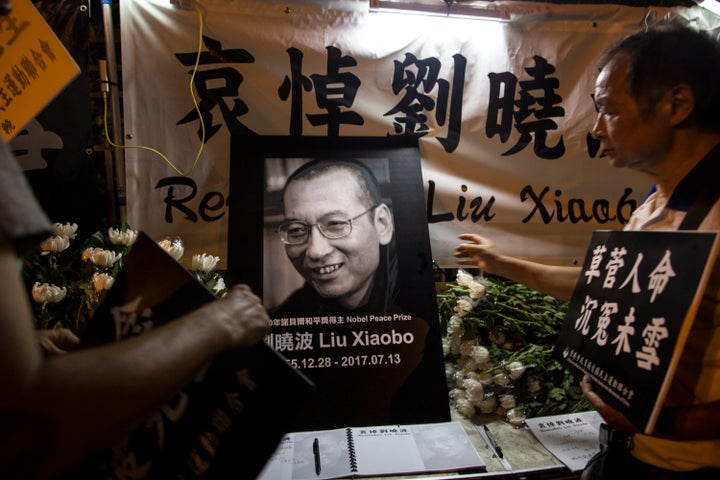 In what has been called a "disgusting" and "evil" attempt by the Chinese government to silence Liu Xiaobo even in death, the Chinese dissident was cremated in a private ceremony on Saturday before his ashes were cast into the sea.
Friends of the Nobel Peace Prize laureate and fellow activists say the sea burial was orchestrated by the government to ensure that Liu, described as the country's most famous political prisoner, would not have a physical burial site that could attract protests or memorials.
"The regime must be insane," said Mo Zhixu, another activist.
Artist Ai Weiwei had similarly pointed words, posting this on Twitter:
A handful of family members, including Liu's wife, Liu Xia, attended the small funeral service on Saturday morning. Liu Xia has been under house arrest since her husband's imprisonment, though she has never been formally charged with a crime, 
According to an official account of the ceremony provided to The New York Times by the Chinese Ministry of Foreign Affairs, Liu Xia ― who has not spoken publicly about her husband's death ― approached his body during the ceremony as Mozart's Requiem played in the background. 
"She gazed upon him for a long time and murmured her final farewells to her husband," said the account. She later "received the container of [his] ashes and tightly hugged it to herself." 
Liu's last written work was likely a tribute to his wife, which he penned in his dying days. "Love as intense as ice, love as remote as blackness," he wrote to her, according to the Times. 
Concerns have mounted about Liu Xia's health and well-being in the wake of her husband's death. A government official said she had been freed, but was so "grief-stricken" that she was shunning contact with the outside world. People who know the Lius, however, say her recent silence is cause for alarm and could indicate that she continues to be under house arrest and intense surveillance.
Government officials said Liu's cremation and sea burial had been what his family had wanted — a statement corroborated by Liu's eldest brother, Liu Xiaoguang, who said at a news conference Saturday afternoon that he was grateful to "the party and government for completely following the family's wishes."
The brother, who is believed to have been estranged from Liu, may have been coerced to give the statement, said friends of the dissident.
Nicholas Bequelin, regional director of Amnesty International East Asia, slammed the news conference as a "crude" sham.
On Saturday, thousands of mourners in Hong Kong took part in a candle-lit vigil in remembrance of Liu. They lauded him as a "great icon" and "people's hero," and called for Liu Xia's freedom.
"We're here to tell [Chinese president] Xi Jinping that Hong Kong people will continue to fight in the spirit of Liu Xiaobo," protester Lee Cheuk-yan told the Guardian. "The way the funeral was controlled by the Communist Party, it's very sad to say that Liu Xiaobo cannot be free even in death. But now we must free Liu Xia, because she has already suffered so much."
Calling all HuffPost superfans!
Sign up for membership to become a founding member and help shape HuffPost's next chapter
BEFORE YOU GO