Liuba Grechen Shirley may just be painting Long Island blue.
The 37-year-old Democratic candidate for the U.S. House is taking on a Long Island institution in the midterm elections: 26-year Republican Rep. Peter King. In her aggressive campaign to win in New York's 2nd Congressional District, she's managed to turn some staunch Republicans and past King voters into supporters.
King hasn't faced a real Democratic challenger in over a decade. But Grechen Shirley's campaign is giving him a fight.
Grechen Shirley's campaign has raised more than $1.3 million from more than 7,500 donors in her election cycle — more than any King challenger before and more than King's past five challengers combined. Additionally, she's gotten public support from figures like Long Island's own Amy Schumer, the New York Times Editorial Board, and Democratic Sens. Chuck Schumer (N.Y.), Kirsten Gillibrand (N.Y.) and Elizabeth Warren (Mass.). Videos of King continually interrupting her at one of his first public debates in eight years went viral.
Polling experts say it's unlikely but not impossible for her to topple the giant, according to WABC-TV. Recent polling shows King ahead by about 5 percentage points, with FiveThirtyEight.com giving him a 5 in 7 chance of winning.
Grechen Shirley made waves before her campaign even gathered steam when she successfully petitioned the Federal Election Commission to use her campaign funds for child care while she ran in the Democratic primary. In a Washington Post op-ed in April, she asked, "Want women to run for Congress? We need someone to watch our kids first."
Her openness about being a mother combined with her support of a $15 federal minimum wage, climate change action, student debt relief and Medicare for all have made her an attractive candidate even to those who usually vote on the other side of the aisle.
Aline Bowen, a native of Massapequa Park, was a born and raised Republican. She told HuffPost in August that she'll be voting for Grechen Shirley.
"I was born a Republican. So, when you went into the booth, you just hit Republican and it didn't matter what it was ― I had no clue what it stood for. I didn't listen to the news. But now I listen. I pay attention," Bowen said.
Bowen told HuffPost that her daughter, who had cancer, inspired her to get involved. Bowen said that when her daughter turns 26 and must get her own health insurance, she'll be "screwed" if the government has "axed out pre-existing conditions."
King has not been quiet about his distaste for the Affordable Care Act, commonly known as Obamacare, voting to repeal it nine times. Under Obamacare, health insurance companies can't refuse to cover you or charge you more if you have a "pre-existing condition," which is a health problem you've had prior to the date that your new health coverage begins. As of October, many Republicans ― including King ― have been saying, despite their votes to repeal, that they want to defend the act's protections for people with pre-existing conditions.
Bowen said she voted for Obama in 2008 and didn't vote in 2012 because she was sick in 2012. She says she "never, ever" voted in the "little" elections because, "Why bother?" But Trump's win changed that.
"When Trump got elected, I thought it was absolutely ridiculous. I hate the man. I can't stand him," said Bowen. "I had to step over to the other side, the nicer side."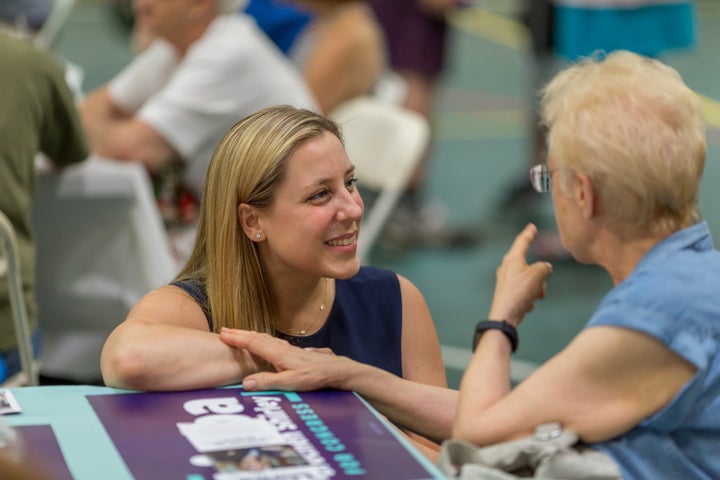 Other Long Islanders with Republican leanings have made a similar shift. HuffPost spoke to several who said they'd be voting for Grechen Shirley despite past support for King.
Bonni Watson Pope and Donna Kimick from Massapequa Park told HuffPost that, although they're both registered Democrats, they'd voted for King in past elections.
"I used to vote for King because we thought he was decent. Since the 2016 election, King has turned on us. Not many choices on [Long Island] then," Pope told HuffPost. "Since Liuba is running, I adore her."
Pope, 70, told us that she thought King used to care about Long Island, but now cares only about Trump.
"We had no one running that deserved our vote other than him. That has radically changed," Pope said. "He is all about acting like other [Republicans]."
Kimick said she used to vote for King "mainly because I didn't know who the other person was running against him and knew of him from church." That changed after the last election when "everything spiraled out of control."
"I became more involved, educated and more aware," Kimick said. She was inspired by presidential candidate Hillary Clinton's post-election book, What Happened, when she read it over the summer. In the book, Clinton counseled Americans to look at local elections to "fix things," so when Kimick's son told her about Grechen Shirley's campaign, she researched her candidacy.
Kimick, who has an 18-year-old daughter and 27-year-old son, said Grechen Shirley's views on health care and student loans have appealed to her because of her children. Of King, Kimick said, she didn't think he was a "terrible person," but that "it's time for someone younger and more motivated."
"We need to change things. The government is becoming old white men. We can't let them make the rules anymore," she said, before adding that, if she could tell undecided voters in this district anything, it would be: "Think about your children. Think about your future grandchildren."
Kimick said King supporters should "look at his record" and ask, "Has he done anything for you personally?"
Daniel Marans contributed reporting.