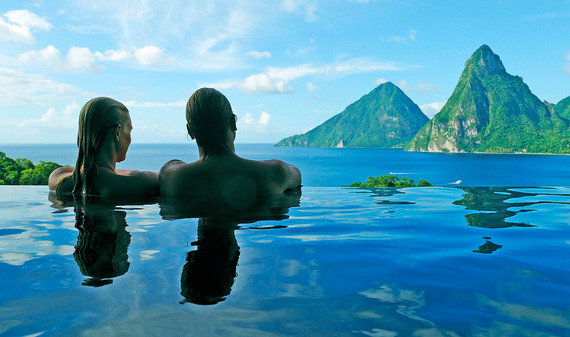 A friend of mine said to me one random Thursday as we sat out on my deck overlooking the water, sipping champagne, "You always live like you're on vacation. And when I spend time with you, I feel like I'm on vacation."
I had never thought of my life that way, but he was right. I do live most of the time like I'm on vacation. In fact, right now I'm writing this article looking out at the sparkling Pacific Ocean at my favorite luxury hotel and in a few minutes I'll head out to an evening wine tasting reception followed by dinner with two of my favorite people in the world at one of my favorite restaurants. And it's only a Wednesday.
The truth is though, it wasn't always like this for me.
I was raised to believe that the only honor in life came from struggle and sacrifice which meant working hard and barely getting by. I thought doing a job you loathed was just how people lived, and that living paycheck to paycheck was simply par for the course.
Over time though I began to hate living focused on when my next vacation would be to get through the day, while sucking it up around bosses and co-workers I would never choose to be around full-time and working my ass off for meager wages.
So, I did something radical. Or a continuous series of radical acts, that is.
I stopped playing the work-life-money game I had been raised with and decided that since this was my one life, I was not going to spend it working or living for the future. And over the course of the last seven years, I have been able to create a life that truly feels like I'm on vacation every day.
The great news is everyone who desires this can have it too.

Below are my top tips for how to live and work like you're always on vacation:

1. Commit to it. This is your life and you have the right to live it exactly as your heart and soul desire. Make a commitment to stop working to live and embrace that you get to live the life of your dreams and your work can work around that. Besides we should only ever be doing work that we love. It's a core soul desire as a human being.

2. Take inventory. What forms of "work" do you love? What forms of work make the time fly by? What people in your life do you absolutely adore being around? Where are your favorite places to vacation? Where do you feel most at home in the world? Journal your responses to all of these questions. Next, look at how you can live in the city/town that most lights you up, doing what you most love, surrounded by people you adore. Let yourself think big and far outside of the box. You have the ability to create your new normal which means letting go of limiting thoughts, beliefs and fears.
3. Which brings us to... let go of those limiting beliefs and fears that say you can't live the life of your dreams and that make you stay in homes, relationships and work environments that don't serve you. Find a practitioner you have a deep soul resonance with who can permanently release those limiting beliefs, fears and bullshit stories with you. As you evolve into more and more versions of your dream life, new limitations will emerge and that's okay. At every new stage of my dream life, new limitations arise. I remind myself that this is an evolutionary journey and I won't stop, cuz I can't stop (there's some old-school P-Diddy/112 for you). That means I receive regular (two to three times a month) soul alignment sessions and my spiritual "work" is my first priority. This allows me to be clearly tuned in to my soul's desires (there's a difference between a soul and mind desire) so that I stay on track in living the life my soul is here to live.

4. Take inspired action. You can stay languishing for years in what doesn't work for you or pull the plug and take immediate action to live your dreams. Want to be a successful entrepreneur? Get a fun part-time job, hire an incredible business coach and/or take a spiritual business course and begin to build your business. Want to leave your current relationship? Find a cute studio in a part of town you've always wanted to live in, get weekly sessions set up with your therapist and then leave the relationship. Be balanced about the actions you take so that you set yourself up for success. Make sure it's a full "yes" everywhere in your body and then go for it.
5. Stop doing things you don't want to do. You know that obligatory girls lunch or happy hour? Or time with that one person who shall go unnamed that sucks the life force from your very body? Stop hanging out with them. Say no. Only spend time with people who uplift you. And if you're anything like I was when I shifted my obligatory life into dream life mode -- it may not leave you with anyone. That's okay. Start attending events that do light you up and watch as you attract individuals who are more aligned to you.

6. Celebrate every moment that brings you joy. Every step along the way of crafting the life of your dreams should be honored and celebrated. Take yourself out for a mani/pedi, toast with a glass of champagne, go out to your favorite restaurant -- every time you release something or someone that no longer serves you and step into living the next chapter of the life of your dreams in a new way -- celebrate. What we focus on expands and when we place our focus on all of the good we are intentionally creating in our lives, more good will flow to us.

7. Create a dream team. You know how athletes and celebrities have a team of people dedicated to their awesome-ness? Yeah, well, you need that too. Have a team of people committed to supporting you in creating your dream life -- your energy healer, your coach, your best friend, your lover -- all on board to hold you to and support you in taking your life to new heights.
Make your life about what it is truly about, YOU having the best life ever. Treat every day as though it were the only day like it (it is), and watch as every day begins to feel like you're on vacation. Soon, you won't be taking vacations, you'll be living one.
Support HuffPost
The Stakes Have Never Been Higher
Related
Popular in the Community