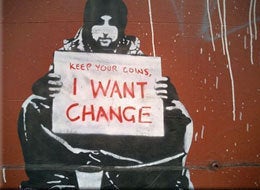 It's the day before the inauguration here in Washington DC, and I caught Tina Brown on Morning Joe discussing how glamorous the city has become. The celebrities who have descended on the town provide a sharp contrast to the old, stodgy (and let's face it, overly white) days of being overrun by the helmet heads of the GOP.
Tina has been recounting her fabulous celebrity inauguration adventures over at the Daily Beast and it left me feeling that as a DC denizen I was not providing enough commentary on this sartorial transformation. Brown declares that the nation's cultural center has now shifted from New York to DC:
"Women and bloggers first!" The Times' Mark Leibovitch at last declared. The door was prised open by the editor of The American Prospect, Michael Tomasky, and we all spilled out, still furiously bonding.
Mike Tomasky actually left the Prospect two years ago and is editor of the Guardian America so there's obviously still some room for growth on the bonding front, but I guess that's what the next eight years are for.
That's why it was a bit hard to fathom the sepulchral tone of Marty Peretz, chairman of The New Republic, introducing a celebration concert at the Sidney Harman Hall by the Silk Road Ensemble with Yo-Yo Ma. Rahm Emanuel, Barney Frank, and Larry Summers had been arraigned to bless the magazine's inaugural musical celebration. Rahm and Barney were clearly squeezing this in as another fly-by, but Summers reminded us of something we all feel so deeply: that sometimes the old cliché "we are at a turning point," wheeled out in every new presidential era, happens to be true.
I wonder if Marty added any of his subtle and insightful commentary on the subject of Israeli/Palestinian relations. Good to see Yo-Yo Ma and other establishment figures come together to "bless" TNR, where Peretz famously jeered the Palestinians for "whining" over the number of dead (now over 1000).
My invitation must have gotten lost in the mail.
Here at Kamp Kobe, it is a hotbed of glamor and bipartisan camaraderie (as you can see in the photo below which features Kobe himself). In fact, we never knew we had so many friends. John Amato from Crooks and Liars got in last night, as did Lisa Derrick of La Figa. Marcy Wheeler arrives today, and we all intend to party like rock stars tonight at the Netroots Nation blogger ball that FDL is co-sponsoring. (Fellow DC resident Spencer Ackerman will also be covering the inaugural festivities.)
I also learned on Morning Joe that a ticket for the HuffPo party tonight at the Newseum is worth two Super Bowl tickets which gave me a moment's pause, but then I realized that since I had no idea who was playing it probably wouldn't be a meaningful trade.
Anyway, today we'll be going to the Daily Voice party that CommonSense Media is sponsoring, honoring Reverend Joseph Lowery and others (very excited about that). Tomorrow night I'll be beaming back pictures, tweets and whatever my Treo will handle from the Obama Home States Inaugural Ball (the "hottest ticket in town"), at least until somebody thinks the better of it and throws me off the guest list.
My biggest fear is that it's going to be butt cold, traffic will be hell and that the Washington Convention Center will have a two mile security perimeter like Invesco. If that's the case I've told my date I'm gonna have a Marchesa ball gown hiked up around my ears and be walking down the street with Uggs and thermal underwear on display for everyone to see.
Boy I sure hope I don't run into Tina Brown.
Popular in the Community