There's "April in Paris" and "Autumn in New York." And once again there's September in Berlin, because it's time for the IFA tech trade show.
This is my third year at IFA, which is a fascinating experience, sort of a cross between the Consumer Electronics Show and the Barnum & Bailey Circus.
Getting here is a part of the experience, 14 hours of travel into Tegel Airport, which seems to have been designed by an architect in love with bus stations. Then the incredibly convenient JetXpressBus which leaves every 10 minutes and lets me be dropped off on Unter der Linden, a 15-20 minute walk to my hotel, something I don't remotely mind after all that time sitting. But also, it's wonderful since you pass right under the Brandenburg Tor, better known as the Brandenburg Gate. I remember my first visit, going around the corner and there it loomed.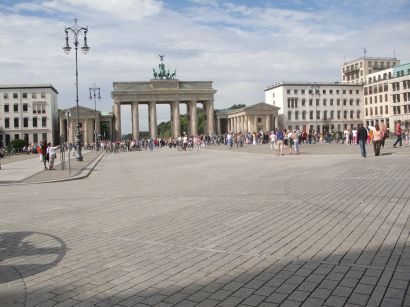 (Turn south on Elbertstrasse, continuing on my way, and one also passes the moving Holocaust Memorial, a huge field of undulating stone blocks one can walk through, with information underground. To its great credit, the city does an impressive job being open about the troubled history of the city.)
On the tech front, the similarity to CES is clear, though there are definitely things that set them apart. CES is slightly more about what new tech products will be on store shelves in the coming year. IFA is a bit more about the innovative direction technology is taking -- though there's a lot of overlap between the two.
(That's the foundational difference. After spending several years here, I've noticed another difference. CES seems based to a great extent on what we think of as high tech -- computer, Internet, TVs, that sort of thing. IFA, on the other hand, has a greater focus on the technology of home appliances. That's no small thing. It's amazing what can be done with washing machines and vacuum cleaners. I'm not being facetious. As I type these words, I can assure you there will be rooms and rooms of the most remarkable cappuccino machines you can imagine, some that would make Capt. Kirk proud to have aboard the Starship Enterprise galley.)
Last year, I saw an electric stovetop with no knobs, just graphical icons embedded in the glass surface -- which was completely cool to the touch, even when the burner coils were on high. It was only conductive to metal. As such the stovetop surface could be enlarged to become a joint kitchen table, as well. It's not on sale yet, but that's the sort of innovation you get with home appliances. Appliances might sound dull, but only until you get the details.
Then there's the circus part of the show. Unlike most trade shows, IFA is not held in a convention hall, but a range of 25 buildings that surround a massive park complete with band shell and food vendors. It's known as the Messe Fairgrounds -- and "Messe" is more appropriate than one could imagine. It once took me 25 minutes to go from one building to my destination about 200 yards away. Half the time was taken trying to find the building, and the other half was literally figuring out how to get to the right floor.
If you think I'm joking, here's one of my favorite IFA photos. I took this picture when I saw a display directing visitors to building locations. If you can make sense of what number order system they are using, you are a better man than I, Gunga Din.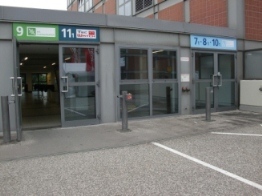 Equally noteworthy is a battle going on within the IFA hierarchy. The trade show is a very old one, beginning in 1924, as an expo for radio. (IFA stands for "Internationale Funkausstellung Berlin" -- okay, you now know why it's referred to as IFAナ -- which translates to International Radio Exhibition Berlin). It understandably missed a few years starting in 1939, but resumed in 1950 on a bi-yearly basis. Starting a decade ago, it became an annual show again and grew to reach the international market. And has since expanded to a galaxy far away beyond just radios -- or der funk, as we return-attendees like to say.
And therein lies the dichotomy. Thanks to its history, there is a segment of management that wants to continue focusing on its German roots. The other group wants to push the show more to its international audience. As such, you get inundated with material that ranges from English that businesses in Kuala Lumpur can understand to mountains of press releases and even press conferences that tell you -
"Gesucht werden noch M¦dchen und Jungen im Alter von 6 bis 10 Jahren und einer maximalen Krpergre von 1,30m, die mit den 22 Spielern auf das Spielfeld einlaufen."
Adding to the madcap circus nature of IFA is that after a few days of opening press days, they open the door to the general public. Tickets are inexpensive, about 8 Euros, or $11 a day. It adds to the charm -- well, somewhat. Because most company reps leave when IFA opens the floodgates, it turns the trade show into something like the world's biggest Macy's merged with Best Buy on Black Friday. So, you tend to do as much of your work as you can during those early press conference days, and do your best later elbowing through the "Christmas Rush."
But after going through all this convolution for the past few years now, I think I've finally got a sense of how IFA Berlin is somewhat structured. So, you learn the shortcuts, understand what to avoid, and how to best-structure your days -- within reason. And not only have I now accepted IFA's whirlwind vaudevillian nature, I've come to look forward to how the machinations all come together so vibrantly. This isn't a staid, boring trade show. It's like an amoeba, changing shape at any given moment. It's actually fun. Hey, it's the circus!
And very informative and interesting, as well.
Here are some random thoughts and observations from things I've been able to get to during the Press Days before the flood gates open wide.
Toshiba has a very intriguing 7" Windows 8.1 tablet, which should be coming out in the Fourth Quarter. Being that small, it's not something you'll use all that much for Desktop work, though you could. (And it would be could for having access to all your Office documents, perhaps to read or print out.) And it could make a nice e-Reader, as well. But what's most interesting about this besides those feature, is that it should retail for around $129. What's so remarkable about that is that it includes a one-year subscription of Office 2013 (under the company's Office365 plan). The point is -- if you buy Office under Microsoft's subscription plan normally, it costs $70 a year. That means you're getting the tablet for...$59!! They aren't promoting this that way, but it's the math, regardless. (In fairness, since the subscription is only good for a year that figure isn't exactly true, but the rep said that you could re-subscribe for a reduced rate.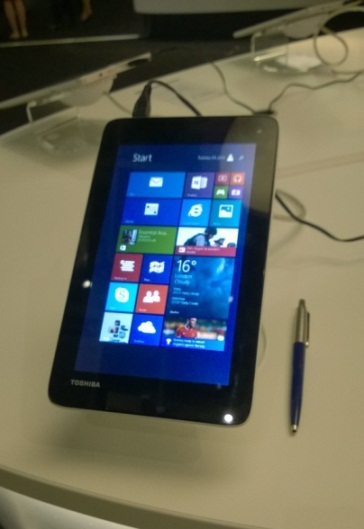 Acer was presenting all their Latest and Greatest, but it was a small feature that they largely flew past which most impressed me. It a technology called AcerEXTEND. If one has an Acer SmartPhone and an Acer computer, you can link the two, and the screen of the phone will appear on your computer's screen! Not only can you read them both at the same time, but you can drag and drop items from one device to the other. Keep in mind that this is in Europe, so it might be hard to find an Acer Smartphone in the U.S.
I haven't gotten to a lot of kitchen appliances yet, but Bosch gave a good sampling of what's out there. Lots of high-end, gizmo-loaded cappuccino machines (of courseナ) and a menagerie of vacuum cleaners, but also some intriguing stoves. One line features Bosch Assist, which are auto-settings that provide the ideal heating mode, cooking temperature and prep time. And another line of stoves come with the ability to steam your food in them, to retain moisture and flavor.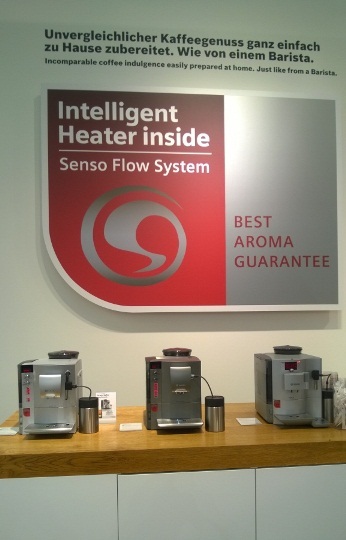 Philips did have some nice home appliances and lifestyle products, too. I particularly like their Air Fryer, not a brand new item, though improved and larger. Basically this lets you cook without fat -- make French fries, for instance, by using intense air heat. It cuts the fat content by 80%. (For fries, you have to dribble a small amount of oil.) You can use it as an oven, as well, and cook much more quickly. A breast of chicken only takes eight minutes.
Oddly, I was particularly impressed by something as simple as an app they developed, Brush Busters. It's a game that little kids play, where you help the characters win by doing certain actions with your toothbrush. The point is the get little kids to learn and enjoy to brush their teeth, who'd otherwise avoid it like the Plague.
At the Panasonic, Philips, and Sony press conferences, the companies were starting to make a big push for their 4K ultra-high definition TVs, as many manufacturers have slowly started doing for a the past year. As I've noted, there is a problem with 4K sets right now -- the pictures and resolution are spectacular, but they require content made for 4K. (Think of having the world's great Blu-Ray player years ago before Blu-Ray discs were invented.) And there just isn't much content today. That might change, but it's not here yet. That said -
Sony is starting to get involved offering some content. With Sony cameras, the recent World Cup was broadcast in 4K. Also, the stage show War Horse was broadcast in London in 4K, and they said they had 100 movies now in the format. That's not much, but is a start. But also, but Sony and Panasonic (and I'm sure others) are opening another avenue for 4K -- they're making 4K camcorders, so now people can make ultra-high def videos and have a place to show them.
Samsung dealt with 4K, as well, of course, though more than the others they made the biggest push for their "Curved" TV sets. This supposedly give an "immersive" experience -- and curved does if it's a Cinerama-style massive screen that wraps around a movie theater. But at 55", you have to be a pretty tiny lifeforce to be immersedナ
LG has a curved TV, too, and promotes it as the first curved OLED TV. Interestingly, I think the OLED part is the most interesting, more than curved and 4K right now. Bringing the high quality of OLED to anything but small screens as always been the challenge, and that hurdle has now been jumped over.
I was also intrigued that there seems to be an effort for improving the quality of audio. Panasonic announced that they were bringing back their Technics line, specifically to focus on more high-end sound, and Sony was heavily pushing what they called "high res audio" -- releasing albums and 300,000 titles (songs) in this high-res format, and making a high res audio Walkman -- yes, the Walkman -- having brought it back a brief while ago, the ZX1, along with adding supporting headphones. And Sony talked about partnering with Spotify to let you connect music to play simultaneously on all Samsung devices.
Sony also talked about their new SmartWatch and SmartBand, butナwell, honestly, the executive was so convoluted and confusing, it was utterly unclear what he was saying because it was contradictory and inexplicable. After the press conference I was talking with a very high-tech friend to answer my questions -- and it turned out that he was as totally bewildered as I was.
They did also announce their new Xperia Z3 and Z3 Compact SmartPhones, both very sleekly designed, super slim and light, with near-identical specs inside, just different sizes -- seemingly long battery life and strong cameras with impressively high 20.7 megapixels.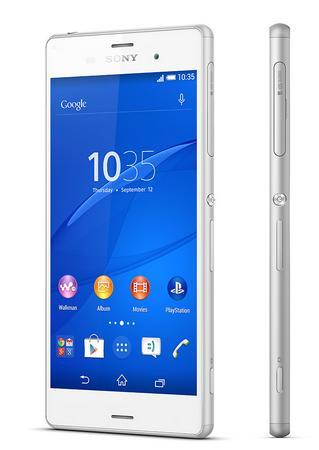 And then there was ShowStoppers. This is an event where companies come to one convenient location and interact solely with tech writers. It's a congenial atmosphere -- though gets hectic, especially at first as the doors open and line rushes in, though eventually settles into a happy pace and ends up being extremely productive.
Among the more interesting products there were the Cobra JumPack, which looks like an ordinary portable charger, smaller than a sandwich, but not only can it charge your Smartphone or tablet, but it actually is able to jump your car battery, and comes with jumper cables.
3Doodlers is a strange product that has applications for designers, artists, engineers -- and parents who want to make toys with their kids. This is sort of a "heat gun" -- think of a can of Cheese Whiz -- that heats strips of plastic and lets you create shapes and figures by "drawing" with it on a tableナor in the air, hence the 3D quality of its results. This below doesn't remotely give a sense of of how elaborate and intricate designs can get, with multi-colors, but does show the process.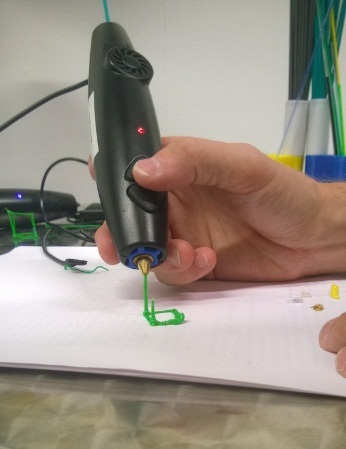 And a couple of products jump in to make the small screens on Smartwatches more readable, albeit in totally different ways. E-ink, which is best known for its high quality text on e-readers, is adapting the technology for Smartwatches. And while Spritz has a lot of applications, it's "one word at a time" approach to display text (albeit fast, to a bizarre 1,000 words a minute) is especially well-suited for the miniscule screen of Smartwatches.
And yes, speaking of Smartwatches, they were on healthy display, most notably Samsung's Google Gear, but also LG with its G Watch. The latter has at least made an effort to make their line look more like a regular watch, but I still find them all seriously problematic, at least for the present, if not longer. They're very big, have tiny screens, require having a Smartphone, and Smartphone do almost all the same thing better.
And now it's time to rest. Because there's more to come.
*
To read more from Robert J. Elisberg about this or many other matters both large and tidbit small, see Elisberg Industries.
Related
Popular in the Community