Overcoming obstacles often helps reveal our real potential, our intrinsic powers. In many ways, overcoming the challenges in your life can lead you to what Maslow called self-realization, when you can fulfill your personal potential and experience success.
But it is a story of perspiration, not inspiration, she says. Jacqueline is passionate about the entertainment industry--and works as television host, actress and writer. Being in the arts allows her to use her core talents and work from the soul; and with that she finds a deep satisfaction.
For her, a career in creative entrepreneurship has allowed her to serve two enormous purposes: to be a national voice for female entrepreneurs working in and out of the home; and to give back to her home country, Cambodia, by increasing knowledge everywhere about the vitality of the Khmer people and the growing vibrance of the country.
I followed up with Jacqueline about her experience in the Mrs. America pageant earlier this fall, and what she learned in the latest leg of her journey.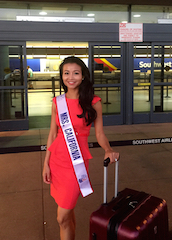 Jacqueline traveling to Las Vegas for the event
Steve Mariotti: What was it like representing California wives at the national Mrs. America competition?
Jacqueline Bhagavan: My journey there involved preparations of mind, body and spirit for the pageant. At first, I felt that vague familiar feeling of being back in grade school, when my dad used to drop me off on the first day. My hands would tremble with anticipation, and my forehead would sweat as my mind melded the worries of what was about to take place.
But after all--I wasn't that frightened, shy girl who couldn't speak a word of English. Now I am woman who is proud to represent her state to the fullest from her heart.
As the plane took off over the horizon, clouds covering the trees and topography, I looked out and I thought of what an honor it is to represent such a beautiful, diverse and well-rounded state. I thought of the all married women whose lives are embodied with the same philosophy of family. Those faced with the same challenges of balancing career, taking care of the family and making time to take care of oneself--all that is expected of the busy modern woman. The privilege of representing 7.4 million married women in California is a huge responsibility and weight to carry. In pride and in humility, I cannot believe that this small town girl from Stockton, CA, a refugee girl from Cambodia is Mrs. California.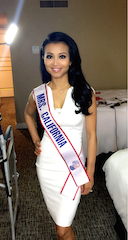 SM: What was it like meeting the other contestants? Was it a friendly environment?
JB: The Mrs. America organization bought a sisterhood and camaraderie to the highest light--and all the women were kind and down to earth. State winners were paired as roommates, so I roomed with Mrs. Nevada, a busy mom of two well-behaved boys, who are close in age like my own children. We shared a motherly bond, talking about the challenges of raising children and the demands of motherhood and that "having it all" is a definition that our society created, and that no one can really have it all without the sacrifices.
We both laughed when we realized that competing in the pageant in its own mysterious way sends a symbolic message that we can try to have it all--take care of the family, balancing work/home, and even having the extra time to compete.
SM: What was it like when you actually got on stage?
JB: The stage was filled with 52 of the most accomplished, well-rounded and beautiful married women in the country. All going after the crown of Mrs. America. From the stage, looking out into the pitch black, I could only see strange faces in the audience, until I recognized some of those gentle, smiling faces as my children, husband, mother and family with a huge banner that read "Go Mrs. California!"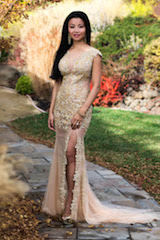 Photo credit: Vijay Rakhra; gown by Phuong Minh Nguyen of Dream Dresses By P.M.N; and makeup by Nellie Muganda at Neja Cosmetics Salon in San Francisco
A burst of adrenaline surged through my veins when I heard my name announced as the winner of the Fabulous Face Award and as a top 15 semi-finalist! An incredible personal achievement, I felt feel so thankful for all my family and friends who supported.
This was my American dream. I competed because I want to share my personal story of struggles, triumph and that anything is possible no matter where you've come from. It is important for me to share with others my message of inner beauty, strength, and compassion and to never give up on your dreams.
SM: What advice do you have for other women competing for the title?
JB: My advice is to be you, be real, be honest, take risks, have courage (be fearless) and never undermine your integrity. Work hard and have a vision as to why you really want to compete or go for what you are seeking,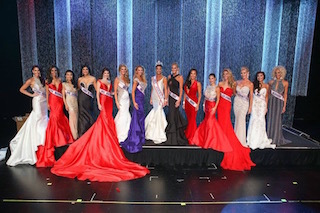 SM: So, what's next?
JB: I think that learning never stops--even at any age,. I learn from my children everyday. With a curiosity and wisdom beyond her years, my daughter has instructed me to continue my YouTube program, Complexion Kitchen, "Mom, I really want you to continue filming Complexion Kitchen and get more people to watch it. I like your program and how you want to help people be happy and healthy." It made me think about how much influence I have on my daughter, who is only 7 years old and she understands how important it is to follow your dreams and to have a sense of focus, even if you don't see much results in numbers. I see the effect it has on her and how important it is to be a positive role model for her.
Everything starts at home. The education and success of my children and family are my present and future goals. I created the YouTube program with them in mind--and I plan to continue my work and hopefully inspire more people.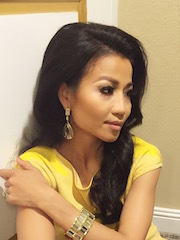 REAL LIFE. REAL NEWS. REAL VOICES.
Help us tell more of the stories that matter from voices that too often remain unheard.