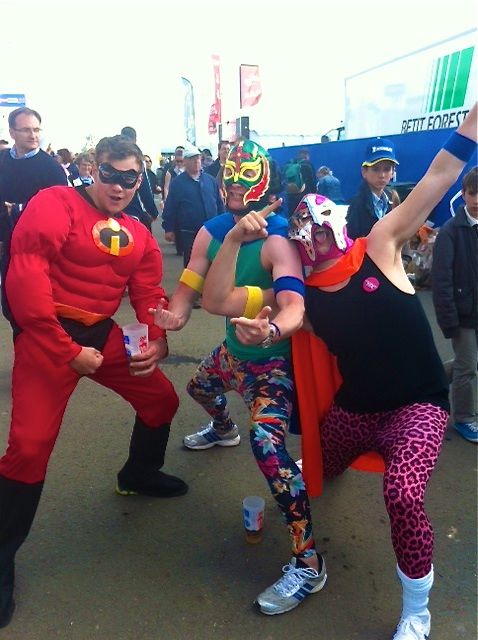 (Richard, James and Will from Northern England at Le Mans 2012/photo: Susan Michals)
First of all, the world's oldest and most famous race is now over. Audi won, (again) with their three driver rotation of Benoît Tréluyer, André Lotterer, and Marcel Fässler with Lotterer setting a new record with a lap time of 3:23.787 at an average of 149 MPH on the 8.4-mile Le Mans track with a top speed of 211.3mph... in a hybrid no less (the R18 E-tron Quattro). Le Mans is a race of endurance and efficiency -- and that can be found not only on the track, but trickling out into the crowd itself.
All told, 240,000 people showed up to watch the race this year. While this race is 24 hours on the track, many devotees arrive 4-5 days ahead of time to celebrate all things Le Mans. Fans collide from all corners of the globe -- from Denmark to New York to Japan, ranging in age from 6 months with strollers to those well over 90 with walkers. The majority is predominantly male (listen up ladies) and while there are no official figures, this woman would dare to say that the ratio was about 100 guys to every female.
But beyond the male/female quotient is the unique cross cultural experience. Sure, you'll get a handful of celebrities, but mostly it is a community filled with die-hard fans from the high end (hosted hospitality suites abound -- from the car manufacturers participating to names like Red Bull, Rolex, and Guinness) to the tented cities that surround the perimeter of the fairgrounds. Here you'll find beer bottle pyramids next to vintage cars next to mock basketball courts.
Many of these people have been onsite since Wednesday (the race started Saturday) so needless to say, the inebriation quotient can be quite high. Will, James and Richard from Britain, for example,dressed as sort of cross dressing superheroes with a special stuffed trouser homage to Derek Smalls infamous airport security experience in Spinal Tap. These boys were not associated with any sort of hospitality group hosted by Aston Martin or the like -- but they're certainly hospitable. "We have a compound called the 'Biddly Boys Club' -- also known as the BBC," said Will the spokesperson for the trio. "James here is the Head of Inebriation, Rich is in charge of Fancy Dress, and I'm Operations Director." The trio started out with a group of eight, but are now up to 47 in their tented compound, which includes a disco. This is their 8th visit to Le Mans, and sleep is not really an option -- and apparently, neither is water. "We've been awake pretty much since Wednesday. And one of the rules of the Biddly Boys Club is you can't drink anything but beer entire time -- we even brush our teeth with beer." Who are they rooting for? "Aston Martin," says Will, "We can't afford to drive Aston Martins yet, but we're English so we have to show our support just the same."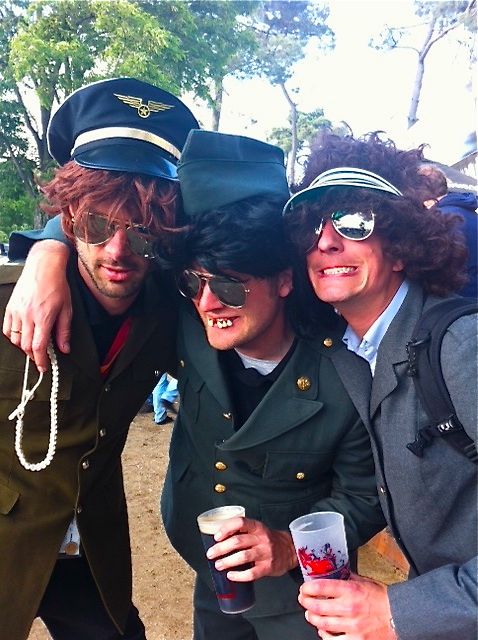 (The Danes/photo: Susan Michals)
Brits seem to dominate population-wise, but when it comes to hardcore fans, demographics have no meaning. Another trio from Denmark -- a couple of engineers and a doctor respectively -- were found wandering out of the Guinness tent bedecked in wigs, fake teeth, and vintage army military uniforms. "We drove 13 hours from Denmark," said this trio's spokesperson, the doctor. Between the three of them, they've been to Le Mans, 23 times. "We are here for Audi," said the doc. "But above all else, we're really here for Tom Kristensen for sure."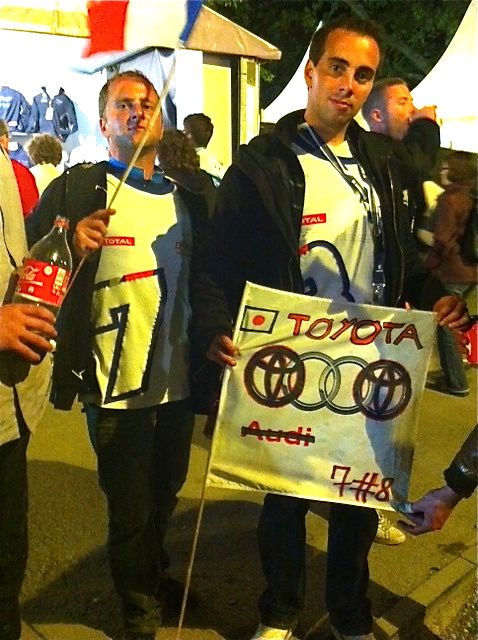 (The French/photo: Susan Michals)
Three French 20-somethings (yes, it seems de rigueur to travel in packs of three's) were all about Toyota. "We have been here many times, and we're all about Toyota," said Benjamin from Chartres. "But at the same time, it is just fun to be here and party."
Though it proved to be a challenge to find a few ladies who were as devoted to the race as these gentleman, there were a few to be found. Over at the Audi Arena hanging out were famous recording artists Beverley Knight and violinist Vanessa-Mae -- both of whom have been here not once but three times. "We flew over yesterday," mentioned Knight. "Last week was the Queen's Diamond Jubilee -- I was able to see the flotilla, and now this, and then we've got the Olympics coming up as well -- it's just been non-stop events!" Both women did not just spend their time sipping champagne and eating profiteroles in the Audi hospitality camp -- they hit the track. "I've done a pit walk, and we went to the grid where they take the cars out a half hour before the race; so it was fabulous to be so close," said violinist Mae. "What I love about the vibe at Le Mans is that everything is so accessible... here in Europe we have Formula 1, which is very elitist in a way. But at Le Mans you see families, you see people camping out, as well as VIP's... it's like a big family -- anyone that is here has to be serious... a real fan, you know?"
Correction: In an earlier version of this post, we listed the track as 13 miles. We apologize for the error.
REAL LIFE. REAL NEWS. REAL VOICES.
Help us tell more of the stories that matter from voices that too often remain unheard.