"My father, Ambroise Beauliere, wrote our school's mission statement forty years ago to provide private education at the best possible quality at the lowest possible cost. He wanted to create responsible citizens to be able to give back to society," Principal Philippe Beauliere told me on my 21st trip to Haiti last week.
The school, l'Ecole de la Redemption, consists of a three-story, 17-classroom facility that after the earthquake of January 12 has operated out of 17 tents erected in the courtyard. Children across most of Haiti are too traumatized to enter a concrete building.
Founded in 1974 with two wooden classrooms, the school is now an earthquake-resistant three-story structure that withstood the devastation of January 12. "My father, who passed away in 2002, was an orphan whose first education experience is Haiti was a classroom held underneath a tree. He and my mother went on to be school principals." The school has now partnered with Orphans International Worldwide (OIWW).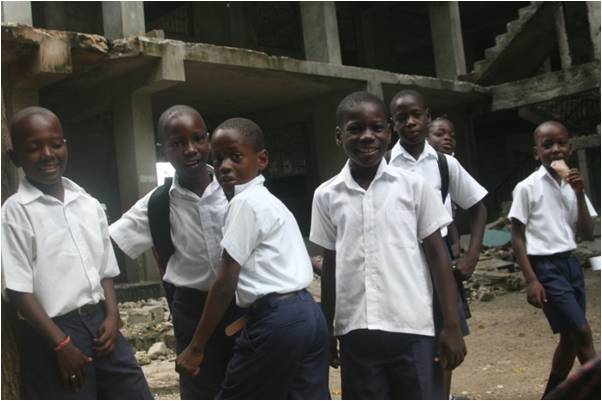 The original 3-story school stands behind the tents, but there are no funds to repair it.
L'Ecole de la Redemption is a private school, as are 90% of schools in Haiti. All schools in Haiti must follow the national curriculum. Textbooks are mostly in French, although materials in first grade are printed in French and Creole. Haiti begins formal French language training in second grade, and formal Creole language education in fourth grade.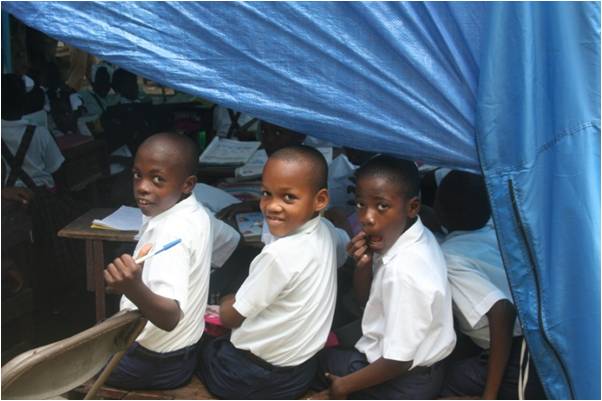 Although held today in tents, Haiti's schools are more closely related to that of France.
As in traditional French schools of the 19th Century, there is an abundance of rote memorization and a dearth of critical thinking in Haiti as well. Unlike France today, almost anyone can teach in Haiti because there is no certifying body and there are no government requirements. "I personally have made the decision to only hire teachers with prior training," Philippe said.
The primary differences between the Haitian and American school systems, Philippe explained to me on my 21st trip to Haiti last week, are that the U.S. schools are predominantly public and teachers are better educated. The curriculum of mathematics, language, and natural sciences are almost the same. Difference may be found in the social sciences, such as the history and geography. Haiti's schools are more closely related to that of France. The sciences are better in America and France, Philippe believes, because of better equipped labs and libraries.
Almost five months after the earthquake of January 12, there are 645 students at the school - compared to 712 before the earthquake. There are approximately 100 per level, one through six, and then levels seven through nine are groups of 15. The school originally operated through the sixth grade. Each year over the last three years one new grade has been added so that now the school offers first through ninth grade classes. The plan is to continue to add one class year per academic year until all thirteen classes are open.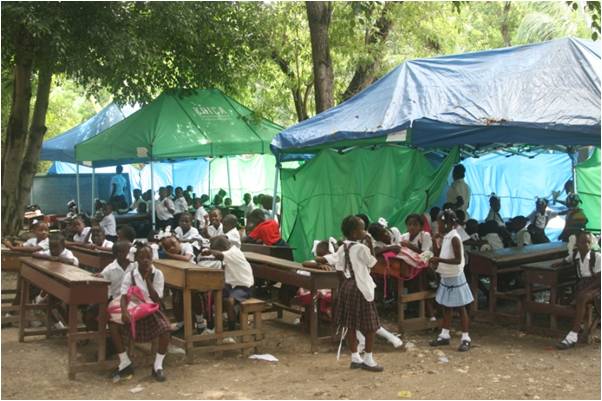 Despite the rainy season, classes are held in 17 classrooms in a variety of tents.
The high school graduate leadership program of Orphans International Worldwide, located at the school after school hours, is a perfect fit as public service is built into our curriculum. The students, in preparation to study abroad, are taught to mentor our orphaned children. The 40 students, narrowed down from 200 applicants, are in a program to improve English and computer literacy. OIWW is actively seeking to place each child in an overseas university on full-scholarship beginning September 2011. Orphans International Worldwide's motto is Raising Global Citizens.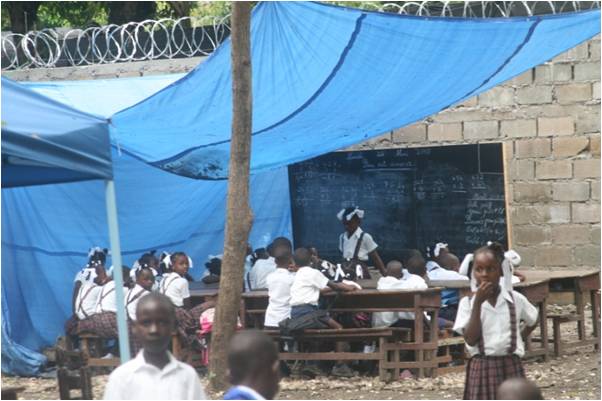 Approximately eight million live in Haiti, with about half in the nation's capital Port-au-Prince. There are 200,000 people living in and around Leogane. The earthquake severely damaged Haiti's educational infrastructure, which was vastly incomplete before the disaster. Before the earthquake there were 23,000 primary students alone in Leogane, with a reported 50-60% now back in school, according to local officials. There were over 200 schools in Leogane before January 12, but over 100 have not re-opened.
Orphans International is working with Skype to connect the school to the Worldwide Web. "When our Connectivity project is complete," Philippe told me, "our school will become part of the Haitian Ivy League." Plans are now being formulated through N.Y.U. Polytechnic Institute for the best way to connect the structure to the Internet. What else could a school need than Connectivity? Foreign volunteers.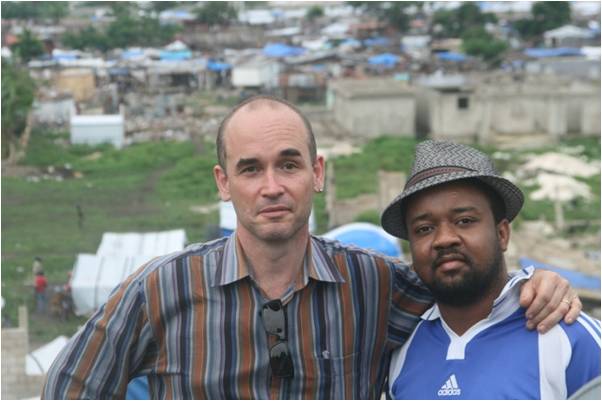 NYU Polytechnic Institute's Carl Skelton and OIWW-Haiti's Technical Director Seth Louis Jacques atop the school's roof where our satellite dish has been mounted, adjacent to the refugee camps.
American Volunteers Wanted. "I would like to encourage English-speaking volunteers to come down to Leogane," Philippe stated. "They need to have a B.A. in education and five years of experience, as well as speak French. I am particularly in need of special education teachers and child psychologists as well." Volunteers must bring their own tent and cot, and the school will make arrangements for local food. The minimum stay is one month.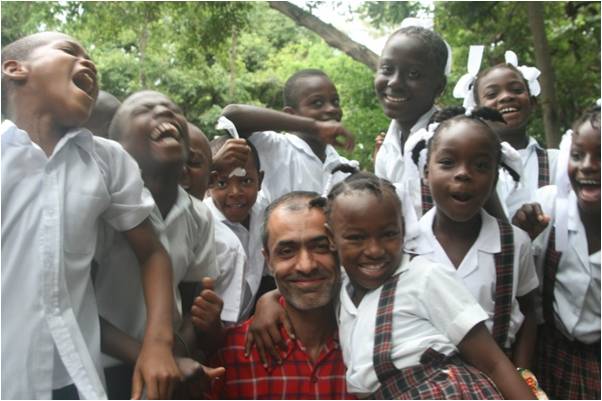 N.Y.U. Polytechnic professor Masoud Ghandehari got a first-hand look at post-earthquake Haiti.
"I would also like to offer my school to university students from around the world who would desire a Haitian facility for their 'Practicum Abroad.' If any student would like to have an educational practicum in Haiti, we would be willing to host them." Philippe told me.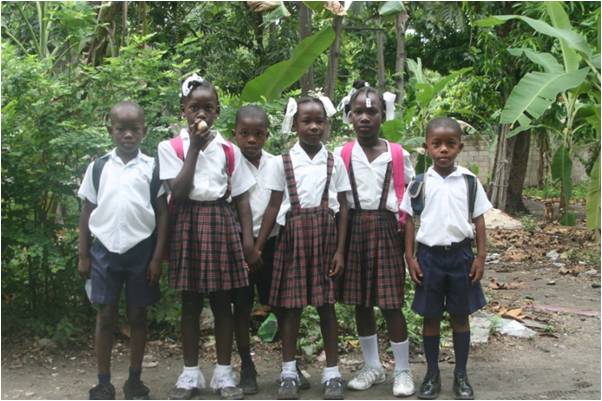 Despite the earthquake and the rain, Haiti's children look perfectly groomed every day.
"I also need grants to help me cover my payroll and continue building repairs," he continued. I have 75 staff that are each paid on average about $100 per month. I have 60 teachers and 15 non-teachers. My payroll - which I am no longer able to meet as the students cannot pay tuition - is about $7,500 per month. Then we need to expand services for the school, including electricity. I need more funding desperately."
Sadly, the earthquake has destroyed Haiti and most families now live in tents. Almost no families have the ability to pay full tuition anymore - about $30 per month. "Our scholarships have traditionally been offered for both academic excellence and students in need," the principal explained. A 100% need-based scholarship for every student is now clearly necessary, but clearly unsustainable.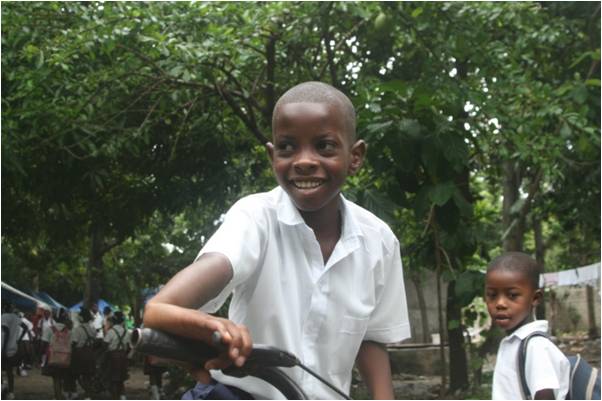 The common joy of Haitian children is another trait most visitors find surprising.
Philippe Beauliere was educated in North America and then returned to Haiti upon his father's death to take over the school. He holds a B.A. in social work from York College in Queens, New York, with a M.A. in Education for the University of Hull, Quebec.
Volunteer and Practicum Abroad applicants may send their C.V. and a cover letter in both English and French explaining their skills and desire to help to me at jim@oiww.org and I will forward it on to Philippe.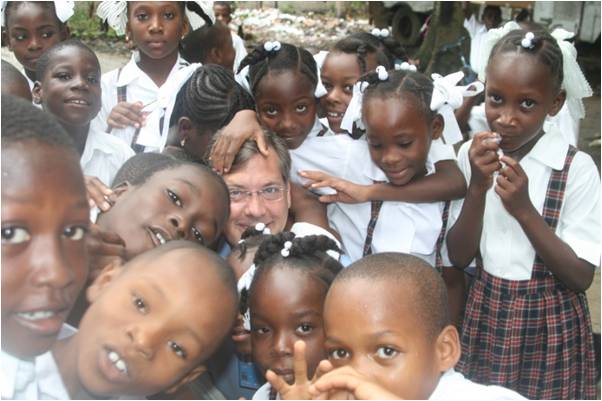 The author buried by the students of le Ecole de la Redemption in Leogane.
Calling all HuffPost superfans!
Sign up for membership to become a founding member and help shape HuffPost's next chapter