A Conversation with Daniel McGowan Inspired by the film, If A Tree Falls
The award-winning documentary, If A Tree Falls: A Story of the Earth Liberation Front, premiered at Sundance last spring and continues to screen in theaters across the globe. The film, which aired on PBS earlier this fall and is now available on DVD, details the events that led to the imprisonment of environmental activist Daniel McGowan and raises critical questions about ecological crisis, terrorism, and government repression of political activists.
Those who see If A Tree Falls are likely to be left with a number of lingering questions. How is Daniel doing now? When will he be released from prison? What does he think of the movie? Daniel, who is currently serving a seven-year sentence in the Communications Management Unit at FCI Terre Haute in Indiana, answered some of these questions and others in the following interview about the film, prison life, and his thoughts about the future.
Note: Below is a partial version of this interview. This interview is also available in its entirety at Daniel's support website.
Question: What was it like being interviewed and filmed while you were on house arrest awaiting trial during such an obviously difficult time in your life? How present and intrusive where the filmmakers? Did it add stress to your situation?

Daniel McGowan: It was at times frustrating and other times, comforting. What I mean is that throughout the period of house arrest, I felt stifled and unable to be productive. Having the filmmakers over for half of the day helped me motivate, get out of bed and organize my day. In that way, it countered the severe monotony of being stuck in an apartment and helped jolt me out of periods of depression. The whole experience was surreal -- wearing a microphone for part of the day after being recorded on a wiretap by an informant was one of these bizarre instances. There were times that I said something and realized that it may end up in the film! That was disconcerting, as was the negative impact a camera had on social situations.

Was it a hard decision to agree to be the subject of this film during that time? What did you hope would be the result?

DM: The decision to allow myself to be filmed would never have been made if I had not previously known Marshall Curry. I worked for his wife [Elizabeth Martin, founder and former Executive Director of WomensLaw.org] and knew him somewhat and was familiar with his previous film, Street Fight. Originally, my sister raised the issue as I was flying back from Oregon after getting bonded out of jail in 2006. The thought was basically that Marshall was considering my situation as a topic for a film and whether or not that eventually happened, footage of me coming home would be essential.
Once I got my ankle bracelet, so probation could monitor me, and got settled in, we spoke at length about his ideas and we took it from there, setting up some longer background interviews. After a few months, despite frequent grumblings on my part, I was fully committed to it.
Having seen my indictment announced on cable TV and seeing how we were all being portrayed as crazy, dangerous terrorists, I felt strongly that it needed to be countered.
The film, to me, was a way to challenge the narrative the prosecution and media put out about us, knowing it was a long-term thing. My hope was that people would be able to hear my own thoughts and version of events instead of accepting the mainstream media version, which was exceedingly shallow and accepting of the law enforcement view.
Were you able to watch the film from prison when it aired on PBS? Do you even want to watch it?
DM: When I found out PBS was going to air If a Tree Falls, I was excited that huge amounts of people nationwide were going to view it. However, I have no intention of viewing it while in prison. There are deeply personal scenes, especially interviews with my wife and the day I turned myself in that I want to view by myself, at home. I want to have the chance to emotionally deal with that in a safe environment.
As the film's primary subject, what is the number one affect that you would like the film to have on viewers? In general, what do you hope the film achieves?
DM: It is difficult to dive into some of these areas because I haven't yet seen the film. While I have spoken to many people who have seen the film, and read many reviews, there really is no substitute for seeing it myself. That said, I hope people see it and feel a form of discomfort -- not in a bad way, but one that has them thinking about what they saw for a few days or weeks after. That discomfort would be because the film challenged previously held ideas, like what a terrorist is, who the kind of people are that commit property destruction, and whether the U.S. government really is on the right path environmentally, with prisons and the isolation of political prisoners in special units.

What would you like for viewers to know or understand about you, Daniel McGowan, on a personal level?
DM: From what I have heard, the film does a pretty good job of showing who I am. Friends and family have all commented that my personality shines through and I credit the filmmakers for editing all their footage so well! The letters I have received from people who have seen the film have been sympathetic but I fear people may worry too much. The film is a snapshot of my life at a time where I mentally and physically was not doing well at all. That time has passed, though, and I am in the home stretch now. There's a huge difference between facing 30+ years and having almost completed your sentence. All things considered, I am doing okay.
The other thing I want people to know about me is that there really is no major difference between myself and most viewers of the film. Like them, my circle of compassion is wider than myself and my family. Similarly, I seek to live my life as close as possible to my ideals, though like everyone, I fail at that sometimes. On a less serious level, I love fantasy fiction, singing in the shower, and I am a sucker for children and animals -- I'm pretty sure some of those details never made the film!

The film ends with your family and friends walking with you to report to the Metropolitan Detention Center in Brooklyn to begin your sentence, which began in 2007. If you could add 30 minutes to the film to bring it up to present day, what would you add to the story? What are the most important things that have happened since you started your sentence that the public should know about?
DM: If I could add 30 more minutes to the film, I would discuss how unusual my stay in prison has been since July 2007. My friends and I have joked that we should print one of those concert tour t-shirts but instead of listing the cities that shows were played in, it would list the prisons I have been at! Let's just say I have seen more of the Midwest than I ever wanted to.
After an uneventful 8 months at a low-security prison in Minnesota, I was held in contempt of court in Wisconsin during a grand jury I was called to against my will. Once that ended, I was shipped to the Communications Management Unit (CMU) in Marion, Illinois, where I spent 26 months. While there, I persistently sought a transfer hearing to dispute the rationale for my placement there, and I also finished a paralegal certificate. One day I was told to pack up and was released to Marion's general population, where I spent 4 months and then was sent to the hole (secure housing unit). Two days later, I was driven to the original CMU -- FCI Terre Haute in Indiana. I've been here since February 2011.
I am not sure to what extent the filmmakers addressed the CMU issue, whether in the film or 'extras' on the DVD version.
To be continued... Click here to read the rest of this interview.
This interview was conducted by friends of Daniel McGowan in the fall of 2011. It can be read in its entirety along with more information on Daniel McGowan, at his support website.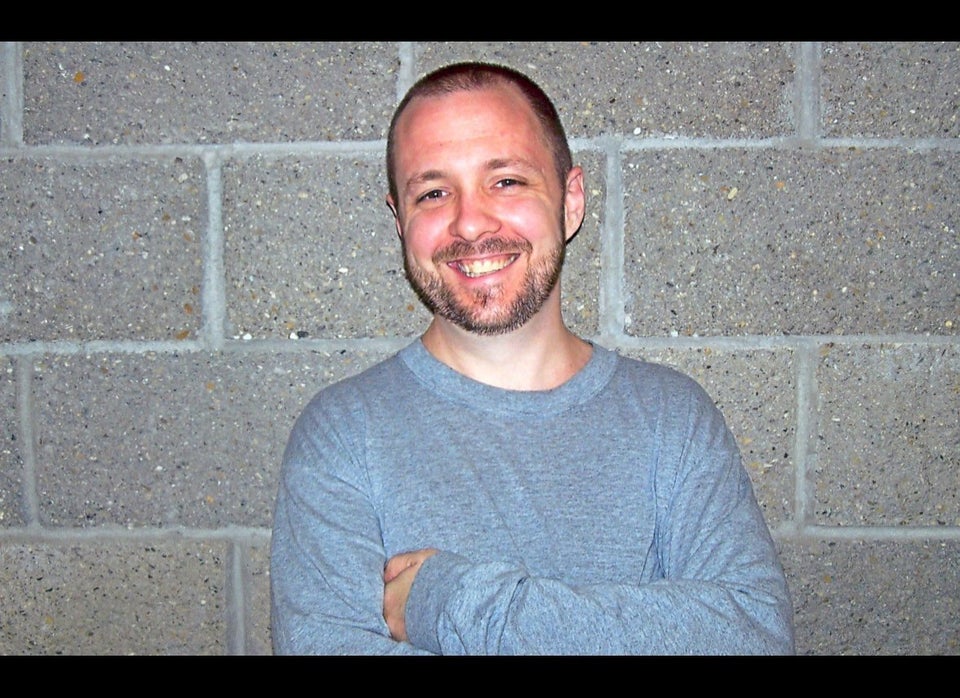 Photos of Daniel McGowan
Related
Popular in the Community