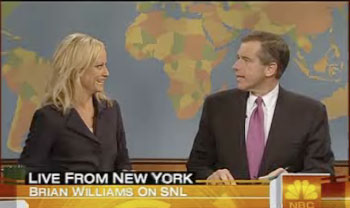 Live From New York, It's A Total Media Scoop: On Saturday, November 3, 2007, "NBC Nightly News" anchor Brian Williams will be hosting "Saturday Night Live," with (Canadian) musical guest Feist. It was announced on the show this evening (by show announcer Don Pardo no less, which really makes it official). No doubt there will be a sketch where Williams announces that someone was mauled by a pack of wolves.
Though it may seem at odds with his gravitas-infused on-air persona, that's only between the hours of 6:30 - 7:00 pm on Monday - Friday (plus those times when he's corralled into anchoring for an hour on MSBNC's "Super Tuesday"). By now media watchers are familiar with Williams' rep as a funnyman, from "Daily Show" and "Conan" appearances to his lighter forays into web videos on NBC News' "Daily Nightly" blog, not to mention articles with titles like "The Funniest Guy in the Room." (But no pressure, BriWi!) He won't be the first "serious" host for the show, either, not by a long shot — past hosts have included John McCain, Nobel Peace Prize Winner Al Gore, and former New York mayor and now presidential candidate Rudy Giuliani (though query how "serious" you can be when you're dressed in drag. BriWi, please don't dress in drag).
According to Howie Kurtz's book, Reality Show: Inside The Last Great Television News War,* SNL creator (and Canadian!) Lorne Michaels invited Williams to host the show last year for the 2006-2007 season, but the anchor demurred, instead working out a cameo in the kickoff "Weekend Update" where he greeted Amy Poehler to join her as co-anchor but was kicked out by Seth Meyers (he also appeared in an SNL Digital Short in February 2006). This year, he graduates to full-blown host.
This isn't just NBC synergy, it's a big deal — the last time a bona fide newsperson hosted SNL was May 10, 1986 when Jimmy Breslin co-hosted with Marvin Hagler (of course, if you count fake news, there's Jon Stewart, who hosted on March 9, 2002). The last time an NBC News personage hosted the show was Edwin Newman in February 1984. And, as Kurtz points out in Reality Show, this is a big moment for network news — Williams and ABC's Charlie Gibson are battling it out for ratings supremacy, with CBS' Katie Couric still drawing her share of the pie. With viewers slipping away overall and from NBC in particular, this could be a great one-shot opportunity to reintroduce Williams to the viewing public (both on the show and in the YouTube clips that will inevitably follow) — and to a new generation of potential network news viewers.
Of course, that's not a reason to do SNL, nor does it mean you can. Katie Couric came in to her anchor post with a whole passel of viewers who knew her bubbly celebrity side, and that didn't translate into ratings; okay, we got nothing for Gibson. But in between now and Nov. 3rd Williams will be anchoring a nightly newscast and moderating a Democratic debate (plus probably doing one of those damn "Super Tuesdays" again). And, if God forbid a bridge collapses or a hurricane strikes, he'll probably be there, too. SNL doesn't mean he'll quit his day job, even if it does mean that, heck, maybe he actually could (though we're assuming it's probably easier than escaping from a downed helicopter in the Iraqi desert). You know what actually — maybe not. That's 90 minutes of comedy, and it's live. Makes Katrina look like a cakewalk, eh? Er, maybe we should stop talking now. Good luck, BriWi - no pressure!
*Also known as Reality Show, Or, Anchors Are Really, Really, Really Awesome.
Popular in the Community