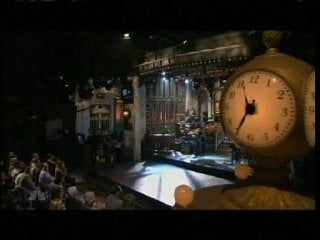 The writer's strike continues, and, after two weeks, the effects are being felt amongst network staffers. Today's Page Six reports that NBC has laid off "90% of the SNL staff" in the wake of the strike — of which there seems to be no end in sight, despite both sides agreeing to return to the bargaining table on Nov. 26th. Yesterday, the New York Times' Bill Carter reported that NBC would continue to pay the staffs of "The Tonight Show With Jay Leno" and "Late Night With Conan O'Brien" for the next two weeks. Meanwhile, E! Online reported yesterday that the the casts of "The Office," "30 Rock," "Bionic Woman" and "Battlestar Galactica" have had their contracts suspended for the next five weeks under the force majeure clause in their SAG agreements, which basically allows each sides to be free of contractual obligations owing to some larger force, like catastrophic Acts of God or the stubborness of silly writers for actually wanting to be paid for the billions of dollars generated from the digital publication of their work. Rock 'em like a hurricane, writers!
But despite all that, the show will go on — as live as ever, just not beamed into millions of American homes. Tonight, the SNL cast is performing a special one-time only live version of the show at the Upright Citizen's Brigade theater in Chelsea to benefit the show's now out-of-work staffers. Many of the SNL cast members are UCBers, including "Weekend Update" co-anchor and UCB co-founder Amy Poehler, her co-anchor and the show's head writer Seth Meyers, and President Bush impersonator Jason Sudeikis. Contrary to Page Six's report, however, the show is NOT being produced by SNL creator and exec producer Lorne Michaels, though a spokesperson from the network said that "he may be there." (Today is Michael's 63rd birthday, so who knows, he may have plans. But I doubt it.) Page Six also incorrectly reported that the proceeds were going to the WGA strike fund. The spokesperson confirmed that "SNL — On Strike!" is not affiliated with NBC.
The UCB will also be hosting "30 Rock — On Strike! at UCB" on Monday, Nov. 19 featuring the cast of 30 Rock — one of whom, Jack McBrayer, aka "Kenneth The Page," (or, as I like to call him, "Dead Ringer For John Edwards"), is a former UCB player. "30 Rock" star and creator Tina Fey has appeared as a guest performer at the theater, and SNL castmembers Sudeikis, Fred Armisen and Kirsten Wiig have all appeared in guest spots on the show (plus ex-SNLers Tracy Jordan, Rachel Dratch and Chris Parnell). No word on whether "30 Rock" guest star Will Arnett will be making an appearance, but it's very likely he'll be found at the UCB tonight since he's married to the aforementioned Poehler...and his former castmate on "Arrested Development" (and fellow Canadian) Michael Cera, tonight's host. We're sure there are more interlacing and overlapping relationships between the two shows that we've missed. Oh, perennial SNL host and 30 Rock star Alec Baldwin. Last time we espied him at the UCB he was wearing a beret. Truth!
Tonight's show, which also features musical guest Yo La Tengo, is completely sold out, as is Monday's event (though there will be limited admission at the door, as per most UCB events). The SNL live show tonight, however, sold out almost instantly and virtually completely, making it one of the toughest tickets in town (said one UCB insider: "I can't even try to tell you to stand out in the cold for this one"). Well then, we'll just have to put on our beret and see what we can manage.
Calling all HuffPost superfans!
Sign up for membership to become a founding member and help shape HuffPost's next chapter