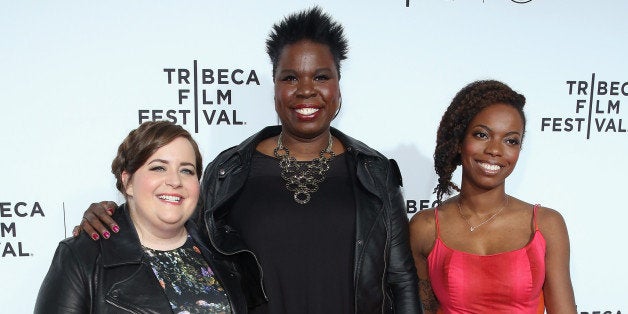 The "Saturday Night Live" front lines formed the cornerstone of the 2015 Tribeca Film Festival's opening night on Wednesday, with a number of current cast members on hand for the premiere of the documentary "Live From New York!" A delightful but rudimentary look at the show's legacy, Bao Nguyen's film screened at the near-capacity Beacon Theatre on New York City's Upper West Side, where Bill O'Reilly, Michelle Rodriguez, Tom Brokaw, Paula Pell, Mamie Gummer, Gabourey Sidibe, Julian Schnabel, Kelli Giddish, Rocco DiSpirito and Rudy Giuliani were among the audience members. (The movie features a slew of cast members, writers and affiliates, including Chevy Chase, Jimmy Fallon, Tina Fey, Amy Poehler, Chris Rock, Dana Carvey, Jane Curtin and Julia Louis-Dreyfus.)
But the real pleasure came in watching the documentary while seated next to several current "Saturday Night Live" cast members. A HuffPost colleague and I nabbed seats toward the front of the room, on the same row where Sasheer Zamata, Aidy Bryant, Leslie Jones, Bobby Moynihan and Beck Bennett sat -- and one row in front of Mr. "SNL" himself, creator Lorne Michaels. The audience found ample opportunities to break out in applause throughout the film, like when Alec Baldwin first appeared and, in particular, when Jones provided one of the doc's standout moments during a portion about the series' racial history. Assessing the limited number of black cast members throughout its 40-year history, Jones made a rousing case for why the slavery jokes she made during her May 2014 "SNL" debut came from the right headspace. Attacked in certain corners of the media after the "Weekend Update" segment aired, Jones was told not to pay attention to Twitter reactions. Thinking white folks would be the ones hurling stones, Jones was shocked to discover it was black people who were most irate. "I was like, 'Are you kidding?'" she said in the film. "First of all, there's not that many black women at the 'SNL' 'Update' desk, first of all. Second of all, not only did I take something of pain and make it funny, motherfucker, it was funny."
The audience -- a warm crowd that seemed to appreciate Nguyen's affectionate film -- erupted into the loudest cheers heard during the movie's 82-minute running time. Jones billowed with laughter while watching herself onscreen, rolling in her seat as the room filled with hoops and hollers. (It's a stark contrast to the slight gasps that rippled through the theater when suspended NBC News anchor Brian Williams first appeared.)
As quickly as the film ended, the screen rose, and standing behind it was Ludacris, ready to rip through about 40 minutes of hits like "Stand Up" and "Area Codes." The audience danced lethargically as the rapper -- whose connection to "SNL" is tenuous at best, having hosted once, in 2006 -- attempted to elicit (largely unsuccessful) callouts for native New Yorkers and audience members hailing from other parts of the country. The most enthusiastic spectator was Gabourey Sidibe, who sat in front of us and engaged in a full-on jam session during the performance.
At the after-party, held a few blocks away at Tavern on the Green, Lorne Michaels was huddled with Tribeca patriarch Robert De Niro over dinner, while Sidibe, Rudy Giuliani, Mamie Gummer, Lily Rabe, costume designer Ellen Mirojnick, Rachel Harris, André Holland, Michael Rapaport and Tribeca co-founder Jane Rosenthal canvassed the scene. The "SNL" group that attended the premiere was nowhere to be seen, so we'll assume Jones was off having the final laugh elsewhere.
Calling all HuffPost superfans!
Sign up for membership to become a founding member and help shape HuffPost's next chapter
BEFORE YOU GO
PHOTO GALLERY
Tribeca Film Festival 2015