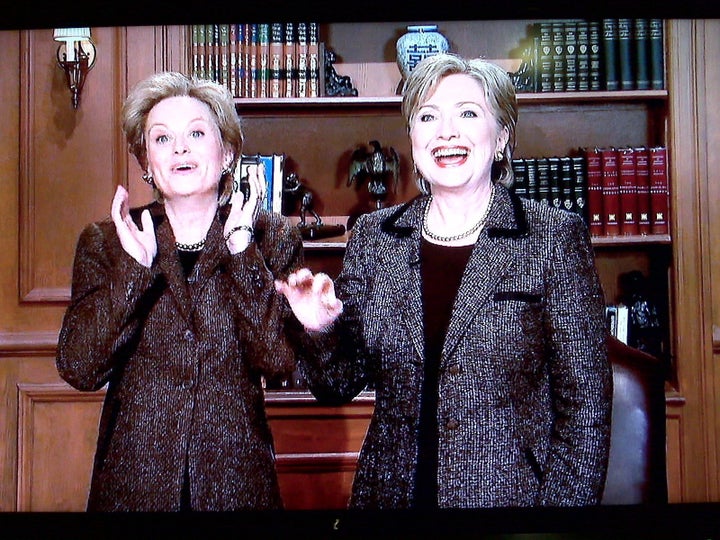 Saturday Night Live opened tonight with a fake presidential debate hosted by mock Brian Williams and Tim Russert. Williams and Russert were bored by healthcare and were overly nice to Obama, while Amy Poehler, as Hillary Clinton, played mildly indignant. After the debate, instead of the opening credits, there was an "Editorial Response." The real Senator Clinton, seated at a desk and wearing the same brown tweed as Poehler's Clinton, said how she loved the skit and was happy to be back in New York, if only for a few hours. Then Amy Poehler, still in character as the senator, joined Clinton at the desk. They chatted, during which time Clinton asked Poehler if she really laughed like Poehler's Clinton and asked for her earrings back. The New York Senator then said, "Live from New York it's Saturday night!"
Watch the editorial response:


Political satire contains an element of truth and in a cartoon, Obama was shown to be going to great lengths to prevent Al Sharpton and Jesse Jackson from being seen campaigning for him. He is shown--remember this is a cartoon--meeting with Jackson in a broom closet before sending him off on a phoney diplomatic mission and putting a dog collar on Sharpton that zaps him if he gets to close to an Obama rally.

Giuliani dropped his presidential bid in January and has endorsed Sen. John McCain (R-Ariz.) who has not been on SNL for years. Giulianiappeared on SNL's "Weekend Update" segment.

"I would have done things differently," Giuliani said.

Specifically, what asked Seth Meyers.

"I've given it a lot of thought and realize that my one key mistake was years ago when I hosted this show and wore a dress. I really wish I could have taken it back."

So his mistake was not bypassing the early primaries?

"The Florida plan was solid. But the dress killed me."

The Florida plan was solid. But the dress killed me.
Popular in the Community