The above shot of Michael Angelakos -- front man of indie rock band Passion Pit -- was taken during the closing moments of the group's performance last night at South by Southwest (SXSW), an annual music, film, and interactive conference and festival out in Austin, TX. Commissioning documentarian Sam Jones to tell the story of the concert, the Taco Bell-sponsored event was not shy of taking a technological approach in its re-telling. The concert was part of the fast food brand's Feed the Beat program, a project that funds up-and-coming artists with $500 in Taco Bell gift cards and opportunities to be featured in Taco Bell advertising and events.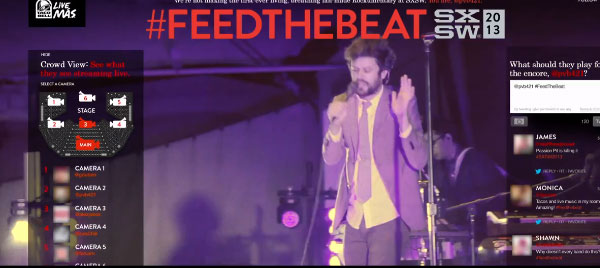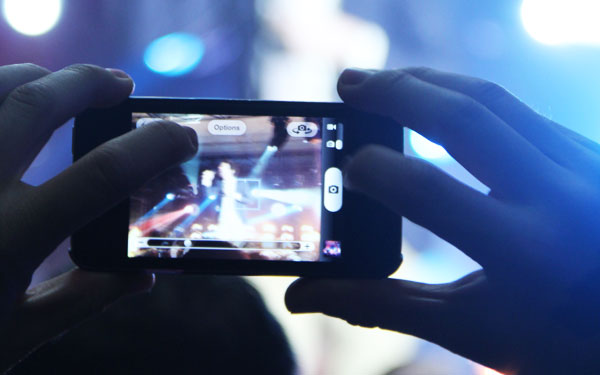 Last night's performance was available to fans across the country, utilizing a camera switching app on Feedthebeat.com that gave fans several roaming and stationary cameras to sift through (see above), along with displaying a slew of Tweets, Twitpics, Instagrams and Vine videos from fans at the show hash-tagging #feedthebeat.
Images like the shot seen above, along with a slew of Tweets, Twitpics, Instagrams and Vine videos from fans at the show and social media interactions around the country will be coupled with live video footage from the Taco Bell-sponsored concert to piece together what is being called an experimental fan-made Rockumentary.
Director Sam Jones followed both Passion Pit and Wildcat! Wildcat! in the week prior to the bands' SXSW trip for additional footage, and will be using those assets along with footage from the concert, Tweets, Vine video and the myriad of social media that was poppin' off that night to put together a full-fledged documentary of two bands at different stages in their career -- Passion Pit a household name in the indie rock genre, and Wildcat! Wildcat!, a group on the up-and-up that may end up in your iTunes regular rotation before you know it.
The documentary is slated for release in summer 2013.
Popular in the Community