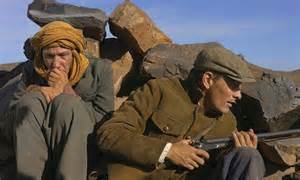 It was a three-movie day at the Marrakech International Film Festival, with all of the films set against stark, harsh vistas in which people scramble and struggle just to stay alive.
The best of those was Far From Men, by director David Oelhoffen. It's a French film, set in 1954 Algeria during the rebellion for independence. The feature was shown after a festival tribute to actor Viggo Mortensen, the star (and one of the producers) of the film.
Mortensen plays Daru, a Frenchman born and reared in Algeria, who led Algerians in World War II against the Nazis. Now, as the war for independence rages, he lives in a remote outpost, running (and living in) a one-room schoolhouse teaching local children to read and, basically, to think for themselves.
Local French authorities show up at his door with a prisoner, Mohamed (Reda Kateb), who Daru is supposed to take to the nearby town of Tinguit. Mohamed is accused of killing his cousin; the French authorities will put him to death. Daru doesn't want the assignment but, ultimately, is forced into it.
They set off on foot, trying to steer clear of Mohamed's other cousins (who want to kill him) - and, instead, wind up in the hands of Algerian rebels (including soldiers who had served under Daru in WWII). The power shifts back and forth, ultimately giving Daru the chance to help Mohamed decide his own fate.
The storytelling is straightforward, with emotion bubbling under the surface. Daru deals with conflicting feelings of allegiance and loyalty about his nationality, his country and his humanity. He is a soldier who knows how to kill, but he has put that part of his life behind him and resents the fact that he must call on those skills again.
It's beautifully shot against startling, imposing landscapes (Morocco's Atlas Mountains stand in for Algeria). Those settings dwarf the characters, a reminder of the inconsequentiality of man's concerns against the backdrop of the natural world.
Mortensen gives a nuanced, moving performance (in French and Arabic, impressively), and works well with Kateb, whose mournful subtlety contrasts with Mortensen's more overt masculinity.

This commentary continues on my website.
REAL LIFE. REAL NEWS. REAL VOICES.
Help us tell more of the stories that matter from voices that too often remain unheard.