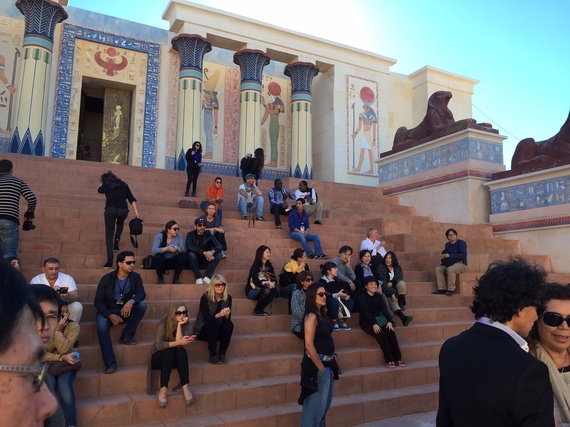 You've been to Ouarzazate, Morocco -- at least visually -- even if you don't know it.
Dubbed Morocco's Hollywood, it offers studios, soundstages and a variety of terrain that has made it irresistible to films as varied as Lawrence of Arabia, The Man Who Would Be King, Kundun, Gladiator and episodes of Game of Thrones.
I joined a group of about 100 people organized by the Marrakech International Film Festival for a day-long trip Wednesday to see this oasis of film production tucked into the plains of the Atlas Mountains. While I've been to studios and soundstages before, I'd never seen anything like this.
Though it is less than 60 miles from Marrakech, Ouarzazate (pronounced or-zuh-ZAHT) lies on the other side of the Atlas range, which looms, snow-capped, in the distance when you wander south down Avenue Mohammed VI in Marrakech. Apparently, driving was not an option, though it was unclear whether it was because of steep, narrow roads or the fact that there were so many of us.
So we were shuttled to the Marrakech airport, where the group was put on a Royal Air Maroc plane for a flight that lasted less than 20 minutes. Indeed, it took us longer to drive to our first destination from the Ouarzazate airport than it did to make the flight from Marrakech.
We were a varied group: journalists of a variety of nationalities (I spoke with writers from Italy, France and Egypt), as well as a delegation from Japan (here for a tribute to Japanese cinema), filmmakers such as Saar Klein, producers such as Sid Ganis and Khadija Alami (who will receive a tribute at the festival Friday night) and actors such as Holt McCallany and Fatemeh Motamed Arya. It was enough to fill several small buses to take us from the airport to our first stop: the casbah at Ait-Ben-Haddou.
This commentary continues on my website.
REAL LIFE. REAL NEWS. REAL VOICES.
Help us tell more of the stories that matter from voices that too often remain unheard.